Adiana Castro, M.S., R.D.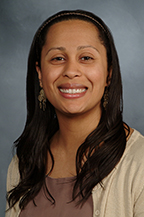 Adiana Castro, M.S., R.D.
Provider of world-class care at NewYork-Presbyterian
Locations and Appointments
About Adiana Castro, M.S., R.D.
Personal Statement
Adiana Castro works exclusively with Dr. Alfons Pomp, Chief of GI Metabolic and Bariatric Surgery and Dr. Gregory Dakin, to educate patients about the unique nutritional requirements of weight loss surgeries, including Roux-en-Y Gastric Bypass, Sleeve Gastrectomy, Biliopancreatic Diversion with Duodenal Switch, and Adjustable Gastric Band. She also serves as a moderator for the Weill Cornell Weight Loss Surgery Program's monthly surgery support group meetings.
Adiana Castro received a Bachelor of Science in Biology from Stonehill College and a Master of Nutrition from Boston University. She has experience in clinical nutrition, in particular women's health, pregnancy and weight management. She also worked as a community nutrition volunteer for the Peace Corps in Peru. She is passionate about bariatric nutrition and empowering patients to lead healthier lives. She also has a strong interest in providing linguistically sound and cultural nutrition information to underserved communities.
Appointments
Staff Associate in Surgery

Weill Cornell Medical College, Cornell University
External Relationships
Relationships and collaborations with for-profit and not-for profit organizations are of vital importance to our faculty because these exchanges of scientific information foster innovation. As experts in their fields, WCM physicians and scientists are sought after by many organizations to consult and educate. WCM and its faculty make this information available to the public, thus creating a transparent environment.
No External Relationships Reported