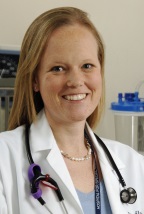 Dr. Alexa B. Adams specializes in the treatment of juvenile rheumatoid arthritis, juvenile dermatomyositis, childhood systemic lupus and vaculitides of childhood. Throughout her career, Dr. Adams has won numerous awards, including the Distinguished house Staff Award, and has been an active member of several associations for medical professionals. She is currently an Assistant Attending Pediatric Rheumatologist at Hospital for Special Surgery.
Insurances
Insurance Plans Accepted
The following represents most of the managed care plans accepted by this physician. If your insurance carrier does not appear here please contact the physician's office as they may have individual contracts not included on this site.

* indicates this physician is no longer accepting new patients with this insurance plan.
Oxford Health Plans

[Liberty]
Publications
For Patients
Spondyloarthropathy: "Arthritis of the Back"
For Professionals
Test of a Systematic Two Drug Regimen Shows Prolonged Improvement in Lupus and Reduction of Steroid Dosage
Raynaud's Phenomenon: A Primer for Physicians
Selected Publications
Adams A, Onel KB, Lehman TJA. Inflammatory Myopathy and Celiac Disease. Pediatric Rheumatology Online Journal. 2005; 3(1).
Adams A, Kazim M, Lehman TJA. Treatment of Orbital Myositis with Adalimumab (Humira). The Journal of Rheumatology. 2005; 32(7): 1374-5.
Adams A, Lehman TJA. Update on the Pathogenesis and Treatment of Systemic Onset Juvenile Rheumatoid Arthritis. Current Opinion in Rheumatology. 2005; 17(5): 612-16.
Adams A, MacDermott EJ, Lehman TJA. Pharmacology of Lupus Nephritis in Children: A Recommended Treatment Approach. Drugs. 2006; 66(9): 1191-207.
For more publications, please see the PubMed listing.
Clinical Expertise
Pediatric Vascular Anomalies
Systemic Lupus
Juvenile Dermatomyositis
Juvenile Arthritis
Juvenile Rheumatoid Arthritis
Appointments
Associate Professor of Clinical Pediatrics
Weill Cornell Medical College, Cornell University
Associate Attending Pediatrician
NewYork-Presbyterian Hospital
Associate Attending Pediatrician
Hospital for Special Surgery
Board Certifications
Pediatrics
Pediatric Rheumatology
Education
B.A., University of Virginia, 1994
M.D., Medical University of South Carolina, 1999