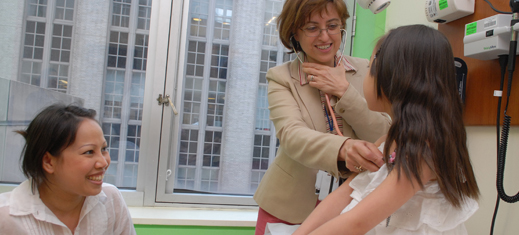 Registration Now Open for Kids and Teens Healthy Weight Program, Fall/Winter Session

Developed by our pediatric endocrinology team, this new program focuses on nutrition and maintaining a healthy weight through interactive group sessions tailored for kids and families.  Free for all current patients of the Weill Cornell Pediatric Endocrinology practice!  Download the session schedule and registration information.  Note: Registration is on a first-come, first serve basis; space is limited.
About the Division
The Division of Pediatric Endocrinology provides specialized, multi-disciplnary care to children and adolescents with pediatric endocrine disorders.   For more information about our specialized programs, please follow the links below to our Komansky Center webpage:
Growth, Thyroid and Puberty Disorders
Obesity and Insulin Resistance
Low Bone Mass
Preparing For Your Child's Visit
Thank you for choosing Weill Cornell Pediatrics! To facilitate the check-in process during your child's visit, we have posted important forms and information for you to read, complete and return to the physician's office prior to your arrival.   Please download the forms and questionnaires and email to pedsendotele@med.cornell.edu or fax to 646-962-0265 at least 72 hours before your appointment.
Welcome Packet Documents
Welcome Letter
New Patient Questionaire PDF | Word
Follow-Up Patient Questionaire PDF | Word
E-Prescription Pharmacy Form PDF | Word
Insurance Plans Accepted
Health Info Disclosure Form
Patient Portal Signup
Parking Options
Campus Map
Pediatric Diabetes Program Brochure
Department of Pediatrics Brochure
Contact
505 East 70th Street
Helmsley Tower, 3rd Floor
Comprehensive Center for Congenital Adrenal Hyperplasia
505 East 70th Street
3rd Floor