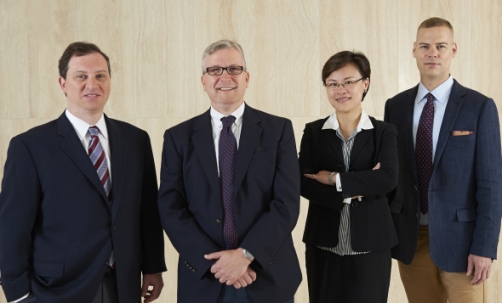 About the Lymphoma Program
Patients from throughout the New York metro area, the United States, and around the world come to the Lymphoma Program at Weill Cornell Medical College/NewYork-Presbyterian Hospital for evaluation and treatment. We have developed an outstanding team of physicians (including medical oncologists, hematologists, transplant physicians, radiation oncologists, surgeons, radiologists, and pathologists), nurses and related health care professionals in order to optimally serve patients. Our experience with standard treatment regimens, cutting edge therapies, and clinical trials is important to patients whether they are in need of frontline therapy or treatment for relapsed/refractory lymphoma.
The clinical care that is our top priority is informed and augmented by our research and teaching capacities. While our clinicians are recognized as national and international leaders in the lymphoma field, we also collaborate with the world-class scientists at WCMC and around the world, bringing the latest advances from the laboratory to the bedside. We are not content to only provide patient care for current lymphoma patients, but also seek out the medical advances that will alleviate the suffering of future lymphoma patients.
More information about our program and advances in the wider field of lymphoma can be found
here
. We also encourage you to sign up for our
quarterly e-newsletter
to receive the latest news regarding advances in lymphoma treatment in the lab and in the clinic.
Contact
525 East 68th Street
Payson Pavilion, 3