Zuhal Ergonul, M.D., Ph.D.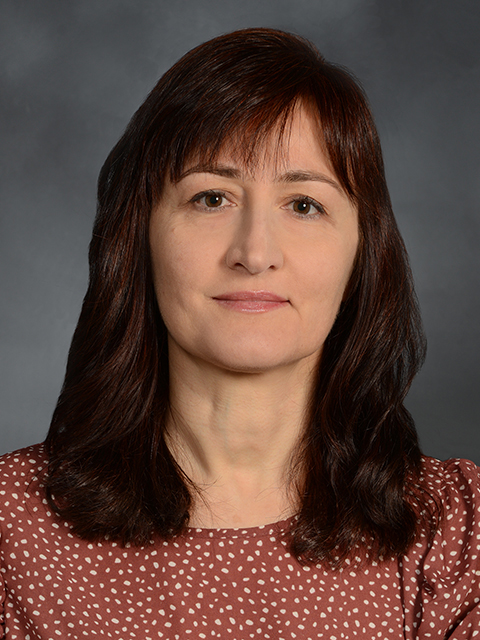 Zuhal Ergonul, MD., PhD is an Instructor in Pediatrics at Weill Cornell Medical College. Dr. Ergonul is one of the very few board-certified neurologists with subspecialty board certification in both child neurology and headache medicine.

After receiving her MD and PhD degrees, respectively from Ankara University and Hacettepe University in Turkey, she joined Dr. Palmer's research group in the Department of Physiology and Biophysics at Weill Cornell Medical College. Following post-doctoral research years on ion channel physiology, Dr. Ergonul completed her Pediatric Residency training at Beth Israel Medical Center and her Pediatric Neurology Residency at Albert Einstein College of Medicine in New York. She then went on to complete a Headache Fellowship at Thomas Jefferson University Jefferson Headache Center in Philadelphia which afforded her the opportunity also to complete a combined Pediatric Headache training at Cincinnati's Children's Hospital Headache Center. Following fellowships, she joined the Division of Child Neurology in the Department of Pediatrics at Weill Cornell.

Her clinical interest concentrations are concussion in children and childhood primary headache disorders such as migraines. In addition to her clinical responsibilities, she is currently conducting a research project on the pathophysiology of migraine with Dr. Barry Kosofsky at Weill Cornell.
Insurances
Insurance Plans Accepted
The following represents most of the managed care plans accepted by this physician. If your insurance carrier does not appear here please feel free to contact this physician or this physician's practice as they may have individual contracts not included on this site.
AETNA

[HMO]

AETNA

[PPO]

Aetna - Weill Cornell

[POS]

Affinity Health Plan
CIGNA
Empire Blue Cross/Blue Shield

[PPO]

Empire Blue Cross/Blue Shield

[Mediblue (Senior)]

Empire Blue Cross/Blue Shield

[HMO]

Empire Blue Cross/Blue Shield

[EPO]

Health First
Health Insurance Plan of NY (HIP)

[Medicare]

Health Insurance Plan of NY (HIP)

[Medicaid]

Health Insurance Plan of NY (HIP)
Health Plus - Amerigroup
Oxford Health Plans

[Freedom]

Rockefeller University - CoreSource
United Empire
United Health Care

[Medicare]

United Health Care
United Health Care

[Community Plan]
Publications
Publications
Frindt G, Ergonul Z, Palmer LG. Surface expression of epithelial Na channel protein in rat kidney J Gen Physiol. 2008 Jun; 131(6):617-27.
Frindt, Gustavo, Ergonul, Zuhal, Palmer, LG. Na channel expression and activity in the medullary collecting duct of rat kidney AJP: Renal Physiology Am J Physiol Renal Physiol. Am J Physiol Renal Physiol. 2007 Apr;292(4):F1190-6. Epub 2007 Jan 2.
Ergonul Z, Erdem A, Balkanci ZD, Kilinc K. Vitamin E protects against lipid peroxidation due to cold-SO2 exposure in mouse lung Inhal Toxicol. 2007 Feb;19(2):161-8.
Ergonul Z, Frindt G, Palmer LG. Regulation of maturation and processing of ENaC subunits in the rat kidney, Am J Physiol Renal Physiol. 2006 Sep;291(3):F683-93.
Pondugula SR, Raveendran NN, Ergonul Z, Deng Y, Chen J, Sanneman JD, Palmer LG, Marcus DC. Glucocorticoid regulation of genes in the amiloride-sensitive sodium transport pathway by semicircular canal duct epithelium of neonatal rat, Physiol Genomics. 2006 Jan 12;24(2):114-23.
Ergonul Z, Yilmaz G, Balkanci ZD, Kiper N, Yalcın E, Dogru D, Ozcelik U, Gocmen A.,Using computer based data acquisition and analysis system for nasal potential difference measurement in cystic fibrosis, Turk J Pediatr. 2004 Oct-Dec;46(4):339-43.
Berker M, Dikmenoglu N, Bozkurt G, Ergonul Z, Ozgen T, Clin Hemorheol Microcirc, Hemorheology, melatonin and pinealectomy. What's the relationship? An experimental study, Clin Hemorheol Microcirc. 2004;30(1):47-52.
Ergonul Z, Clayton F, Fogo AB, Kohan DE. Shigatoxin-1 binding and receptor expression in human kidneys do not change with age, Pediatr Nephrol. 2003 Mar;18(3):246-53.
Ergonul Z, Hughes AK, Kohan DE. Induction of apoptosis of human brain microvascular endothelial cells by shiga toxin 1. J Infect Dis. 2003 Jan 1;187(1):154-8.
Stricklett PK, Hughes AK, Ergonul Z, Kohan DE, Molecular basis for up-regulation by inflammatory cytokines of Shiga toxin 1 cytotoxicity and globotriaosylceramide expression. J Infect Dis. 2002 Oct 1;186(7):976-82.
Hughes AK, Ergonul Z, Stricklett PK, Kohan DE, J Am Soc Nephrol, Molecular basis for high renal cell sensitivity to the cytotoxic effects of shigatoxin-1: upregulation of globotriaosylceramide expression. J Am Soc Nephrol. 2002 Sep;13(9):2239-45.
Contact and Practices
505 East 70th Street
Helmsley Tower, 3rd Floor
Appointments
Assistant Attending Pediatrician
NewYork-Presbyterian Hospital
Education
M.D., Ankara University (Turkey), 1993
Ph.D., Hacettepe University Faculty of Medicine (Turkey), 1998