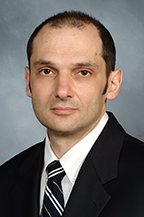 Yevgeny Azrieli, MD is an Assistant Professor of Neurology at Weill Cornell Medical College and an Assistant Attending Neurologist at NewYork-Presbyterian Hospital/Weill Cornell. He is experienced in providing consultation to patients with a variety of general neurological conditions and has a particular interest in neuromuscular diseases and EMG.
Dr. Azrieli received his medical degree from Mount Sinai School of Medicine. He completed an internship in Internal Medicine at New York Hospital and a residency in Neurology at Mount Sinai Hospital, where he served as Chief Resident. He then completed a fellowship in Electromyography and Neuromuscular Disease at Columbia Presbyterian Medical Center.
Prior to joining the Weill Cornell faculty, Dr. Azrieli was in private practice and served as Attending Neurologist at St. Lukes-Roosevelt Hospital Center for over 10 years. He is board certified in Psychiatry and Neurology, as well as Electrodiagnostic Medicine, and is a member of the American Academy of Neurology (AAN) and the American Association of Neuromuscular and Electrodiagnostic Medicine (AANEM).
Dr. Azrieli welcomes patients at the following location:
Weill Cornell West Side Offices
2315 Broadway (at 84th Street)
New York, NY 10024
Phone: (646) 962-9197
Clinical Expertise
Electromyography (EMG)
Neuromuscular Disease