Pediatric Critical Care Medicine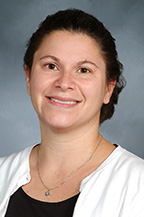 Dr. Marianne Nellis graduated from Colgate University with a BA in biochemistry in 1999. She received her medical degree from Johns Hopkins School of Medicine in 2003. After completing her residency in pediatrics at NewYork-Presbyterian Hospital/Weill Cornell Medical Center, she served an additional year as chief resident. Dr. Nellis worked abroad in pediatric intensive care units at Soroka University Medical Center (in Beersheva, Israel) and Safra Children's Hospital at Sheba Medical Center (in Tel Aviv, Israel). She returned to the United States and New York Presbyterian Hospital – Weill Cornell Medical Center to complete her fellowship training in pediatric critical care medicine.

Dr. Nellis has also completed a Masters in Clinical Investigation. Her research interests include biomarkers of sepsis and transfusion medicine.
Publications
Serwint JR, Nellis ME. Deaths of pediatric patients: Relevance to their Medical Home, an Urban Primary 63.
Serwint JR, Nellis MELetter to the editor. Primary care pediatricians and child deaths. Pediatrics. 2005 Feb; 116:1053.
Heinzelmann M, Miller M, Platz A, Gordon LE, Herzog DO, Polk HC Jr. Heparin and enoxaparin
enhance endotoxin-induced tumor necrosis factor-alpha production in human monocytes. Ann Surg. 1999 Apr; 229(4): 542-50.
Honors and Awards
June 2012. Department of Pediatrics Fellow Award for Teaching Excellence
May 2006. NYPH-Weill Cornell Medical College Distinguished Housestaff Award
May 1999. Phi Beta Kappa
Contact and Practices
525 East 68th Street
M-508