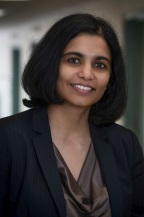 Jai S. Perumal, MD is Assistant Professor in the Department of Neurology and Neuroscience at Weill Cornell Medical College and Attending Neurologist at NewYork-Presbyterian Hospital/Weill Cornell Medical Center. She is also part of the clinical staff at the Judith Jaffe Multiple Sclerosis Center at NYPH/WC. Her board certification in Neurology consists of additional specialized training in demyelinating disorders including multiple sclerosis.
Dr. Perumal received her medical degree from Stanley Medical College in India. She completed her internship in internal medicine and residency in neurology at Wayne State University in Detroit, Michigan. She was chief resident in neurology. She then completed her two year fellowship in clinical neuro-immunology including multiple sclerosis at Wayne State University. She is a recipient of the Sylvia Lawry Fellowship of the National Multiple Sclerosis Society. She has presented at several neurology meetings and conferences and has published in peer reviewed journals.
Dr. Perumal's research interests include studying disease phenotypes in MS and MS variants including Devic's disease or neuromyelitis optica, central nervous system manifestations of other autoimmune diseases like SLE, sarcoidoisis and MS therapeutics and ethnic influences on disease characteristics.
Publications
Reardon J and Perumal JS. Review of daclizumab and its therapeutic potential in the Treatment of relapsing–remitting multiple sclerosis. Drug Design, Development and Therapy 2013:7 1187–1193
Vargas WS and Perumal JS. Fingolimod and cardiac risk: latestfindings and clinical implications. Therapeutic Advances in Drug Safety 2013:DOI:10.1177/2042098613481023
Perumal,JaiS.;Foo,Farng;Cook,Perry;Khan,Omar. Subcutaneous administration of alemtuzumab in patients with highly active multiple sclerosis. Multiple sclerosis 2012;18:1197-1199.
Perumal, Jai S.; Khan, Omar. Emerging disease-modifying therapies in multiple sclerosis. Current treatment options in neurology 2012; 14:256-263.
Boster Al, , Hreha S, Betger JR, Bao F, Penmesta, Tselis A, , Endress C, zak I, Perumal JS, Caon C, Vazquez J, Tyler KL, Racke M, Millis S, Khan O. Progressive Multifocal Luekoencephalopathy and Relapsing-Remitting Multiple Sclerosis A comparative Study. Arch Neurol 2009;66(5):593-599.
Boster Al, Endress C, Hreha S, Caon C, Perumal JS, Khan O. Pediatric Onset Multiple Sclerosis in African-American Black and European Origin White Patients. Pediatric Neurology 2009;40:31-33.
Tselis A, Perumal JS, Caon C, Hreha S, Ching W, Din M,Van Stavern G, Khan O. Treatment of corticosteroid refractory optic neuritis in multiple sclerosis patients with intravenous immunoglobulin. E J Neurology 2008;15:1163-1167
Perumal JS, Caon C, Hreha S, Zabad R, Tselis A, Lisak R, Khan O. Oral Prednisone Taper Following IV Steroids fails to improve Disability or Recovery from Relapses Multiple Sclerosis. E J Neurology 2008; 15: 677-680
Boster A, Caon C, Perumal J, Hreha S, Zabad R, Tselis A, Lisak R, Zak I, Khan O. Failure to develop multiple sclerosis in patients with neurologic symptoms without objective evidence. Multiple Sclerosis 2008; 14: 804-808.
Perumal J, Zabad R, Caon C, MacKenzie M, Tselis A, Bao F, Latif Z, Lisak R, Khan O. Acute Transverse Myelitis with Normal Brain MRI: Long-term Risk of Clinically Definite MS. J of Neurology 2008; 255(1): 89-93
Perumal J, Filippi M, Ford C, Johnson K, Lisak R, Metz L, Tselis A, Tullman A, Khan O. Glatiramer Acetate Therapy for Multiple Sclerosis: A Review. Expert Opinion on Drug Metabolism & Toxicology. 2006;2(6):1019-1029
Tousi B, Perumal JS, Ahuja K, Ahmed A, Subramanian T. Effects of botulinum toxin-B ( BTX-B) injection for hemifacial spasm. Parkinsonism Relat. Disorders 2004; 10(7):455-6
Books
Author- Chapter 25.Right Arm and Leg Weakness and chapter 30.Left Arm Numbness and Slurred Speech. Case based Neurology. Anuradha Singh.Published 12-2011.
Honors and Awards
2007-2009- Sylvia Lawry Fellow of the National Multiple Sclerosis Society
Contact and Practices
1305 York Avenue
2nd Floor