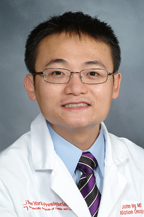 John Ng, M.D. is a Board Certified Radiation Oncologist and Assistant Professor of Radiation Oncology at Weill Cornell Medical College/New York Presbyterian Hospital. As a native New Yorker, he received his undergraduate degree in Physics at Columbia University. He went to medical school at Harvard and also received a Master of Science degree in Biophysics from Harvard University. He received his M.D. degree from Harvard Medical School, jointly with the Massachusetts Institute of Technology, as part of the Health Sciences and Technology (HST) program. He returned to New York City and the Columbia University Medical Center for his residency training in Radiation Oncology, where he also served as a chief resident. He joined the Weill Cornell Medical Center as faculty, where he serves as attending physician for Breast Oncology and for Gastrointestinal Oncology. His most recent awards include the Faculty Educator of the Year Award from the Weill Cornell New York-Presbyterian Residency Program, a RSNA Roentgen Research Award, an ASCO Research Travel Award, and a NCCN Travel Grant.
Dr. Ng was recently appointed the Chair of the Radiation Oncology Section of New York Roentgen Society, the only scientific group that congregates radiation oncologists in the New York Metropolitan area and is comprised of leaders in the fields of diagnostic radiology and radiation oncology. He also currently serves as a Program Committee member for the American Association for Cancer Research (AACR), serves on the Economics Committee of the American College of Radiation Oncology (ACRO), and is an active Program Committee member of the New York Metropolitan Breast Cancer Group.
Areas of Specialization:
Breast Cancer, Gastrointestinal Cancers, Breast Intraoperative Radiotherapy, Breast Balloon Brachytherapy, Pancreatic Cancer, Sarcoma, Stereotactic Body Radiotherapy (SBRT).
Research:
Dr. Ng's research is focused on developing novel radiation techniques that can reduce treatment side effects and improve outcomes. One area of particular focus is developing partial breast radiotherapy techniques to treat less breast tissue with less radiation to reduce side effects and to shorten treatment times.
Another research interest is advancing radiotherapy technologies to treat pancreatic cancer. He is currently writing a textbook review on Gastrointestinal and Hepatobiliary Radiation Therapy and working on a review on minimizing malignancy risks after radiation therapy.
He is also actively involved in the development of new drugs and agents to use with radiotherapy to improve cure rates for breast cancer and gastrointestinal cancers. Presently, his group is collaborating with others in developing skin products to decrease skin side effects from breast radiotherapy.
Insurances
Insurance Plans Accepted
The following represents most of the managed care plans accepted by this physician. If your insurance carrier does not appear here please feel free to contact this physician or this physician's practice as they may have individual contracts not included on this site.
AETNA

[HMO]

AETNA

[PPO]

AETNA

[Medicare]

Aetna - Weill Cornell

[POS]

Affinity Health Plan
CIGNA
Empire Blue Cross/Blue Shield

[PPO]

Empire Blue Cross/Blue Shield

[EPO]

Empire Blue Cross/Blue Shield

[Mediblue (Senior)]

Empire Blue Cross/Blue Shield

[HMO]

Fidelis Care
GHI

[CBP]

Health First
Health Insurance Plan of NY (HIP)
Health Insurance Plan of NY (HIP)

[Medicare]

Health Insurance Plan of NY (HIP)

[Medicaid]

Health Plus - Amerigroup
Oxford Health Plans

[Medicare Advantage]

Oxford Health Plans

[Liberty]

Oxford Health Plans

[Freedom]

Rockefeller University - CoreSource
United Empire
United Health Care

[Medicare]

United Health Care

[Community Plan]

United Health Care
Publications
Ng J, Shuryak I, Xu Y, Chao KS, Brenner DJ, Burri RJ. Predicting the Risk of Lung Secondary Malignancy Associated with Whole Breast Radiation Therapy. Int J Radiat Oncol Biol Phys. 2012 Jul 15;83(4):1101-6.
Ahmed WB, Ng J, Wazer DE, Saif MW. New tools and novel approaches in treating locally advanced pancreatic adenocarcinoma. Journal of Pancreas. 2012 Jul 10;13(4):354-7.
Chaulagain CP, Ng J, Wazer D, Saif MW. Adjuvant therapy of pancreatic cancer. Journal of Pancreas. 2012 Jul 10; 13(4):349-53.
Ng J, Zhang C, Gidea-Addeo D, Saif MW. Locally Advanced Pancreatic Adenocarcinoma: Update and Progress. Journal of Pancreas. 2012 Mar 10;13(2):155-8.
Saif MW, Ng J, Chang B, Russo S. Is there a role of radiotherapy in the management of pancreatic neuroendocrine tumors (PNET)? Journal of Pancreas. 2012 Mar 10;13(2):174-6.
Lia J, Ng J, Allendorf J, Saif MW. Locally Advanced Pancreatic Adenocarcinoma: Are We Making Progress? Journal of Pancreas. 2011 Jul 8;12(4):347-50.
Ruset IC, Tsai LL, Mair RW, Patz S, Hrovat M, Rosen M, Muradian I, Ng J, Topulos GP, Butler JP, Walsworth RL, Hersman FW. A System for Open-Access 3He Human Lung Imaging at Very Low Field. Magnetic Resonance Engineering. 2006 Oct. Vol 29. 210-221.
Honors and Awards
Vice Chair, Radiation Oncology Section, New York Roentgen Society, 2012-present
Roentgen Resident/Fellow Research Award, Radiologic Society of North America (RSNA), 2012
Chief Resident, Columbia University Department of Radiation Oncology, 2011-present
ASCO Research Travel Award for the 2011 ASCO Annual Meeting, 2011
Chair of Resident Committee, New York Roentgen Society, 2010-present
Organizing Committee Member, Scientific Committee Member, New York Roentgen Society Annual Meeting, 2011
Economics Committee Member, American College of Radiation Oncology, 2011-present
Resident Committee Member, Mentoring Subcommittee Chair, American
College of Radiation Oncology (ACRO), 2010-present
NCCN Fellows Recognition Travel Grant, 2010
BEST Resident Travel Award for the 52nd ASTRO Annual Meeting, 2010
ACRO Annual Meeting Travel Award, 2010
Graduate Medical Education Committee Representative, New York-Presbyterian Hospital,
Columbia University Medical Center, 2008-present
NASA Research Fellowship, 2003
HMS National Scholarship, Harvard Medical School, 1998
Phi Beta Kappa, 1998
Physics Department Award, Columbia University, 1998
Columbia Class Salutatorian, 1998
Milton Handler Prize, 1995
Barry Goldwater Scholar, 1995-1998
I. I. Rabi Scholar, 1994-1998
Clinical Expertise
Breast Cancer
Pancreas Cancer
Rectal Cancer
Gastric Cancer
Esophageal Cancer
Colon Cancer
Anal Cancer
Sarcoma
Contact and Practices
525 East 68th Street
Stitch Radiation Center
Education
B.A., Columbia University, New York, NY, 1998
M.S., Harvard University, 2005
M.D., Harvard Medical School, 2007