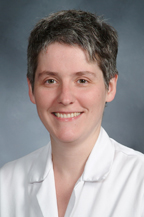 I have always been exquisitely sensitive to the cultural and emotional aspects of being ill. Fortunately, due to innovative treatments as well as a change in the medical mindset, we are now able to approach cancer therapy with a goal of maximizing quality of life while at the same time controlling disease. In many areas of oncology, especially in advanced, difficult to treat cancers and metastatic disease, the key to pursuing therapy is individualizing treatment to the patient's personal ability to withstand therapy. Thinking of cancer as a chronic disease and gearing therapies to be sustainable and effective is among one of my most important goals as I move forward with our clinical research and cancer treatment programs.
Elizabeta Popa M.D. is an Assistant Professor of Clinical Medicine and Assistant Attending Physician on the faculty of Weill Cornell Medical College in the Division of Hematology and Medical Oncology as well as a specialist consultant in hematology-oncology at the Hospital for Special Surgery.
Dr. Popa started her education in NYC at the United Nations International School- earning an International Baccalaureate Diploma in 1991 with an emphasis on English Literature and Foreign Languages. She then went on to earn her BA from Columbia University majoring in Biology in 1995.
Her medical education began at New York Medical College earning her MD in 1999. Dr. Popa specialized in Internal Medicine, earning her specialty diploma in 2002 after which she completed her medical training by sub-specializing in Hematology and Medical Oncology with a fellowship at New York University, graduating in 2005.
Upon finishing her training in 2005, Dr.Popa entered academic medicine, serving as Assistant Professor of Medicine in the Division of Hematology- Oncology at Mount Sinai School of Medicine from 2005-2007.
Speaking several languages including French, Romanian,Italian, and Spanish as well having experience with the international and diplomatic communities in New York City, Dr. Popa also has experience as teaching attending to medical residents and hematology/oncology fellows and will continue to be involved in training future generations as part of the Hematology/Oncology Fellowship Program.
She is actively involved in clinical trials in the areas of digestive and head/neck cancers, as principal investigator and coinvestigator as part of the Gastrointestinal Oncology Group at Weill Cornell Medical College.
She is a member of the American Society of Clinical Oncology, the New York Head & Neck Society as well as an active member of the WCMC Cancer Instiutional Review Board.
Insurances
Insurance Plans Accepted
The following represents most of the managed care plans accepted by this physician. If your insurance carrier does not appear here please feel free to contact this physician or this physician's practice as they may have individual contracts not included on this site.
AETNA

[Medicare]

AETNA

[HMO]

AETNA

[PPO]

Aetna - Weill Cornell

[POS]

Affinity Health Plan
CIGNA
Empire Blue Cross/Blue Shield

[HMO]

Empire Blue Cross/Blue Shield

[Mediblue (Senior)]

Empire Blue Cross/Blue Shield

[PPO]

Empire Blue Cross/Blue Shield

[EPO]

Fidelis Care
GHI

[CBP]

Health First
Health Insurance Plan of NY (HIP)

[Medicare]

Health Insurance Plan of NY (HIP)
Health Insurance Plan of NY (HIP)

[Medicaid]

Health Plus - Amerigroup
Medicare

[Medicare]

Oxford Health Plans

[Liberty HMO]

Oxford Health Plans

[Medicare Advantage]

Oxford Health Plans

[Liberty]

Oxford Health Plans

[Freedom]

Rockefeller University - CoreSource
United Empire
United Health Care

[Medicare]

United Health Care
United Health Care

[Community Plan]
Publications
· Elizabeta C Popa, Manish A Shah Met, IGF1R, and Other New Targets in Upper GI Malignancies." Current treatment options in oncology 14.3 (2013): 321-336
· Elizabeta C Popa, Manish A Shah Chapter 3: Role of [18F]-FDG PET/CT Imaging in Gastrointestinal Malignancies Recent Advances in Surgery:35 Irving Taylor, Colin D Johnson © 2013 JP Medical Ltd
· Elizabeta Popa, Felice Schnoll-Sussman, Arun Jesudian, Govind Nandakumar, and Manish H. Shah Uncommon Cancers of the Stomach Textbook of Uncommon Cancer, Fourth Edition. Edited by Derek Raghavan, Charles D. Blanke, David H. Johnson, Paul L. Moots, Gregory H. Reaman, Peter G. Rose and Mikkael A. Sekeres. © 2012 John Wiley & Sons, Inc. Published 2012 by John Wiley & Sons, Inc
· Josef Maertz, Sarika Jain, Linda T Vahdat, Lihui Qin, Juan M Mosquera, Cristina R Antonescu, and Elizabeta C Popa High-grade KIT- negative sarcoma of the small bowel in a patient with CML on long-term tyrosine kinase inhibitors: case report and review of the literature Journal of Clinical Oncology JCO/2012/427989
· Antonio Jimeno, Lori J. Wirth, Marshall R. Posner, Roger B. Cohen, Jared Weiss, Elizabeta C. Popa, Nabil F. Saba, Kenneth F. Grossmann, Ammar Sukari, Ezra E.W. Cohen, Athanassios Argiris, Carolyn H Condon, Dawn Wilson, Ty McClure, Marat Alimzhanov, Scott Pearsall, Kenneth M. Attie, Matthew L. Sherman, Shuchi Sumant Pandya Phase II study of dalantercept, a novel inhibitor of ALK1-mediated angiogenesis, in patients with recurrent or metastatic squamous cell carcinoma of the head and neck. ASCO 2013 Annual Meeting- Abstract #115862
· Allyson J. Ocean, Tanios S. Bekaii-Saab, Imran Chaudhary, Romae Palmer, Paul J. Christos, Alice Mercado, Erika Ocampo Florendo, Veronica A. Rosales, Joseph T. Ruggiero, Elizabeta C. Popa, Melissa Wilson, Mohammad Haroon Ghalib, Yijuan Hou, Umang Shah, Lakshmi Rajdev, Tarek N. Elrafei, George M. Gill, Matthew C. Coffey, Manish A. Shah, Sanjay Goel A multicenter phase I study of intravenous administration of reolysin in combination with irinotecan/fluorouracil/leucovorin (FOLFIRI) in patients (pts) with oxaliplatin-refractory/intolerant KRAS-mutant metastatic colorectal cancer (mCRC). ASCO GI 2013 Abstract #105709
· Douglas Eric Guggenheim, Allyson J. Ocean, Elizabeta C. Popa, Amanda R Magli, Irene Karpenko, Paul J. Christos, Veronica A. Rosales, Erika Ocampo Florendo, Joseph T. Ruggiero, Manish A. Shah The incidence and impact of poor nutrition in gastrointestinal malignancies. ASCO 2013 Annual Meeting -Abstract #116744
· Siegel AB, Cohen EI, Ocean A, Lehrer D, Goldenberg A, Knox JJ, Chen H, Clark-Garvey Weinberg A, Mandeli J, Christos P, Mazumdar M, Popa E, Brown RS Jr, Rafii S, Schwartz JD Phase II trial evaluating the clinical and biologic effects of bevacizumab in unresectable hepatocellular carcinoma. J Clin Oncol. 2008 Jun 20;26(18):2992-8.
· Hochster H., Luo W., Popa E.C., Lyman T., Mulcahy M., Beatty P.A., Benson A.B., Phase II study of uracil-tegafur with leucovorin in elderly (> or = 75 years old) patients with colorectal cancer: ECOG 1299. J Clin Oncol. 2007 Dec 1;25(34):5397-402
· Haglof K., Popa E., Hochster H. Recent developments in the clinical activity of topoisomerase-1 inhibitors Update On Cancer Therapeutics I pp.117-145; Elsevier Ltd.,UK 2006
Honors and Awards
· Annual Excellence in Teaching Award in 2012 by WCMC Hematology & Medical Oncology Fellows
Specialties
Medical Oncology
Hematology
Clinical Expertise
Bone Cancer
Liver Cancer
Colon Cancer
Pancreas Cancer
Pancreatic Cancer
Cancer of Gallbladder and Bile Ducts
Head and Neck Cancer
Neuroendocrine Tumor
Melanoma
Sarcoma
Contact and Practices
1305 York Avenue
12th Floor
525 East 68th Street
Payson 3
Board Certifications
Medical Oncology
Internal Medicine
Hematology
Education
B.A., Columbia University, New York, NY, 1995
M.D., New York Medical College, 1999