Vascular and Interventional Radiology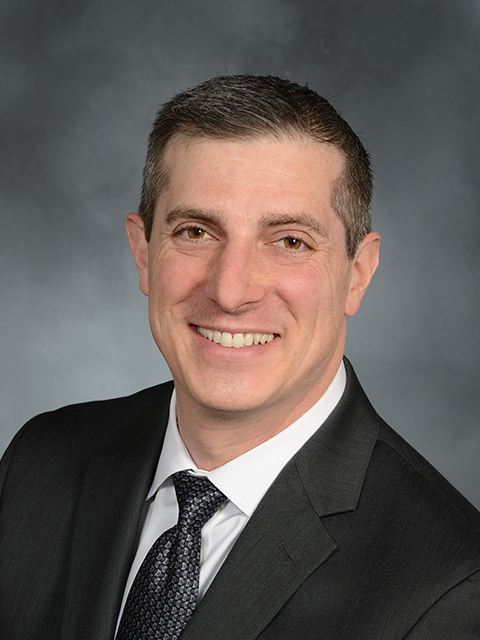 As an interventional radiologist, I am able to provide patients with a range of powerful, targeted therapies through millimeter-size incisions in the skin by using advanced image-guidance. Practicing at New York-Presbyterian Hospital's Weill-Cornell Medical Center, I feel fortunate to work closely with global leaders in oncology, medicine, surgery and radiology to provide world class, personalized care as part of a professional, compassionate team. I consider my patients to be key members of this team. My goal is that they feel they are receiving the most advanced medical care while maintaining their dignity and quality of life.
Adam Talenfeld, M.D. is an Assistant Professor of Radiology at Weill Cornell Medical College and an Assistant Attending Radiologist at the New York-Presbyterian Hospital. Dr. Talenfeld earned board certification by the American Board of Radiology in Diagnostic Radiology in 2008 and in Interventional Radiology (CAQ) in 2011. A native of Arizona with New York roots, Dr. Talenfeld graduated Alpha Omega Alpha from the University of Arizona College of Medicine on full scholarship before completing his residency in diagnostic radiology and fellowship in interventional radiology at the Mount Sinai Medical Center, New York.
Dr. Talenfeld's research is focused within the growing field of Comparative Effectiveness, also known as Patient-Centered Outcomes Research (PCOR). By establishing and studying patient registries and other "real-world" data sources, Comparative Effectiveness Research (CER) seeks to directly compare different methods of diagnosis and treatment in order to empower patients, health care providers and policy makers facing individual and population-wide decisions every day.
Dr. Talenfeld's clinical practice focuses on minimally invasive, image-guided interventional procedures for the treatment of primary and metastatic liver cancers and other tumors, a field also known as interventional oncology. Alone or in combination with traditional surgery or chemotherapy, treatments such as trans-arterial radioembolization (a.k.a. selective internal radiation therapy), trans-arterial chemoembolization and percutaneous thermal tumor ablation offer improved survival and quality of life and, in some cases, cure. Patients receiving many of the procedures Dr. Talenfeld performs will go home the same day; others after only a short hospital stay.
Dr. Talenfeld is fluent in Spanish.
Frequently performed procedures:
Trans-arterial liver tumor therapy, including radioembolization (a.k.a. selective internal radiotherapy)
Percutaneous tumor ablation, including microwave and radiofrequency
Chemotherapy infusion port placement and other vascular access procedures
Image guided needle biopsy
Insurances
Insurance Plans Accepted
The following represents most of the managed care plans accepted by this physician. If your insurance carrier does not appear here please feel free to contact this physician or this physician's practice as they may have individual contracts not included on this site.
AETNA

[PPO]

AETNA

[HMO]

AETNA

[Medicare]

Aetna - Weill Cornell

[POS]

Affinity Health Plan
CIGNA
Empire Blue Cross/Blue Shield

[PPO]

Empire Blue Cross/Blue Shield

[EPO]

Empire Blue Cross/Blue Shield

[Mediblue (Senior)]

Empire Blue Cross/Blue Shield

[HMO]

Fidelis Care
GHI

[CBP]

Health First
Health Insurance Plan of NY (HIP)

[Medicaid]

Health Insurance Plan of NY (HIP)
Health Insurance Plan of NY (HIP)

[Medicare]

Health Plus - Amerigroup
Medicare

[Medicare]

Oxford Health Plans

[Freedom]

Oxford Health Plans

[Medicare Advantage]

Oxford Health Plans

[Liberty]

Rockefeller University - CoreSource
United Empire
United Health Care

[Community Plan]

United Health Care
United Health Care

[Medicare]
Publications
Articles in professional peer-reviewed journals
Kwan SW, Mortell KE, Talenfeld AD, Brunner MC. "Sublobar resection and ablation show similar survival outcomes in older patients with stage 1 non-small cell lung cancer." Mansuscript submitted to J Vasc Interv Radiol, review in progress.
May BJ, Talenfeld AD, Madoff DC. "An update on portal vein embolization: evidence-based outcomes, controversies, and novel strategies." J Vasc Interv Radiol, Feb 2013;24:241-54.
Itagaki MW, Talenfeld AD, Kwan SW, Brunner JW, Mortell KE, Brunner MC. "Percutaneous vertebroplasty and kyphoplasty for pathologic vertebral fractures in the Medicare population: safer and less expensive than open surgery." J Vasc Interv Radiol, Nov 2012;11:1423-9.
Lookstein RA, Talenfeld AD, Raju R, Vorchheimer DA, Olin JW, and Marin ML. "Sirolimus-eluting stent placement for refractory renal artery in-stent restenosis: sustained patency and clinical benefit at 24 months." Case Report, Vasc Med, Nov 2009; 14:361-364.
Talenfeld AD, Soni SJ, Moser JW, Kassing PJ. "Reimbursement trends for outpatient interventional radiology procedures: comparison of hospital and freestanding physician office sites of service." Original research, J Am Coll Radiol June 2009; 6:417-427.
Talenfeld AD, Schwope RB, Alper HJ, Cohen EI, Lookstein RA. "MDCT angiography of the renal arteries in patients with atherosclerotic renal artery stenosis: implications for renal artery stenting with distal protection." Original research, Am J Roentgenol, Jun 2007; 188:1652-1658.
Schwope RB, Alper HJ, Talenfeld AD, Cohen EI, Lookstein RA. "MR angiography for patient surveillance after endovascular repair of abdominal aortic aneurysm." Pictorial essay, Am J Roentgenol, Apr 2007; 188:W334-W340.
Talenfeld AD, Hulett, RL. "Neonatal diagnosis of an isolated sigmoid colon duplication cyst." Letter to the editor, Pediatr Radiol April 2003; 33: 436-438.
Books, book chapters and reviews
Talenfeld AD, Sista A, Madoff DC. "Intra-arterial Therapies: Primary Liver Tumors," chapter in Biliary Tract and Primary Liver Tumors, Surgical Oncology Clinics of North America, editor Timothy Pawlik. To be published 2014.
Talenfeld AD, Holzwanger DJ, Madoff DC. "Interventional Radiology Management of Unresectable Intrahepatic Cholangiocarcinoma," chapter in Biliary Tract and Gallbladder Cancer: A Multidisciplinary Approach, editors Joseph Herman, Timothy Pawlik and Charles Thomas; Springer. To be published 2013.
Talenfeld AD, Madoff DC. "TIPS Reduction for Post-TIPS Refractory Encephalopathy," chapter SIR Syllabus on portal hypertension with D. Madoff, editor Wael Saad. To be published Fall, 2013/Winter 2014
Abstracts
Talenfeld AD, Blake K, Sista A, Trost D. "Coaxial wire rail technique for retrieval of hook-embedded filters." Abstract sumission to the 2015 Annual Scientific Meeting of the Society of Interventional Radiology, review in progress.
Talenfeld A, Trost D, Schiffman M, Pua B, Sista A, Madoff D. "Current techniques for TIPS reduction in patients with refractory hepatic encephalopathy." Abstract presented as poster at the 2012 SIR annual scientific meeting, San Francisco, CA.
Sheynzon V, Lookstein RA, Talenfeld AD, Nowakowski FS, Stangl PA, Kim E, et. al. "Power pulse spray pharmacomechanical thrombectomy for the treatment of upper extremity deep vein thrombosis." Abstract of case series, 2009 SIR annual meeting.
Honors and Awards
James M. Moorefield Health Policy and Economics Visiting Fellowship; American College of Radiology, 2008
Roentgen Resident Research Award; Radiological Society of North America, 2008
President & member; Alpha Omega Alpha Honor Medical Society, 2001
Dean's Scholar, full tuition and stipend; University of Arizona College of Medicine, 1999-2003
Robert Logan Nugent Award for service to the University and community; University of Arizona, 1999
Flinn Foundation Scholar, full college tuition, stipend and travel allowance; The Flinn Foundation, Phoenix, Arizona, 1994-1998
Member; Phi Beta Kappa, 1998
Member; Phi Kappa Phi, 1998
Specialties
Interventional Radiology
Radiology, Vascular/Interventional
Interventional Oncology
Clinical Expertise
Microwave Therapy
Metastatic Cancer to Liver
Liver Cancer
Radiofrequency Ablation
Tumor Embolization
Chemoembolization
Image Guided Biopsies
Contact and Practices
525 East 68th Street
Payson Pavilion, 5
Board Certifications
Vascular and Interventional Radiology
Diagnostic Radiology
Education
B.A., University of Arizona, 1998
B.S., University of Arizona, 1999
M.D., University of Arizona College of Medicine, 2003