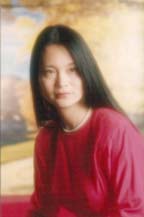 Xiaolei Yu Baran, MD
currently serves as Assistant Professor and Assistant Attending at the Department of Psychiatry, Payne Whitney Westchester of New York Presbyterian Hospital, Weill Medical College of Cornell University.
Dr. Xiaolei Yu Baran received her medical degree from Shanghai Second Medical University, and her graduate degree in Experimental Pathology from New York Medical College. Dr. Baran served her internship in Internal Medicine at New York Medical College, residency in Psychiatry at New York Hospital-Cornell Medical Center and a fellowship in Geriatric Psychiatry at Cornell University Medical College. She is board certified in psychiatry and geriatric psychiatry.
http://www.cornellphysicians.com/xybaran
Publications
Xiaolei Y. Baran and John P. Docherty. Rapid and Sustained Response to a Single Dose of Sertraline in a Patient with Newly Emergent Depression During Varenicline-Assisted Smoking Cessation. CNS Spectrums 2010; 15:148-151
X.Y. Baran, H. Moonseong, R. Young. Geriatric Depressive and Bipolar Schizoaffective Disorders. European Archives of Psychiatry and Clinical Neurosciences 2009; 259 (Suppl 1):S72
X. Baran and J. Docherty. The "A-Effect" of Aripiprazole. The International Journal of Neuropsychopharmacology 2008; 11(S1):133
Xiaolei Y. Baran and Robert C. Young. Bipolar and Depressed Types of Schizoaffective Disorder in Old Age. The American Journal of Geriatric Psychiatry 2006 14:382-383
X.L. Yu and R.C. Young. Geriatric schizoaffective disorder: Subtypes. American Journal of Geriatric Psychiatry 2002; 10:2, Supplement 1:79
Xiao L. Yu and Robert C. Young. Geriatric Schizoaffective Disorders. Biological Psychiatry 2001; 49:12S
J. DeAsis, X.L. Yu, R.C. Young. Biological Factors in Bipolar Disorders in Late Life. Bipolar Disorders: Basic Mechanisms and Therapeutic Implications. Edited by J. Soares, S Gershon; Marcel Dekker, Inc. New York 2000; 23: 479-506
Specialties
Adult Psychiatry
General Psychiatry
Clinical Expertise
Depressive Disorder
Bipolar Disorder
Schizophrenia
Schizoaffective Disorder
Adjustment Disorder
Psychotherapy and Psychopharmacology
Affective Disorder
Anxiety Disorder
Psychotic Disorder
Psychiatric Treatment For Medically Ill Patients
Contact Info
Weill Cornell Psychiatry Westchester
Appointments
Assistant Professor of Clinical Psychiatry
Weill Cornell Medical College, Cornell University
Assistant Attending Psychiatrist
NewYork-Presbyterian Hospital
Board Certifications
Psychiatry
Psychiatry, Geriatric
Education
B.M., Shanghai Second Medical University (China), 1983
M.S., New York Medical College, 1989
M.D., University of the State of New York, 2004