The Weill Cornell Program for Thrombosis and Deep Venous Health specializes in comprehensive vein care. Using state-of-the-art diagnostic imaging and innovative therapeutic approaches, our patients receive the best possible results with minimal side effects and downtime.
Conditions We Treat
Venous disease can refer to several different conditions and issues. Some of the most common venous diseases we treat include:
• Deep Vein Thrombosis (DVT)
• Post-Thrombotic Syndrome (PTS)
• Pulmonary Embolism (PE)
• Chronic Venous Insufficiency
• Venous Compression Syndromes, like May-Thurner syndrome and Paget-Schroeder syndrome
• Pelvic Venous Disease, or chronic pelvic pain associated with pelvic varicosities and venous hypertension
Deep Vein Thrombosis (DVT)
Deep vein thrombosis is a condition in which blood clots form on the inside of the deep veins and block blood flow to the heart. It most commonly develops in the veins of the legs, but occasionally occurs in the arms or, more rarely, other parts of the body. Besides the initial symptoms of pain and swelling, the most significant danger to people with DVT is pulmonary embolism.
The most common symptoms of a leg DVT are:
• Calf or thigh pain
• Swelling
• Redness of the skin on the leg
Post-thrombotic syndrome (PTS)
Post-thrombotic syndrome is chronic condition affecting up to half of people in subsequent months to years after the acute DVT. While not completely understood, PTS is caused by obstruction of blood flow through the damaged and clot-filled veins, leading to increased pressure in the leg and the symptoms described below.
Symptoms of PTS include:
• Pain
• Cramping
• Itching
• Swelling
• Heaviness
• Abnormal sensation (pins and needles)
• Skin changes (severe cases can develop ulcers)
Pulmonary Embolism (PE)
Pulmonary Embolism occurs when part of the blood clot breaks off from the leg or arm, travels through the veins and heart, and into the pulmonary arteries, which supply the lungs with blood.
If the clot is large enough, it can compromise heart function and in some cases cause death. However, the majority of people who have PEs, especially if diagnosed and treated quickly, survive.
Chronic Venous Insufficiency
Chronic venous insufficiency which can result in swelling, pain, and ulcers and is caused by increased pressure in the leg from the following:
• Deep venous obstruction (e.g. from a prior leg DVT that does not go away or a compression outside the vein)
• Deep venous reflux (blood going the wrong way)
• Superficial venous reflux.
How We Treat Venous Diseases
Minimally-Invasive Image-Guided Therapies
Weill Cornell Medicine is a pioneer in minimally-invasive procedures. With this approach, patients typically experience less pain, less scarring and a faster recovery. The therapies we offer include:
• Sclerotherapy/Phlebectomy
• Endovenous Laser Ablation (EVLT)
• Pelvic vein embolization
• Thrombectomy, Thrombolysis, Venoplasty and/or Stenting
Complex Inferior Vena Cava (IVC) Filter Retrievals
Weill Cornell Medicine also specializes in the safe removal of chronically embedded IVC filters and management of IVC filter related complications.
Our center is one of the few practices in the region with experienced specialists performing endovascular laser sheath assisted retrieval to ensure success and limit complications.
Retrieving, or removing, embedded IVC filters may be appropriate for the following reasons:
• Prolonged dwell time
• Prior unsuccessful retrieval attempts
• Tip embedded/Significant filter tilt/Leg penetration
• Fractured filters
Why Choose Weill Cornell Medicine?
Weill Cornell Medicine is a leader in the field, with a long tradition of expertise, innovation and leadership. In particular, we are pioneers of minimally invasive procedures, which eliminate the need for open surgery and allow for shorter and less painful recovery times.
As an institution, we are also committed to delivering safe, effective and compassionate care to all our patients. The Weill Cornell Program for Thrombosis and Deep Venous Health offers same-day consultations and duplex ultrasounds.
Contact us today to schedule an appointment.
Media
Photos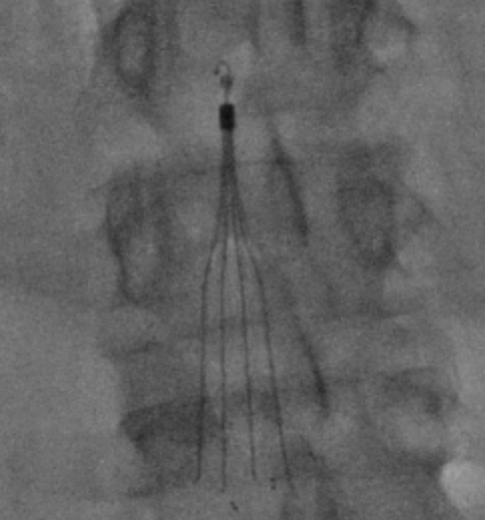 Our Doctors
No items were found matching the selected filters
Vascular and Interventional Radiology
View Profile
Vascular and Interventional Radiology
View Profile
Vascular and Interventional Radiology
View Profile