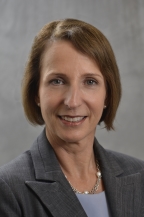 Vivian P. Bykerk, M.D.
Provider of world-class care at NewYork-Presbyterian
Locations and Appointments
About Vivian P. Bykerk, M.D.
Biographical Info
Dr. Bykerk works with patients who have, or have recently developed rheumatoid arthritis.
With a patient care focus on the importance of proper diagnosis, particularly in the early stages of inflammatory arthritis, which may prevent serious joint damage, lifelong impacts on quality of life. Dr. Bykerk notes that if detected and treated in its early stages, the effects of inflammatory arthritis can be greatly diminished.
"As rheumatologists, we want to see patients with new onset rheumatoid arthritis ideally as soon as possible." said Dr. Bykerk. "Patients often don't get to us for four to six months after their symptoms have been identified. The longer they wait, the higher the chance damage will occur."
Dr. Vivian Bykerk is the director of a team of specialists at the Inflammatory Arthritis Center of Excellence at Hospital for Special Surgery. The Center includes a dedicated inflammatory arthritis clinic, extensive arthritis registries, scientific studies focused on musculoskeletal and autoimmune diseases, a physician education program, and most importantly, an emphasis on providing quality health care to patients.
Dr. Bykerk is principal investigator of the Accelerated Medicines Partnership (AMP), a multiyear NIH funded translational research project across numerous sites in the United States. Dr Bykerk also serves on several subcommittees of this consortium in leadership roles. She has worked to advance the goals of the AMP consortium in RA, co-leading the Phase 0 and I arms of the study and participating in the leadership group of the phase II study planning group. Dr Bykerk has served as a co-chair for the RA Disease Focus Group (DFG) since the project's inception, written integral parts of the protocol, lab and clinical manuals for both Phase I and II, and provided guidance for policy and publication documents that govern AMP consortium sites.
Dr. Bykerk brings an extensive knowledge base and experience in rheumatology. She completed a residency in Internal Medicine at Mount Sinai Hospital in Toronto, Ontario, Canada, and spent two years as a Rheumatology Fellow at McGill University, in Montreal, Quebec. Dr. Bykerk received the Senior Rheumatology Scholar Award in 1989 presented by the American College of Rheumatology for her research in lupus. She served as the Director of the Early Arthritis Program at Mount Sinai Hospital, Toronto, Ontario, Canada and comes to Hospital for Special Surgery from Brigham & Women's Hospital, Boston, where she was in the Division of Rheumatology. She has been in rheumatology practice for over 25 years.
Honors and Awards
• Recognized by the International Association of Healthcare Professionals as a Doctor of Excellence, Inducted into 2013 Edition of Leading Physicians of the World Publication, 2013
• Senior Rheumatology Scholar Award presented by the American College of Rheumatology, 1989
• Canadian Arthritis Society Fellowship, 1985-1987
• Winner, Mount Sinai Hospital Clinical Research Competition, 1985
• Cystic Fibrosis Research Grant, 1977
• Governor's Scholarship, McMaster University, 1974
• Ontario Scholarship, 1974
Board Certifications
Fellow Royal College of Physicians, Canada
Fellow Royal College of Physicians, Canada
Clinical Expertise
Inflammatory Arthritis
Arthrocentesis of Minor Joint
Arthrocentesis of Large Joint
Education
McMaster University, Faculty of Medicine (Canada)

McMaster University (Canada)
Appointments
Hospital for Special Surgery

NewYork-Presbyterian Hospital

Weill Cornell Medical College, Cornell University
External Relationships
Relationships and collaborations with for-profit and not-for profit organizations are of vital importance to our faculty because these exchanges of scientific information foster innovation. As experts in their fields, WCM physicians and scientists are sought after by many organizations to consult and educate. WCM and its faculty make this information available to the public, thus creating a transparent environment.
No External Relationships Reported