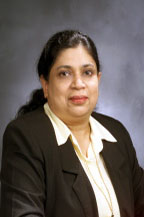 Dr. Susan Mathew received her undergraduate education and Ph. D. in Human Genetics in her native country of India in 1981. She subsequently received post-doctoral training at the Institute of Human Genetics in Freiburg, West Germany and returned to India to direct a cytogenetics laboratory, which she did for the next six years. In 1990 she immigrated to the United States to work as a Research Associate in Cancer Genetics under the mentorship and tutelage of Dr. Raji Chaganti at Memorial Sloan Kettering Cancer Center. In 1995, she was appointed Assistant Member in the Department of Pathology at St. Jude Children's Research Hospital. She was promoted to Associate Member, Department of Pathology at that institution in March, 2002. Dr. Mathew is one of only a small handful of individuals in the United States who is certified in Clinical Cytogenetics by the American Board of Medical Genetics.
Dr. Mathew is widely respected in the United States as an outstanding cancer and molecular cytogeneticist. She is particularly well known and respected for her expertise in the cytogenetic diagnosis of human leukemias and lymphomas and for her scholarly contributions to the literature concerning this topic.
Publications
Blinder VS, Chadburn A, Mathew S, Leonard JP: Improving outcomes for patients with Burkitt lymphoma and HIV. Aids Patient Care and STDs. 22:175-187, 2008.
LEngels EA, Mbulaiteye SM, Othieno E, Gomez M, Mathew S, Cesarman E, Knowles DM, Chadburn A: Kaposi sarcoma-associated herpesvirus in non-Hodgkin lymphoma and reactive lymphadenopathy in Uganda. Hum Pathol 38: 308-14, 2007.
Tu, JJ, Rohan S, Kao J, Kitabayashi N, Mathew S, Chen YT: Gene fusions between TMPRSS2 and ETS family genes in prostate cancer: frequency and transcript variant analysis by RT-PCR and FISH on paraffin-embedded tissues. Mod Pathol 20: 921-928,2007.
Mullighan CG, Goorha S, Radtke I Miller CB, Coustan-Smith E, Dalton JD, Girtman K, Mathew S, Ma J, Pounds SB, Su X, Pui CH, Relling MV, Evans WE, Shurtleff SA, Downing JR: Genome-wide analysis of genetic alterations in acute lymphoblastic leukaemia. Nature 446758-64, 2007.
Niesvisky R, Jayabalan DS, Christos PJ, Furst JR, Naib T, Ely S, Jalbrzikowski J, Pearse RN, Zafar F, Pekle K, LaRow A, Lent R, Mark T, Cho HJ, Shore T, Tepler J, Harpel J, Schuster MW, Mathew S, Leonard JP, Mazumdar M, Chen-Kiang S, Coleman M: BiRD Biaxin[clarithromycin /Revlimid[lenalidomide]/dexamethasone) combination therapy results in high complete- and overall-response rates in treatment-naïve symptomatic multiple myeloma. Blood 111: 1101-1109, 2008.

Geyer JT, Niesvizky R, Jayabalan DS, Mathew S, Subramaniyam S, Geyer AI, Orazi A, Ely SA: IgG4 plasma cell myeloma: new insights into the pathogenesis of IgG4-related disease. Mod Pathol doi: 10.1038/modpathol.2013.159. [Epub ahead of print], 2013.
Contact Info
Appointments
NewYork-Presbyterian Hospital
Professor of Clinical Pathology and Laboratory Medicine
Weill Cornell Medical College
Education
B.Sc., Kerala University (India), 1973
Ph.D., Andhra University (India), 1981