Robison V. Paul Chan, M.D., F.A.C.S.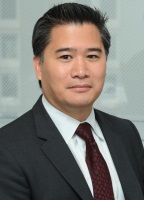 Medicine is a way of life, a passion to provide excellence in patient care, research and education. It is my mission to give my patients state-of-the-art care for vitreoretinal disease in the most compassionate and caring manner. Through research we are able to remain leaders in our field and be at the forefront of new diagnostic and therapeutic strategies. And through education we have the opportunity to train future leaders in Ophthalmology. I feel that training those who will live and practice beyond us is one of the most important legacies we can leave. Through our mentorship, future physicians will be equipped with the knowledge to provide the very best in patient care.
Robison V. Paul Chan, M.D., M.S.C., F.A.C.S., an Associate Attending Ophthalmologist at NewYork-Presbyterian/Weill Cornell Medical Center, discusses a condition known as Retinopathy of Prematurity that affects babies born prematurely. Dr. Chan specializes in treating this disease.
Dr. Chan is the St. Giles Associate Professor of Pediatric Retina, Associate Professor of Ophthalmology, and Director of the Retina Service at Weill Cornell Medical College. He also serves as Division Chief of Ophthalmology at New York Downtown Hospital. Dr. Chan is a board certified ophthalmologist whose clinical practice involves the surgical and medical management of adult and pediatric vitreo-retinal disease.
Dr. Chan received his BA from the University of Pennsylvania, his MD from the Temple University School of Medicine in Philadelphia, and received a Masters in Clinical Investigation at Weill Cornell Medical College. After completing his Ophthalmology residency at New York-Presbyterian Hospital, Weill Medical College of Cornell University in New York City, he went on to a Fellowship in Vitreoretinal Surgery at the Massachusetts Eye and Ear Infirmary at Harvard Medical School where he was Chief Clinical Fellow of the Retina Service. Dr. Chan then rejoined the Department of Ophthalmology at New York-Presbyterian Hospital, Weill Cornell Medical College.
Dr. Chan's clinical interests focus on diseases and surgery of the retina and vitreous, which includes: pediatric retinal disease; diabetic eye disease; macular degeneration; retinal vascular disease; endophthalmitis; intraocular tumors; retinal detachment surgery; retained lens fragment removal; trauma; and macular surgery (e.g. epiretinal membrane peeling and macular hole surgery).
Dr. Chan's primary research interests focus on the pathogenesis and management of retinopathy of prematurity (ROP). He received an NIH K30 Clinical Research Curriculum Award from Weill Cornell Medical College and works with numerous investigators worldwide to address the growing burden of ROP. Dr. Chan also runs the retinopathy of prematurity service at Weill Cornell Medical Center and has numerous clinical projects and collaborations studying ROP. He serves as a scientific reviewer to several major journals and has participated as a co-investigator in numerous clinical trials and laboratory investigations. He has presented the findings of his research worldwide and has been an invited speaker at local, national, and international meetings.
Dr. Chan also has a keen interest in international healthcare and Ophthalmology, and is currently involved in helping establish clinical, teaching, and research collaborations in Southeast Asia, Latin America, and Africa.
As Fellowship Director of the surgical vitreo-retinal program at Weill Cornell Medical College, Dr. Chan provides direct supervision and instruction of medical students, ophthalmology residents, and vitreo-retinal fellows. Dr. Chan has also been an invited lecturer at the Lancaster Course in Ophthalmology, the Kevin Hill Course, the Greater New York Ophthalmology Clinical Lecture Series, and the Ophthalmology Basic Science Course of Columbia University.
He has won numerous academic awards including a Heed Ophthalmic Foundation Fellowship, the Ronald G. Michels Foundation Fellowship, and the Paul Kayser International Fellowship. Recognized as a gifted educator, Dr. Chan was awarded teacher of the year by the Ophthalmology residents at Weill Cornell Medical College.
Insurances
Insurance Plans Accepted
The following represents most of the managed care plans accepted by this physician. If your insurance carrier does not appear here please contact the physician's office as they may have individual contracts not included on this site.

* indicates this physician is no longer accepting new patients with this insurance plan.
AETNA

[PPO]

AETNA

[Medicare]

AETNA

[HMO]

Aetna - Weill Cornell

[POS]

Affinity Essential
Affinity Health Plan
Blue Priority Network
CIGNA
Emblem Select Care
Empire Blue Cross/Blue Shield

[Pathway X]

Empire Blue Cross/Blue Shield

[Pathway X Enhanced]

Empire Blue Cross/Blue Shield

[PPO]

Empire Blue Cross/Blue Shield

[Mediblue (Senior)]

Empire Blue Cross/Blue Shield

[HMO]

Empire Blue Cross/Blue Shield

[EPO]

Fidelis Care
GHI

[CBP]

Health First
Health Insurance Plan of NY (HIP)

[Medicaid]

Health Insurance Plan of NY (HIP)

[Medicare]

Health Insurance Plan of NY (HIP)
Health Plus - Amerigroup

[CHP]

Health Plus - Amerigroup
Health Republic
Medicaid
Medicare
Oscar
Oxford Health Plans

[Liberty]

Oxford Health Plans

[Freedom]

Rockefeller University - CoreSource
UHC Compass
United Empire
United Health Care

[Community Plan]

United Health Care
Publications
PUBLICATIONS
Benson WE, Chan P, Sharma S, Snyder WB, Bloome MA, Birch DG, Current Popularity of Pneumatic Retinopexy, Retina 1999;19(3):238-241 [PMID: 10380030]
Chan RV, Trobe JD, Spasm of Accommodation Associated with Closed Head Trauma, Journal of Neuro-Ophthalmology 2002;22:15-17 [PMID: 11937900]
Sharma MC, Chan P, Kim RU, Benson WE,Rhegmatogenous Retinal Detachment in the Fellow Phakic Eyes of Patients with Pseudophakic Rhegmatogenous Retinal Detachment, Retina 2003; 23(1):37-40 [PMID: 12652229]
Chan RV, Seiff BD, Lincoff HA, Coleman DJ, Rapid Recovery of Sympathetic Ophthalmia with Treatment Augmented by Intravitreal Steroids, Retina. 2006 Feb;26(2);243-247 [PMID: 16467694]
Chan RV, Lee TC, Chaganti RK, Cestari DM, Kim MT, Lee S, Macular Star Associated with Behcet Disease, Retina. 2006 Apr;26(4):468-470 [PMID: 16603968]
Quiroz-Mercado H, Martinez-Castellanos MA, Hernandez-Rojas M, Salazar-Teran N,Chan RV, Antiangiogenic Therapy with Intravitreal Bevacizumab for Retinopathy of Prematurity, Retina. Proceedings of the Association of Pediatric Retinal Surgeons Meeting. 28 (3) Supplement:S19-S35, March 2008 [PMID: 18317339]
Richter GM, Sun GI, Lee TC, Chan RV, Flynn JT, Starren J, Chiang MF, Speed of Telemedicine versus Ophthalmoscopy for Retinopathy of Prematurity Diagnosis,American Journal of Ophthalmology Jul 2009; 148 (1): 136-142.e2, Epub 2009 Apr 18 [PMID: 19376496]
Yonekawa Y, Sun G, D'Amico D, Chan RV, Retinal Necrosis Secondary to Inadvertent Intravitreal Methylprednisolone (Depo-Medrol) Injection During Pars Plana Vitrectomy, Retinal Cases & Brief Reports. 3:336–339, 2009*
Paul T, Warden S, Safdieh J, Chan RVP, Aplastic Anemia Secondary to 6-Mercaptopurine Initially Presenting with a Hemorrhagic Retinopathy, Retinal Cases & Brief Reports. 3:372–375, 2009*
Chan RVP, Yonekawa Y, Lane AM, Skondra D, Munzenrider JE, Collier M, Gragoudas ES, Kim IK, Proton Beam Irradiation Using a Light Field Technique for the Treatment of Choroidal Hemangiomas, Ophthalmologica 2010;224:209-216 (DOI: 10.1159/000260226) [PMID: 19940527]
Paul Chan RV, Williams SL, Yonekawa Y, Weissgold DJ, Lee TC, Chiang MF, Accuracy of Retinopathy of Prematurity Diagnosis by Retina Fellows, Retina, 2010 Jun;30(6):958-65 [PMID: 20168274]
Wong RK, Khanifar AA, Sun G, Saffra N, Chan RVP, Acute Retinal Necrosis and Cystic Encephalomalacia in a Premature Neonate, Retinal Cases & Brief Reports. 4:202-205, Spring 2010*
Thyparampil PJ, Park Yangseon, Martinez-Perez ME, Lee TC, Weissgold DJ, Chan RVP, Flynn JT, Chiang MF, Plus Disease in Retinopathy of Prematurity (ROP): Quantitative Analysis of Vascular Change, American Journal of Ophthalmology, 2010 Oct;150(4):468-475.e2 [PMID: 20643397]
Chan RV, Yonekawa Y, Morrison MA, Sun G, Wong RK, Perlman JM, Hartnett ME, Chiang MF, Lee TC, DeAngelis MM, The Association Between Assisted Reproductive Technology and Advanced Retinopathy of Prematurity, Clinical Ophthalmology, 2010 Nov 26;4:1385-90 [PMID: 21179223]
Falkner-Radler C, Myung JS, Moussa S, Paul Chan RV, Smretschnig E, Kiss S, Graf A, D'Amico DJ, Binder S, Trends in Primary Retinal Detachment Surgery: Results of a Bicenter Study, Retina, 2011 Jan 14. [Epub ahead of print] [PMID: 21242859]
Wittenberg LA, Jonsson NJ, Chan RVP, Chiang MF, Computer-Based Image Analysis for Plus Disease Diagnosis in Retinopathy of Prematurity, Journal of Pediatric Ophthalmology and Strabismus, 2011 Mar 1:1-9 [PMID: 21366159]
Chan RV, Leo SW, Young T, A 7-year-old child seeking treatment for progressive myopia. J Pediatr Ophthalmol Strabismus. 2011 May-Jun;48(3):135-7. [PMID: 21598874]
Cho M, Khanifar AA, Chan RVP, Spectral Domain Optical Coherence Tomography Findings in Fungal Endophthalmitis, Retinal Cases & Brief Reports, 5(2):136-140, Spring 2011*
Yonekawa Y, Chan RP, Reddy AK, Pieroni CG, Lee TC, Lee S, Early Intravitreal Treatment of Endogenous Bacterial Endophthalmitis, Clinical and Experimental Ophthalmology, 2011 Nov;39(8):771-8* [PMID: 22050564]
Myung JS, Gelman R, Aaker GD, Radcliffe NM, Chan RV, Chiang MF, Evaluation of Vascular Disease Progression in Retinopathy of Prematurity (ROP) Using Static and Dynamic Retinal Images, American Journal of Ophthalmology, 2011 Oct 22 [Epub ahead of print] [PMID: 22019222]
Cho M, Chan RP, 23-Gauge Pars Plana Vitrectomy for Posteriorly Dislocated Crystalline Lens, Clinical Ophthalmology, 2011;5:1737-43. Epub 2011 Dec 8.* [PMID: 22205834]
Myung JS, Paul Chan RV, Espiritu MD, Williams SL, Granet DB, Lee TC, Chiang MF, Accuracy of Retinopathy of Prematurity Image-based Diagnosis by Pediatric Ophthalmology Fellows, Journal of the American Association of Pediatric Ophthalmology and Strabismus, 2011 Dec;15(6):573-8. [PMID: 22153403]
Cho M, Witmer MT, Favarone G, Chan RP, D'Amico DJ, Kiss S, Optical coherence tomography predicts visual outcome in macula-involving rhegmatogenous retinal detachment. Clinical Ophthalmology, 2012;6:91-6. Epub 2012 Jan 11. [PMID: 22275812]
Wong RK, Ventura CV, Espiritu MJ, Yonekawa Y, Henchoz L, Lee TC, Chiang MF,Chan RV, Training Fellows for Retinopathy of Prematurity Care: A Web-Based Survey, Journal of the American Association of Pediatric Ophthalmology and Strabismus, 2012 Apr;16(2):177-81.* [PMID: 22525176]
Paul Chan RV, Chiang MF, Reynolds JD, Incorporating Imaging in an ROP Screening Practice, J Pediatr Ophthalmol Strabismus, 2012 May 1;49(3):134-6. [PMID: 22589140]
Martinez-Castellanos MA, Schwartz S, Leal R, Chan RV, Quiroz-Mercado H, Pain Assessment in Premature Infants Treated with Intravitreal Antiangiogenic Therapy for Retinopathy of Prematurity Under Topical Anesthesia, Graefe's Archive for Clinical and Experimental Ophthalmology, 2012 May 18. [Epub ahead of print] [PMID: 22619071]
Witmer MT, Cho M, Favarone G, Chan RVP, D'Amico DJ, Kiss S, Ultra-wide-field Autofluorescence Imaging in Non-Traumatic Rhegmatogenous Retinal Detachment,Eye, 2012. Jun 22 [Epub ahead of print] [PMID: 22275812]
Kim DY, Silverman RH, Chan RV, Khanifar AA, Rondeau MJ, Lloyd HO, Schlegel PN, Coleman DJ. Measurement of Choroidal Perfusion and Thickness Following Systemic Sildenafil (ViagraR), Acta Ophthalmologica, 2012 Sep 13 [PMID: 22974308]
Cohen SJ, Chan RVP, Keegan M, Andreoli CM, Borenstein JT, Miller JW, Gragoudas ES, Evaluation of Tissue Interactions with Mechanical Elements of a Transscleral Drug Delivery Device, Pharmaceutics, 2012, 4, 212-229
Witmer MT, Vasan R, Levy R, Davis J, Chan RV, Bilateral Maculopathy Associated with Pierre Robin Sequence, Journal of the American Association of Pediatric Ophthalmology and Strabismus, 2012 Aug;16(4):409-10.* [PMID: 22929457]
Orlin A, Chan RV, Freund KB, Folk JC, Chau F, Goldstein DA, Clinical and Therapeutic Challenges, Retina, 2012 Oct;32(9):1988-93. [PMID: 23007671]
Martinez-Castellanos MA, Schwarz S, Hernandez-Rojas ML, Kon-Jara VA, Garcia-Aguirre G, Guerrero-Naranjo JL, Chan RV, Quiroz-Mercado H, Long-Term Effect of Antiangiogenic Therapy for Retinopathy of Prematurity: Up to 5 Years of Follow-up,Retina, 2012 Oct 24. Epub Ahead of Print. [PMID: 23099498]
Nagiel A, Espiritu MJ, Wong RK, Lee TC, Lauer AK, Chiang MF, Chan RVP, ROP Training During Residency, Letter to the Editor, Ophthalmology, In Press*
REVIEW ARTICLES
Chan RVP, Young LH, Treatment Options for Metastatic Tumors to the Choroid,Seminars of Ophthalmology. 2005 Oct-Dec;20(4):207-216
Yonekawa Y, Sun G, Silverman RH, Coleman DJ, Chan RVP, The Current Role of High Frequency Ultrasound in Ophthalmic Diagnosis, Contemporary Ophthalmology, Vol. 8 (7)*
de Crecchio G, Chan RVP, Manzi G, Romano MR, Polypoidal Choroidal Vasculopathy: Recent Advances in Therapy, Current Drug Targets, 2011 Feb;12(2):206-11
BOOK CHAPTERS
Yonekawa Y, Chan RVP, Eye cancer, retinoblastoma. In: G. Colditz, ed. Encyclopedia of Cancer and Society. Vol. 2. Los Angeles: SAGE Publications; 2007:342-3*
Yonekawa Y, Chan RVP, Hypothalamic and visual pathway glioma, childhood. In: G. Colditz, ed. Encyclopedia of Cancer and Society. Vol. 2. Los Angeles: SAGE Publications; 2007:453-4*
Chan P, Kim IK, Gragoudas ES, Choroidal Hemangioma, Albert & Jakobiec's Principles and Practice of Ophthalmology 3rd Edition. WB Saunders, Elsevier Inc., 2008: 4973-4980
Yonekawa Y, Sun G, Morrison M, Adams S, DeAngelis M, Lee TC, Chan RVP, Retinopathy of Prematurity: Disease Mechanisms and Treatment Modalities, Non-Age Related Macular Degeneration, Nova Science Publishers, 2008*
Yonekawa Y, Khanifar AA, D'Amico DJ, Chan RVP. Pharmacotherapy for diabetic retinopathy. In: Quiroz-Mercado H, Kerrison J, Alfaro V, Mieler W, Liggett PE, eds. Macular Surgery, 2nd Edition. Philadelphia: Lippincott Williams & Wilkins
Gordon M, Quiroz-Mercado H, Chan RVP, Macular Disease Secondary to Peripheral Retinal Vasculopathy. In: Quiroz-Mercado H, Kerrison J, Alfaro V, Mieler W, Liggett PE, eds. Macular Surgery, 2nd Edition. Philadelphia: Lippincott Williams & Wilkins
Chan RVP, Yonekawa Y, Ober RR, Palmer EA, Drack AV, Wright KW, Lee TC, Retinopathy of Prematurity, In: Wright KW, Strube YNJ, eds. Pediatric Ophthalmology and Strabismus, 3rd Edition. Oxford
Honors and Awards
The St. Giles Associate Professor of Pediatric Retina, Weill Cornell Medical College
New York-Presbyterian Hospital, Weill Cornell Medical College, Department of Ophthalmology Teaching Attending of the Year 2006
Weill Medical College of Cornell University - NIH K30 Curriculum Award, Recipient 2006
Chinese American Ophthalmological Society Research Award, Award Recipient 2006
Pan American Association of Ophthalmology, Paul Kayser International Fellowship, Fellowship Award Recipient, 2006
Ronald G. Michels Fellowship Foundation, Fellowship Award Recipient, 2005
The Heed Ophthalmic Foundation Fellowship, Fellowship Award Recipient, July 2005-July 2006
Massachusetts Eye and Ear Infirmary - Retina Service, Chief Fellow, July 2005-July 2006
Rhet Buckler Award, American Society of Retina Specialists, 2010
American Society of Retina Specialists Honor Award, 2011
American Academy of Ophthalmology Achievement Award - 2012
Thai Retina Society - Honorary Member, 2012 to Present
Professional Societies:
American Eye Study Club
Society of Heed Fellows
The Retina Society
The Macula Society
American Society of Retinal Specialists
American Academy of Ophthalmology
Association for Research in Vision and Ophthalmology
Pan American Association of Ophthalmology
American Academy of Pediatrics - Subspecialty Fellow
American College of Surgeons
Chinese American Ophthalmological Society
The Ophthalmic Laser Surgical Society
New York State Ophthalmological Society
Vit-Buckle Society
New York Ophthalmological Society
Specialties
Pediatric Ophthalmology
Ophthalmology
Clinical Expertise
Pediatric Retina Problems
Diabetic Retinopathy
Retinal Detachment
Vitreoretinal Disorder
Retinal Disease
Retinopathy of Prematurity
Retinal Consultations
Retinal Surgery
Retinal Vascular Disorders
Clinical Research
Contact Info
1305 York Avenue
11th and 12th Floor
Appointments
St. Giles Associate Professor of Pediatric Retina
Weill Cornell Medical College
Associate Attending Ophthalmologist
NewYork-Presbyterian Hospital
Associate Professor of Ophthalmology
Weill Cornell Medical College, Cornell University
Adjunct Assistant Professor of Ophthalmology
Columbia University College of Physicians and Surgeons
Education
M.D., Temple University School of Medicine, 2000
M.Sc., Weill Graduate School of Medical Sciences of Cornell University, 2008