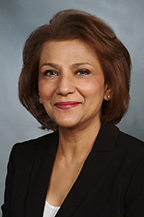 Background Information: Dr. Rana Hoda is Chief of the Papanicolaou Cytology Laboratory and Director of the Cytopathology Fellowship Training Program. Her primary clinical focus is cytopathology with special expertise in performing ultrasound-guided fine needle aspiration, urinary and gynecologic cytology and her research interests include ancillary tests in cytopathology and liquid based cytology among others.
Dr. Hoda was a resident in Anatomic Pathology at North Shore University Hospital and Lenox Hill Hospital, both affiliated with Cornell University Medical College where she trained with leading pathologists including Dr. Hadju and Dr. Ioachim. Subsequently she underwent a fellowship in Oncologic Anatomic Pathology at Memorial Sloan-Kettering Cancer Center, New York, New York with several outstanding oncological pathologists including Drs. Rosai, Rosen, Lieberman, Sternberg and Rosenblum. The following year she did a fellowship in Cytopathology: at Montefiore Medical Center - Albert Einstein College of Medicine, New York, NY under the guidance of Dr. Leopold G. Koss, one of the pioneers of cytopathology. Prior to joining Weill Cornell Medical College, she was a lecturer at the Hospital of University of Pennsylvania at Philadelphia, Tenured Professor of Pathology and Director of Cytopathology at Medical University of South Carolina at Charleston and Professor of Pathology and Director of Cytopathology at University of Rochester Medical Center at Rochester, NY.
Dr. Hoda has published over 100 scientific papers, has published two text books including The Funfamentals of Pap Test Cytology, co-authored with Dr. Syed Hoda and Koss's Cytology of the Urinary Tract, co-authored with Dr. Leopold G. Koss. Dr. Hoda published several chapters pertaining to various aspects of cytopathology including a chapter on the role fine needle aspiration in hematopoietic lesions for the 2nd edition of Knowles Neoplastic Hematopathology, published in 2013. She is on the editorial board of several cytolopathology journals including Diagnostic Cytopathology, Journal of American Society of Cytopathology and Cytojournal.
Dr. Hoda is director of an annual cytopathology tutorial sponsored by the Department of Pathology & Lab Medicine at Weill Cornell. She is active on the regional, national and international lecture circuit. She continues to lecture at various pathology meetings; conducts short courses at various pathology scientific meetings including American Society of Cytopathology, United States & Canadian Academy of Pathology, American Society for Clinical Pathologists and International Academy of Cytopathology; and has participated in educational conferences in several countries including Argentina, Belguim, Canada, Chile, Egypt, France, Hong Kong, India, Italy, Great Britain, Japan, Mexico, New Zealand, Nigeria, Peru, Saudi Arabia, Thailand, UAE, United Arab Emerites and Thailand.
Publications
1. Chintalapudi M, Hoda RS, Hsu TCYR61/CCN1 and CTGF/CCN2 mediate the pro-angiogenic activity of VHL mutant renal cell carcinoma cells. Carcinogenesis. 2008;29:696-703.
2. Mikhitarian K, Herbert MR, Baker RM, Hoda RS et al. Detection of mammaglobin mRNA in peripheral blood is associated with high grade breast cancer: interim results of a prospective cohort study. BMC Cancer. 2008;8:55.
3. Thrall M, Russell D, Hoda RS. Use of the ThinPrep Imaging System does not result in higher ASC-US rates or subsequent referrals to colposcopy. Cytojournal, 2008, 5:10.
4. Shrout J, Hoda RS, Mitas M et al b2microglobulin mRNA expression levels are prognostic for lymph node metastasis in colorectal cancer patients. Br J Cancer. 2008;98(12):1999-2005.
5. Reed CE, Graham A, Hoda RS, Khoor A, Garrett-Mayer E, Wallace MB, Mitas M. A simple two-gene prognostic model for adenocarcinoma of the lung. J Thorac Cardiovasc Surg. 2008;135(3):627-34.
6. Blum C, Graham A, Hoda RS, Hoda RS, Cole DJ, Carolyn Reed C, Mitas M et al. The expression ratio of Map7/B2M is prognostic for survival in patients with stage II colon cancer. Int Journal of Oncology 2008 ;33:579-84.
7. Yakoushina TV, Medina IM, Hoda RS. "String of pearls" appearance of blue blobs in postmenopausal atrophy on ThinPrep Pap test. Diagn Cytopathol. 2009;37:738-9.
8. Johnykutty S, Miller CH, Hoda RS, Giampoli E. Fine needle aspiration of dedifferentiated acinic cell carcinoma. Diagn Cytopathol 2009;37:763-8.
9. Yoost JL, Goetzl L, Hoda RS, Soper DE, Barry A. Management of the low grade squamous intraepithelial lesion Pap smear in a cross-sectional, observational cohort. J Reprod Med. 2009;54:421-4.
10. Wagner D, Bonfiglio TA, Hoda RS. ThinPrep Pap test of endocervical adenocarcinoma with lymph node metastasis: Report of a case in a 17-Year-Old Woman. Diagn Cytopathol. 2010;38:633-8.
11. Loukeris K, Salvatore S, Hoda RS. Pulmonary Zygomycoses in an Immunosuppressed Patient. Images in Cytology. Diagn Cytopathol. 2010 Jan 20.
12. Hoda RS, Loukeris K, Fadi Al-Karim. Gynecologic cytology on liquid-based preparations. Invited review, Diagn Cytopathol. In press Nov 2010.
13. Yokoushima TV, Lavi E, Hoda RS. Pituitary carcinoma diagnosed on fine needle aspiration. A case report. CytoJournal. 2010 Aug 5;7. pii: 14.
14. Wagner DG, Russell DK, Benson JM, Schneider AE, Hoda RS,Bonfiglio TA: Cellient™ automated cell block versus traditional cell block preparation: A comparison of morphologic feature and immunohistochemical staining. Diagn Cytopathol. 2010 Oct 14. [Epub ahead of print].
15. Ouansafi I, He B, Fraser C, Nie K, Mathew S, Hoda RS, Arabadjief M, Knowles DM, Cerutti A, Attilio Orazi A Wayne T .Transformation of follicular lymphoma to plasmablastic lymphoma with MYC/IgH gene rearrangement. Am J Clin Pathol. 2010;134:972-981.
16. Schuetz AN, Pisapia D, Yan J, Hoda. An Atypical Histologic Presentation of Coccidioides spp. in a Lung Fine Needle Aspirate. Diagn Cytopathol. 2011 Feb 9.
Honors and Awards
1. "Award from House Staff" for excellence in residents' education, 2000
Dept of Pathology & Laboratory Medicine. MUSC, Charleston, SC
2. "Center of Excellence Award" in Cytopathology Education
American Society of Cytopathology, 2003-2006
3. "Best Case Report Award"
Metastatic lobular carcinoma in ThinPrep-processed cervicovaginal (Pap) test
American Society of Cytotechnology, 50TH Annual Scientific Meeting,
Ashville, NC, 2004
5. "Poster of Distinction Award"
Fraig M, Hoda RS, Madani N, Hoffman B, Hawes R, Wallace M. EUS-
FNA in the assessment of lesions of the left adrenal gland. Presented at NY-
EUS, New York, NY Meeting 2002.
Clinical Expertise
Cytology
Surgical Pathology
Contact Info
Appointments
Professor of Pathology and Laboratory Medicine
Weill Cornell Medical College
NewYork-Presbyterian Hospital
Board Certifications
Cytopathology
Anatomic Pathology
Education
M.B.,B.S., Dow Medical College (Pakistan), 1983
M.S., Louisiana State University School of Medicine, 1987