You are here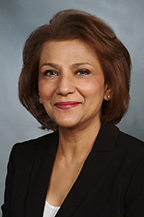 View Research
Cytopathology
525 East 68th Street, Room F-766
New York, NY 10065
P: 212-746-2829 | F: (212) 746-8359
Call for appointment
212-746-2829
Personal Statement
Coming soon! View Biography
Specialties/Expertise
Board Certifications
Cytopathology
Anatomic Pathology
Specialties
Expertise
Cytology
Surgical Pathology
Education/Training
M.B.,B.S., Dow Medical College (Pakistan), 1983
M.S., Louisiana State University School of Medicine, 1987
Honors and Awards
1. "Award from House Staff" for excellence in residents' education, 2000
Dept of Pathology & Laboratory Medicine. MUSC, Charleston, SC
2. "Center of Excellence Award" in Cytopathology Education
American Society of Cytopathology, 2003-2006
3. "Best Case Report Award"
Metastatic lobular carcinoma in ThinPrep-processed cervicovaginal (Pap) test
American Society of Cytotechnology, 50TH Annual Scientific Meeting,
Ashville, NC, 2004
5. "Poster of Distinction Award"
Fraig M, Hoda RS, Madani N, Hoffman B, Hawes R, Wallace M. EUS-
FNA in the assessment of lesions of the left adrenal gland. Presented at NY-
EUS, New York, NY Meeting 2002.
Biography
Titles
Professor of Pathology and Laboratory Medicine
Weill Cornell Medical College
Attending Pathologist
NewYork-Presbyterian Hospital
Biography
Background Information: Dr. Rana Hoda is Chief of the Papanicolaou Cytology Laboratory and Director of the Cytopathology Fellowship Training Program. Her primary clinical focus is cytopathology with special expertise in performing ultrasound-guided fine needle aspiration, urinary and gynecologic cytology and her research interests include ancillary tests in cytopathology and liquid based cytology among others.
Dr. Hoda was a resident in Anatomic Pathology at North Shore University Hospital and Lenox Hill Hospital, both affiliated with Cornell University Medical College where she trained with leading pathologists including Dr. Hadju and Dr. Ioachim. Subsequently she underwent a fellowship in Oncologic Anatomic Pathology at Memorial Sloan-Kettering Cancer Center, New York, New York with several outstanding oncological pathologists including Drs. Rosai, Rosen, Lieberman, Sternberg and Rosenblum. The following year she did a fellowship in Cytopathology: at Montefiore Medical Center - Albert Einstein College of Medicine, New York, NY under the guidance of Dr. Leopold G. Koss, one of the pioneers of cytopathology. Prior to joining Weill Cornell Medical College, she was a lecturer at the Hospital of University of Pennsylvania at Philadelphia, Tenured Professor of Pathology and Director of Cytopathology at Medical University of South Carolina at Charleston and Professor of Pathology and Director of Cytopathology at University of Rochester Medical Center at Rochester, NY.
Dr. Hoda has published over 100 scientific papers, has published two text books including The Funfamentals of Pap Test Cytology, co-authored with Dr. Syed Hoda and Koss's Cytology of the Urinary Tract, co-authored with Dr. Leopold G. Koss. Dr. Hoda published several chapters pertaining to various aspects of cytopathology including a chapter on the role fine needle aspiration in hematopoietic lesions for the 2nd edition of Knowles Neoplastic Hematopathology, published in 2013. She is on the editorial board of several cytolopathology journals including Diagnostic Cytopathology, Journal of American Society of Cytopathology and Cytojournal.
Dr. Hoda is director of an annual cytopathology tutorial sponsored by the Department of Pathology & Lab Medicine at Weill Cornell. She is active on the regional, national and international lecture circuit. She continues to lecture at various pathology meetings; conducts short courses at various pathology scientific meetings including American Society of Cytopathology, United States & Canadian Academy of Pathology, American Society for Clinical Pathologists and International Academy of Cytopathology; and has participated in educational conferences in several countries including Argentina, Belguim, Canada, Chile, Egypt, France, Hong Kong, India, Italy, Great Britain, Japan, Mexico, New Zealand, Nigeria, Peru, Saudi Arabia, Thailand, UAE, United Arab Emerites and Thailand.