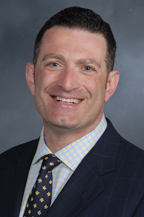 Welcome to the Weill Cornell Epilepsy Center. As the director, I have the privilege of leading a team of epilepsy experts dedicated to your care. Our doctors are all Board Certified Neurologist with advanced training in the management of seizures and epilepsy; many are recognized as America's Top Doctors for 2011. Our world famous hospital is ranked first in the New York Metropolitan area and is equipped with state of the art technology necessary for accurate diagnosis. The Weill Cornell Epilepsy Center is designated a Level 4 Comprehensive Epilepsy Center, the highest rating possible by the National Association of Epilepsy Centers. We are prepared to offer you all cutting edge therapies available including the newest anti-seizure medications, advanced epilepsy surgery and devices for neuro-stimulation. Most importantly, we know the burden cause by epilepsy and special needs of our patients and their families. My team is dedicated to helping you have the best health possible, without another moment lost to seizures.
Dr. Paul Mullin, a nationally recognized authority in the field of epilepsy and clinical neurophysiology, has been named the Director of the Weill Cornell Epilepsy Center at New York-Presbyterian Hospital/Weill Cornell Medical Center. He has also been appointed to the faculty of the Department of Neurology and Neuroscience at Weill Cornell Medical College.
Dr. Mullin received his medical degree from Georgetown University School of Medicine. He completed residency training at the University of California Los Angeles and fellowships at Johns Hopkins University and UCLA Medical Center in epilepsy and clinical neurophysiology. After his fellowship, Dr. Mullin served as the co-director of the UCLA Seizure Disorder Center and the Director of Epilepsy Monitoring at Cedars-Sinai Medical Center in Beverly Hills. During this time, he was elected to the Board of Trustees of the Epilepsy Foundation of Los Angeles and as the Chairman of the Epilepsy Foundation Professional Advisory Board.
A native New Yorker, Dr. Mullin returned home to New York City and held dual appointments as an Associate Professor of Neurology at New York Medical College and the NYU Comprehensive Epilepsy Center. He was also Associate Chairman of Neurology and Residency Program Director at St. Vincent's Catholic Medical Center. Dr. Mullin has been published in Epilepsia and Electroencephalography and Clinical Neurophysiology in several areas of epilepsy management including epilepsy surgery, intra-operative monitoring, seizure classification, vagus nerve stimulation, status epilepticus, and pharmacologic therapy of epilepsy. He has a special interest in the management of patients with epilepsy and co-morbid psychiatric disease and developed one of the first programs for psychiatric patients with epilepsy at UCLA. He is considered an authority in the management of epilepsy in HIV positive patients.
Dr. Mullin is a member of the Phi Beta Kappa and Alpha Omega Alpha honor societies, and has received several awards including a Presidential Scholarship, the Tauber Memorial Scholarship, the Washington Academy of Medicine Ethics Award presented by the Secretary of the Department of Health and Human Services, the Savoy Foundation Award by the Eastern EEG Society, and the Augustus Rose Award for excellence in teaching. He is a member of the American Academy of Neurology and the American Epilepsy Society.
Insurances
Insurance Plans Accepted
The following represents most of the managed care plans accepted by this physician. If your insurance carrier does not appear here please contact the physician's office as they may have individual contracts not included on this site.

* indicates this physician is no longer accepting new patients with this insurance plan.
AETNA

[PPO]

AETNA

[Medicare]

AETNA

[HMO]

Aetna - Weill Cornell

[POS]

Affinity Essential
Affinity Health Plan
Blue Priority Network
CIGNA
Emblem Select Care
Empire Blue Cross/Blue Shield

[Pathway X]

Empire Blue Cross/Blue Shield

[Pathway X Enhanced]

Empire Blue Cross/Blue Shield

[EPO]

Empire Blue Cross/Blue Shield

[PPO]

Empire Blue Cross/Blue Shield

[Mediblue (Senior)]

Empire Blue Cross/Blue Shield

[HMO]

Fidelis Care
GHI

[CBP]

Health First
Health Insurance Plan of NY (HIP)
Health Insurance Plan of NY (HIP)

[Medicare]

Health Insurance Plan of NY (HIP)

[Medicaid]

Health Plus - Amerigroup

[CHP]

Health Plus - Amerigroup
Health Republic
Medicaid
Medicare
Oscar
Oxford Health Plans

[Medicare Advantage]

Oxford Health Plans

[Liberty]

Oxford Health Plans

[Freedom]

POMCO
Rockefeller University - CoreSource
UHC Compass
United Health Care

[Medicare]

United Health Care
United Health Care

[Community Plan]
Publications
Singh, P., Mullin,P., Harbaugh,R., Martin,C.A. "Reversible
Pseudolymphoma Associated with Lamotrigine" Epilepsia October 2007,
supplement 0.
Dugan, P, Mullin P, and Nicholl,J.. "Posttraumatic Stress Disorder
Presenting as Non-Epileptic Seizures in Survivors of 9/11 and Hurricane
Katrina." Epilepsia 0 Supp 0 (Abs.1.317;), 2007.
Limbic Auras are associated with Idiopathic Generalized Epilepsy –
P.Aneja, H. Kettani, E. Passaro, P. Mullin -Epilepsia October 2007 - Vol.
48 Issue S
Analysis of Revision Epilepsy Surgeries at a Major Academic Center
2.072; A. Kokoszka1, C. Carlson2, W. Doyle2, J. LaJoie2, A. Silverberg2,
P. Mullin3, W. Spinner1, M. Andriola1, Presented at AES, Dec. 2007.
Nitrous Oxide "Whippit" Abuse Presenting with Cobalamin Responsive
Psychosis N Sethi, P Mullin, and G Capasso; accepted for publication
Journal of Medical Toxicology June 2006.
Bilateral BIS Index Monitoring During Suppression of Unilateral
Hemispheric Functioning H Heller, R Hatami, P Mullin et al; Anestesia
and Analgesia July 2005, Vol 101.
Special Populations: Them management of seizures in HIV positive
patients P. Mullin, G. Green, R. Bakshi; Current Neurology and
Neuroscience Reports July 2004, 4:308-314.
Expanding Therapeutic Options: Device therapy for intractable Seizures
S Karceski, P. Mullin; Current Neurology and Neuroscience Reports, July
2004, 4.
Ictal Incorporated Complex Behavior May be a Right Temporal Lobe
Function. P Mullin, A. Somerto, J Engel, et al American Epilepsy Society
Meeting Boston, MA December 2003
Relative Sensitivity of Ictal SPECT versus FDG-PET in the evaluation of
Medically Refractory Partial Epilepsy
D. Eliashiv; P. Mullin; A. D'Agnolo; A. Waxman
Society of Nuclear Medicine Meeting June 2002
Effectiveness of Open-label Zonisamide in Juvenile Myoclonic Epilepsy
Paul Mullin, MD, John M. Stern, MD, Antonio V. Delgado-Escueta, MD,
Dawn Eliashiv, MD
American Epilepsy Society Meeting December 2001
Ictal SPECT is a Predictor of the Epileptogenic Region
Dawn Eliashiv, MD, Paul Mullin, MD, Siegward Elsas, MD, Alessandro
D'Agnolo, MD, Itzhak Fried, MD, Alan Waxman, MD
American Epilepsy Society Meeting December 2001
"Device Parameter Changes and Vagus Nerve Stimulation: Correltion
with Efficacy During the Long-term XE5 study" C DiGiorgio, J
Thompson, P Lewis, P Mullin et al Epilepsia 2001:42:1017-1020.
Determinants of Surgical Outcome in Patients with Temporal Lobe
Seizures Evaluated with Noninvasive (Scalp) Monitoring Only. I.
Subramanian, P. Mullin, G. Mathern, S. Dewar, J. Engel
American Epilepsy Society Meeting, Epilepsia, Dec 2000, 41
(supplement 7).
Nonconvulsive Status Epilepticus in Critically Ill Elderly. Litt, B., Wityk,
R.J., Hertz, S.H., Mullin P., Weiss, H., Ryan, D., Henry, T.R.
Epilepsia, 1998 Nov., 39(11): 1194-202.
Ictal SPECT Accurately Localizes Extra-temporal Partial Seizures.
P.Mullin, J. Freeman, R. Lesser, E. Vining. Presented at American
Epilepsy Society Meeting, San Francisco, CA. December 1996.
Severity of Illness, Not EEG Pattern or Treatment Determines Outcome in
Nonconvulsive Status Epilepticus. P.Mullin, B. Litt, S. Hertz , R. Wityk.
Presented EAEE Meeting, Manoire St. Savoire, Canada 1996.
Electroencephalography Clin. Neurophysiology. Vol. 99(2) -11p.
Sexual Abuse and Psychogenic Seizures: Is there a Relationship? Mullin,
P. Epilepsy Quarterly. Spring 1996.
Honors and Awards
Presidential Scholarship
The Tauber Memorial Scholarship
The Washington Academy of Medicine Ethics Award presented by the Secretary of the Department of Health and Human Services
The Savoy Foundation Award by the Eastern EEG Society
The Augustus Rose Award for excellence in teaching
American Academy of Neurology
American Epilepsy Society
Phi Beta Kappa Honor Society
Alpha Omega Alpha Honor Society
Specialties
Neurophysiology
Neurology
Clinical Expertise
Vagal Nerve Stimulators
Seizures
Seizure Disorder
Epilepsy
Contact Info
520 East 70th Street
Starr Pavilion, 607
Appointments
Assistant Attending Neurologist
NewYork-Presbyterian Hospital
Assistant Professor of Neurology
Weill Cornell Medical College, Cornell University
Education
B.S., Villanova University, 1987
M.D., Georgetown University School of Medicine, 1991