Nikolaos J. Skubas, M.D., D.Sc.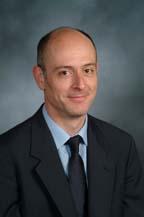 Dr. Skubas earned his Doctor of Medicine degree from Aristoteles University, Thessaloniki, Greece. He completed a residency in Anesthesiology at Case Western Reserve University in Cleveland, Ohio and a fellowship in Cardiac and Thoracic Anesthesiology at Washington University in St. Louis, Missouri.
He is Board certified in Anesthesiology and Perioperative Transesophageal Echocardiography. He joined the faculty at the Weill Cornell Medical College-New York Hospital in 2002 as a member of the Cardiothoracic Anesthesiology Division. His clinical practice centers on anesthesia for cardiac and thoracic surgeries as well as non-cardiac, high-risk procedures. His interests include perio-operative echocardiography and anesthetic techniques for minimally invasive cardiac surgical procedures.
He is Chief of the Division of Cardiac Anesthesia and supervises the ultrasound activities of the Department. He is a member of numerous medical societies, including the American Society of Anesthesiologists, the Society of Cardiovascular Anesthesiologists, and the American Society of Echocardiography. He serves as an Associate Editor for the Journal Anesthesia and Analgesia and a Fellow of the American Society of Echocardiography.
Insurances
Insurance Plans Accepted
The following represents most of the managed care plans accepted by this physician. If your insurance carrier does not appear here please contact the physician's office as they may have individual contracts not included on this site.

* indicates this physician is no longer accepting new patients with this insurance plan.
AETNA

[PPO]

AETNA

[Medicare]

AETNA

[HMO]

Aetna - Weill Cornell

[POS]

Affinity Essential
Affinity Health Plan
Blue Priority Network
CIGNA
Emblem Select Care
Empire Blue Cross/Blue Shield

[EPO]

Empire Blue Cross/Blue Shield

[Pathway X Enhanced]

Empire Blue Cross/Blue Shield

[PPO]

Empire Blue Cross/Blue Shield

[Pathway X]

Empire Blue Cross/Blue Shield

[HMO]

Empire Blue Cross/Blue Shield

[Mediblue (Senior)]

GHI

[CBP]

Health First
Health Insurance Plan of NY (HIP)

[Medicare]

Health Insurance Plan of NY (HIP)

[Medicaid]

Health Insurance Plan of NY (HIP)
Health Plus - Amerigroup

[CHP]

Health Plus - Amerigroup
Health Republic
Medicaid
Medicare
Oscar
Oxford Health Plans

[Medicare Advantage]

Oxford Health Plans

[Liberty]

Oxford Health Plans

[Freedom]

POMCO
Rockefeller University - CoreSource
UHC Compass
United Empire
United Health Care

[Medicare]

United Health Care

[Community Plan]

United Health Care
VNSNY CHOICE Medicare

[Medicare]
Publications
1.Skubas NJ, Despotis GD, Vlasnic JJ, Moon MR: Preoperative Use of Enoxaparin and Tirofiban: Possible Association With Increased Bleeding Post-Bypass. Anesthesiology 1999;91:869-72 (MEDLINE 10485801)
2.Despotis GD, Skubas NJ, Goodnough LT: Optimal Management of Bleeding and Transfusion in Patients Undergoing Cardiac Surgery. Seminars in Thoracic and Cardiovascular Surgery 1999;11:84-104 (MEDLINE 10378853)
3.Lappas DG, Skubas NJ, Lappas GD, Ruocco E, Tambassis E, Pasque, M: Prevalence of Left Ventricular Diastolic Filling Abnormalities in Adult Cardiac Surgical Patients: An Intraoperative Echocardiographic Study. Seminars in Thoracic and Cardiovascular Surgery 1999;11:125-33 (MEDLINE 10378856)
4.Skubas NJ, Bakola AA, Apostolidou I, Sundt, TM III, Cox JL, Lappas DG: Echocardiographic Characterization of Left Ventricular Diastolic Properties in Patients Presenting for the Maze Procedure. Seminars in Thoracic and Cardiovascular Surgery 1999;11:134-41 (MEDLINE 10378857)
5.Apostolidou IA, Skubas NJ, Bakola AA, Hogue CW, Despotis GD, McCawley CA, Lappas DG: Effects of Nicardipine and Nitroglycerin on Perioperative Myocardial Ischemia in Patients Undergoing Coronary Artery Bypass Surgery. Seminars in Thoracic and Cardiovascular Surgery 1999;11:77-83 (MEDLINE 10378852)
6.Apostolidou IA, Despotis GD, Hogue CW, Skubas NJ, McCawley CA, Hauptmann EL, Lappas DG: Anti-ischemic Effects of Nicardipine and Nitroglycerin Following Coronary Artery Bypass Surgery. Annals of Thoracic Surgery 1999;67:417-22 (MEDLINE 10197663)
7.Kollef MH, Skubas NJ, Sundt TM. A randomized clinical trial of continuous aspiration of subglottic secretions in cardiac surgery patients. Chest 1999;116:1339-46 (MEDLINE 10559097)
8.Skubas NJ, Despotis GD: In reply (Does perioperative antithrombotic therapy increase the likelihood of a postoperative coagulopathy after cardiac surgery?). Anesthesiology 2000;92:1500-1
9.Skubas NJ, Hyder M, Pasque MK, Ruocco E, LappasDG: Left Ventricular Assist Device: hemodynamic profile. Journal of Cardiovascular and Thoracic Aneshesia 2000;14:751-2 (MEDLINE 11139123)
10.Skubas NJ, Beardslee M, Barzilai B, Pasque M, Kattapuram M, Lappas DG. Constrictive pericarditis: intraoperative hemodynamic and echocardiographic evaluation of cardiac filling dynamics. Anesthesia and Analgesia 2001;92:1424-6 (MEDLINE 11375818)
11.Skubas NJ, Barzilai B, Hogue CW Jr. Atrial fibrillation after coronary artery bypass graft surgery is unrelated to cardiac abnormalities detected by transesophageal echocardiography. Anesthesia and Analgesia 2001; 93:14-9 (MEDLINE 11429330)
12.Despotis GJ, Hogue CW, Saleem R, Bigham M, Skubas N, Apostolidou I, Qayum A, Joist JH. The relationship between hirudin and activated clotting time: implications for patients with heparin-induced thrombocytopenia undergoing cardiac surgery. Anesthesia and Analgesia 2001; 93:28-32 (MEDLINE 11429333)
13.Apostolidou IA, Skubas NJ, Despotis GJ, Kallinteri E, Hogue CW, Lappas DG, Barner HB. Occurrence of myocardial ischemia immediately after coronary revascularization using radial arterial conduits. Journal of Cardiovascular and Thoracic Anesthesia 2001;15:433-8 (MEDLINE 11505345)
14.Avidan MS, Levy JH, Scholz J, Delphin E, Rosseel MJ, Howie MB, Gratz I, Bush CR, Skubas N, Aldea GS, Licina M, Bonfiglio LJ, Kajdasz DK, Ott E, Despotis GJ. A phase III, double-blind, placebo-controlled, multicenter study on the efficacy of recombinant human antithrombin in heparin-resistant patients scheduled to undergo cardiac surgery necessitating cardiopulmonary bypass. Anesthesiology 2005;102:276-84 (MEDLINE 15681940)
15.Skubas N, Barner H, Apostolidou I, Lappas DG. Phenylephrine Increases Blood Flow in the Radial Artery Used as a Coronary Bypass Conduit. J Cardiothor Vasc Surgery 2005;(MEDLINE 16153914)
Contact Info
525 East 68th Street
M302C
Appointments
Professor of Clinical Anesthesiology
Weill Cornell Medical College
Professor of Anesthesiology in Clinical Cardiothoracic Surgery
Weill Cornell Medical College
Attending Anesthesiologist
NewYork-Presbyterian Hospital
Board Certifications
Anesthesiology
Echocardiography
Education
M.D., Aristotle University of Thessaloniki Faculty of Medicine (Greece), 1988