June 27, 2018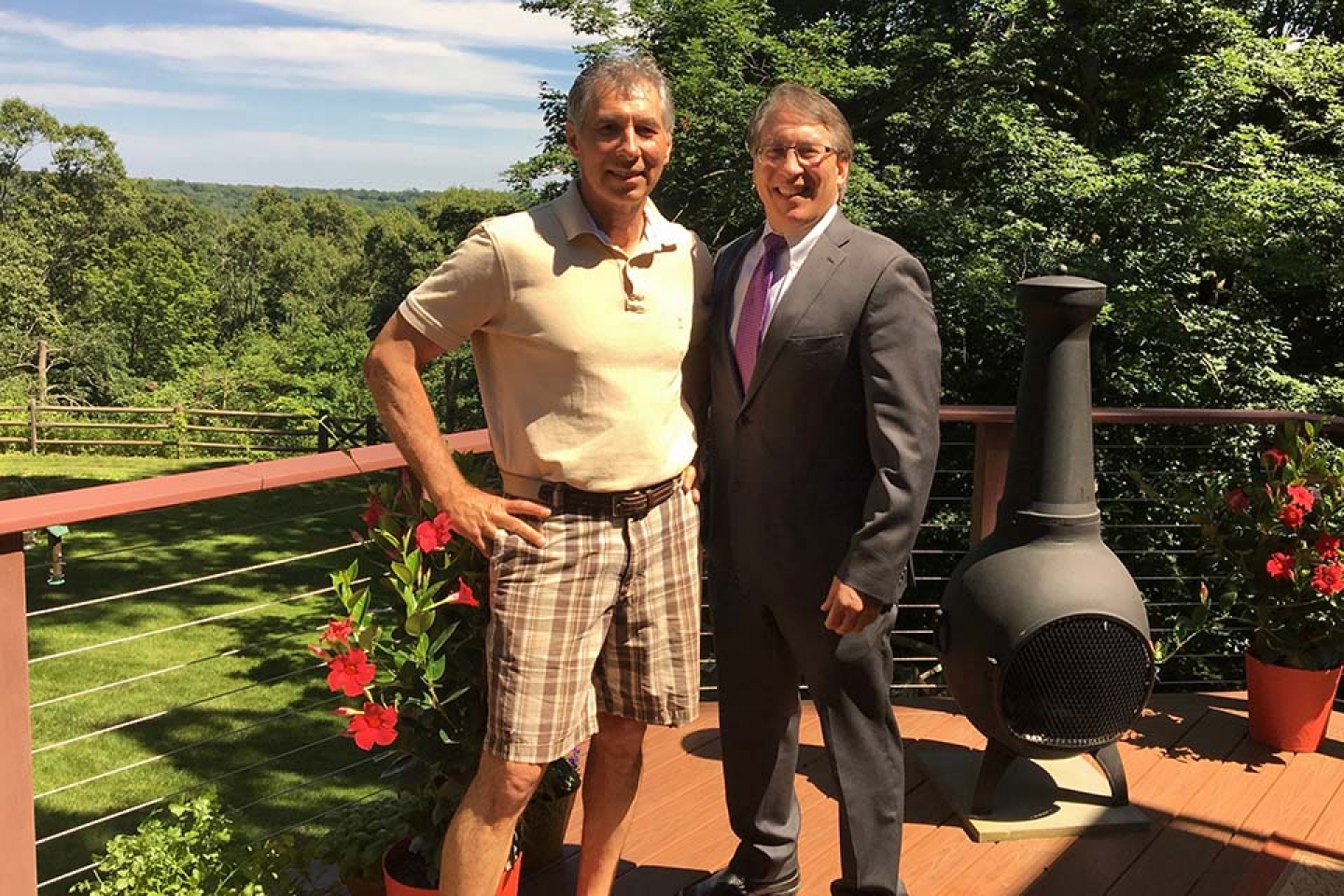 Ron and Ken Coccaro are brothers and, like many siblings, they share many life experiences. Unlike most, however, one of these shared experiences is robotic mitral valve repair.
In early 2018, Ken underwent minimally invasive heart surgery; six weeks later, Ron had the same procedure. The two brothers both recovered well and are more active and comfortable than ever before. Their differing experiences and perspectives highlight the incredible importance of personalized care for patient success.
Different Symptoms and Warning Signs
Ken's experience: Ken is six years older than Ron. He is highly active, cycling and exercising several times a week. "Ever since I was in high school," he recounted, "my heart would periodically race or flutter. It would happen infrequently, probably every nine months." 
He always felt fine and continued to enjoy exercising, so he never thought it was an issue. When the palpitations (fluttering) became more frequent, Ken visited a cardiologist, who diagnosed him with mitral valve prolapse: an uneven or incomplete closure of the heart's upper and lower left chambers, which can cause blood to flow backward (regurgitation). 
Ken visited a cardiologist again in 2017, who told him that the condition had worsened and warranted treatment. "I was told," explained Ken, "that some possible symptoms could have been masked because I was in such good aerobic shape." Ken then set out to find the right physician and treatment for him. 
Ron's experience: Ron became less active due to a demanding job that required several hours of travel every day. "In July 2017," said Ron, "I was doing work outside and became exhausted and short of breath. I was diagnosed with a tick-borne illness, but it was unclear whether or not this caused the shortness of breath and exhaustion." 
Ron visited a cardiologist, who explained that the symptoms he was experiencing were due to a mitral valve prolapse that had worsened, causing mitral valve regurgitation. "I had a few years to take care of this," explained Ron, "but I wanted to get it taken care of sooner rather than later."
Choosing Minimally Invasive Surgery at Weill Cornell Medicine
Ken's experience: Ken's cardiologist recommended that he see Dr. Leonard Girardi, the Cardiothoracic Surgeon-in-Chief at Weill Cornell Medicine, for more specialized analysis. Dr. Girardi told Ken that he was now experiencing severe mitral valve regurgitation and the condition required surgical treatment as soon as possible (within the next six months). 
"My wife is a physical therapist," he said, "and she has worked with several people who had heart surgeries. She actually had one patient who had minimally invasive surgery for the exact same condition as mine a few months earlier and saw how fast she recovered. Her patient highly recommended I look into robotic surgery for the procedure"
Ken researched robotic and minimally invasive surgery and asked Dr. Girardi's Physician Assistant several questions about this option, who told him about Dr. T. Sloane Guy, Associate Professor of Clinical Cardiothoracic Surgery, who leads the Robotic Heart Surgery Program and performs hundreds of minimally invasive procedures every year. She suggested he schedule a consult with Dr. Guy to learn more. After meeting with Dr. Guy, Ken was convinced that robotic heart surgery was the right option for him.
Ron's experience: When it came time for Ron to choose the right treatment and surgical option for him, he was heavily influenced by his brother's research and recovery.
"I looked into the research that Kenny did. This type of procedure is less invasive, the recovery time was much quicker, and the results were about the same," explained Ron. "I had to get used to the fact that the surgeon uses catheters and robotic technology. But once I did, I was a lot more comfortable with the whole process. I didn't want to go through an open heart surgery."
When Ron met with Dr. Guy to discuss and prepare for the surgery, Ken had already recovered from his procedure and joined the meeting. "It was kind of a reunion for Dr. Guy and Ken," Ron recalled jovially. "We discussed every element of the procedure all together. It was clear that Dr. Guy and the entire team took very good care of my brother. I knew I was in good hands."
Surgery and Recovery
Ken's experience: Three days before his operation, Ken's heart function was tested. "The results showed that 50 percent of my blood was flowing backward," he said. "It was clear that things were getting worse very quickly and that something needed to be done."
The operation went well, and Ken was able to return home after spending four days in the hospital, and his wife cared for him during the initial recovery period. The first week after the surgery was difficult: Ken struggled to sleep well, had headaches, was strongly affected by smells, and had a very poor appetite for several days. "Dr. Guy and a few others at Weill Cornell Medicine said that this is very rare," explained Ken. "Looking back, I wonder if I contracted the flu then; it was the height of flu season."
Despite a difficult first week, Ken felt his recovery starting in earnest soon afterward. "I was able to ride my bike in our basement eleven days after the surgery," he said. "I haven't stopped riding since."
Ken has noticed measured improvement in his cycling performance. "I have been tracking my times on one particular route since 2007," he explained. "Four months after the surgery, and in only my second time riding outdoor this biking season I had my best time ever at 64." He recently competed in the Ridgefield triathlon with his son and daughter in-law.
Ron's experience: Like Ken, Ron's surgery was effective and fast. "The aides, x-ray technicians, everyone who cleaned the rooms, everyone was so friendly and professional," recalled Ron. "Several people remarked about us being brothers. It showed how well they know their patients."
"My brother had a tough recovery," continued Ron, "and he warned that it could happen to me. Thankfully, my recovery was extremely easy and fast. I was tired initially, but ate well and felt like myself very quickly."
Still, Ron is thankful that Ken encouraged him to seek additional support after he was discharged three days after surgery. He was also impressed by how quickly Ken began exercising again and has developed his own exercise routine now that the surgery is behind him.
Now fully recovered, both brothers feel more energetic and comfortable than before the surgery. "To anyone experiencing a mitral valve prolapse," said Ken, "we certainly both sing praises for the robotic surgery."
Learn more about mitral valve repair and replacement, minimally invasive heart surgery, and the other heart surgery services offered at Weill Cornell Medicine.