Marlin Roy Albin Mattson, M.D.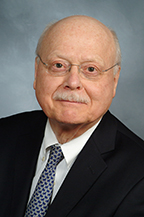 Marlin R.A. Mattson, MD is Professor of Clinical Psychiatry and Associate Vice-Chair for Compliance in the Department of Psychiatry for Weill Cornell Medical College.
Trained in Psychiatry at NewYork-Presbyterian Hospital's Payne Whitney Clinic, he has spent his entire career at NewYork-Presbyterian Hospital/Weill Cornell Medical Center. Through this period, he has been actively involved with quality assurance, peer review, continuous quality improvement, patient safety, standards of care, accreditation, risk management, and utilization review.
Actively involved in the educational activities of the Medical College, he has been a member of the Medical Education Council since 2003. Throughout his career, he has also been active in national, state, and local American Psychiatric Association (APA) components/committees. He currently represents the APA on the Board of Directors for URAC, a national healthcare accreditation organization. Since 1991, he has served on the Board of Visitors for the Manhattan Psychiatric Center. A member of the Board of Directors for the New York County Medical Society since 2002, he is a fellow of the New York Academy of Medicine (since 1983) and the Royal Society of Medicine (since 1992).
Insurances
Insurance Plans Accepted
The following represents most of the managed care plans accepted by this physician. If your insurance carrier does not appear here please contact the physician's office as they may have individual contracts not included on this site.

* indicates this physician is no longer accepting new patients with this insurance plan.
Aetna - Weill Cornell

[POS]

Medicare
Rockefeller University - CoreSource
Publications
SELECTED PUBLICATIONS
Spencer, J and Mattson, M. Utilization Review and Resident Education. Hospital and Community Psychiatry April, 1979; 30:269-272
Spencer, J and Mattson, M. Criteria for Admission to the Psychiatric Division of a General Hospital: Guide to Their Use. Quality Review Bulletin December, 1979; 5:8-15 ( also in Quality Review Bulletin Special Edition, Spring, 1983: 86-93 )
Mattson, M. Quality Assurance: Literature Review of a Changing Field. Hospital and Community Psychiatry June, 1984; 35:605-616
Van Vort, W and Mattson, M. A Strategy for Enhancing the Clinical Utility of the Psychiatric Record. Hospital and Community Psychiatry, April 1989; 40:407-409
Mattson, M. editor, Manual of Psychiatric Quality Assurance. Washington, DC: American Psychiatric Association, 1992
-Mattson, M. District Branch Peer Review Committees: Their Future and Function, pp. 11-15
-Mattson, M. and Wilson, G. Ethics of Peer Review, pp. 11-15
-Mattson, M. Overview to HCFA Generic Quality Screens, pp. 207-208

Mattson, M. National Quality Improvement Initiatives in Bulletin of the New York State Psychiatric Association, Spring, 1996.
Mattson, M. Quality Indicators in Textbook of Hospital Psychiatry, edited by Sharfstein, S, American Psychiatric Publishing, 2008
Mattson, M. Risk Management, Documentation, and Quality Assurance in The Approach to the Psychiatric Patient, edited by Barnhill, J, American Psychiatric Publishing, 2008.
Honors and Awards
1983 Selected as Fellow by the American Psychiatric Association
2003 Selected as Distinguished Fellow by the American Psychiatric Association and subsequently as Distinguished Life Fellow
2003 Outstanding Achievement Award given by the New York County District Branch
Who's Who in America
Who's Who in Medicine and Healthcare
Specialties
Adult Psychiatry
Psychiatry
Appointments
Professor Emeritus of Clinical Psychiatry
Weill Cornell Medical College, Cornell University
Education
B.A., University of Washington, 1961
M.D., University of Washington School of Medicine, 1965