Maria G. Master, M.D., J.D.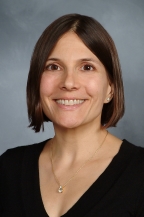 Dr. Master provides state of the art psychiatric evaluation, psychotherapy and medication management for adults, adolescents and children. In her practice, she believes that emotional health is more than the absence of illness, and includes a sense of optimism and enjoyment in relationships, work/school, and self-image.

Dr. Master is an Attending Psychiatrist at New York Presbyterian Hospital, an Instructor in Psychiatry and in Public Health at Weill Cornell Medical College, the Sackler Fellow in Mother-Infant Psychiatry at New York Presbyterian Hospital, and a Candidate at the Columbia University Center for Psychoanalytic Training and Research.
Dr. Master received an M.D. with Honors in Neuro-Ethics from Weill Cornell Medical College. She completed her residency in General Psychiatry at New York Presbyterian Hospital-Weill Cornell. She also received her B.A. from Columbia University and a J.D. from Columbia Law School.
Dr. Master completed her fellowship in Child and Adolescent Psychiatry at the combined New York Presbyterian Hospital program of Columbia and Cornell Universities. During fellowship, she pursued a specialty in public psychiatry, performing clinical care and research in the New York State mental healthcare and special education systems.
To achieve optimal results, Dr. Master uses a wide variety of proven tools tailored to each individual's or family's needs. In addition to general psychiatry, focusing on therapy and medicine with adults and adolescents, Dr. Master offers expertise in woman's health, infant psychiatry, parent-child relationships, custody concerns, and early childhood evaluation.
In addition to her work as a physician, Dr. Master has 10 years experience in law and finance, and currently serves on the Board of Directors of NJ LEEP, providing intensive law-based education and college preparatory training for underserved youth in Newark, NJ.
To schedule a consultation, please contact Dr. Master at:
(212) 746-3766
Insurances
Insurance Plans Accepted
The following represents most of the managed care plans accepted by this physician. If your insurance carrier does not appear here please contact the physician's office as they may have individual contracts not included on this site.

* indicates this physician is no longer accepting new patients with this insurance plan.
Aetna - Weill Cornell

[POS]

Rockefeller University - CoreSource
Specialties
Infant Psychiatry
Psychopharmacology
Adult Psychiatry
Psychotherapy
Child and Adolescent Psychiatry
Psychiatry
Clinical Expertise
Psychodynamic Psychotherapy
Relationship Problems
Couples Therapy
Family Therapy
Women's Health
Custody Evaluations
Parenting Issues
Anxiety Disorder
Panic Disorder
Depression
Bipolar Disorder
Cognitive-Behavior Therapy
Interpersonal Psychotherapy
Obsessive Compulsive Disorder
Attention Deficit Disorder
Personality Disorder
Appointments
Weill Cornell Medical College
Assistant Attending Psychiatrist
NewYork-Presbyterian Hospital
Education
B.A., Columbia University, 1992
J.D., Columbia University School of Law, 1995
M.D., Weill Cornell Medical College, Cornell University, 2007