You are here
Michelle L. Tricamo, M.D.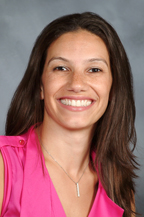 View Research
Call for appointment
212-746-5090
Personal Statement
Michelle Tricamo, MD is a Child, Adolescent and Adult Psychiatrist specializing in the evaluation, diagnosis and treatment of psychiatric disorders in these populations. She is available for diagnostic consultations and evaluations, psychopharmacologic treatment and psychotherapy. She has a special interest in psychodynamic psychotherapy as well as anxiety disorders. Dr. Tricamo is an Assistant Professor of Psychiatry at Weill Cornell Medicine and an Assistant Attending Psychiatrist at New York Presbyterian Hospital. She has also devoted additional time evaluating, consulting and treating adults and/or children at Washington Square Institute, Allen Pavilion and the NY Foundling.
Dr. Tricamo believes thoughts, feelings, and behaviors that cause conflicts in our lives can be identified and processed using a variety of techniques and methods. She aims to create a team approach as well as a safe environment to explore and develop insightful understanding which might help relieve these issues and bring comfort to patients' lives. Through empathy, patience, active listening and diligent research on her part, she believes the patient's desired goals can be achieved.

As a psychiatrist, Dr. Tricamo can provide clients with a thorough evaluation as well as recommendations for choice of therapy (short term or longer), medication or both. Because each individual is unique, Dr. Tricamo partners with her patients to understand their needs, identify their goals and help them meet success. With a background in child and adolescent psychiatry, she feels she has a better understanding of the role which development plays in shaping a person's life.
View Biography
Specialties/Expertise
Board Certifications
Child and Adolescent Psychiatry
Psychiatry
Specialties
Psychopharmacology
Adult Psychiatry
Expertise
Psychopharmacology and Psychotherapy
Anxiety Disorder
Depression
Bipolar Disorder
Tic Disorder
Tourette Disorder
Obsessive Compulsive Disorder
Attention Deficit Disorder With Hyperactivity
Attention Deficit Disorder Without Hyperactivity
Psychodynamic Psychotherapy
Insurance Plans Accepted
The following represents most of the managed care plans accepted by this physician. If your insurance carrier does not appear here please contact the physician's office as they may have individual contracts not included on this site.

* indicates this physician is no longer accepting new patients with this insurance plan.
Aetna - Weill Cornell

[POS]

Rockefeller University - CoreSource
Education/Training
M.D., State University of New York Health Science Center at Brooklyn, 2007
B.S., Cornell University, 2002
Honors and Awards
Teacher of the Year Award for Medical Student Education: Mount Sinai School of Medicine
Alpha Omega Alpha (AOA): National Medical Honor Society; graduated top 10%
Ho-Nun-De-Kah: (Cornell Honor Society)
Golden Key International Honour Society
Biography
Titles
Assistant Attending Psychiatrist
NewYork-Presbyterian Hospital
Assistant Professor of Psychiatry
Weill Cornell Medical College, Cornell University
Biography
Dr. Michelle Tricamo received her B.S. degree from Cornell University, graduating a semester early, Magna Cum Laude. She obtained her M.D. degree from the State University of New York at Downstate where she received AOA standing. Dr. Tricamo completed her residency in general adult psychiatry at Mount Sinai Medical Center in New York City where she received an award for Teaching Resident of the Year in medical student education. She went on to complete her fellowship training in child and adolescent psychiatry at New York-Presbyterian, a combined program of Cornell and Columbia Universities. Dr. Tricamo is also completing additional training in psychoanalytic psychotherapy at Columbia University Center for Psychoanalytic Training and Research which allows her to offer a therapeutic range to meet individual goals and needs.

Dr. Tricamo is a member of the faculty at Weill Cornell Medicine and serves as an Attending Psychiatrist and Co-Director of the Weill Cornell Pediatric OCD, Anxiety and Tic Disorders Program and Consultation-Liaison Psychiatrist for Pediatrics at the New York-Presbyterian Hospital.

Her outpatient practice is available by appointment for consultations, psychopharmacology, and individual and family psychotherapy.

To schedule an appointment: 212-746-5090