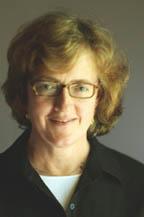 Margaret Altemus, MD is director of the Payne Whitney Women's Program, which provides evaluations and treatment for women with reproductive-related psychiatric conditions.
The Program has expertise in management of psychiatric illness during pregnancy and post-partum, treatment of premenstrual mood disorders, menopause-related psychiatric conditions, and psychiatric conditions associated with hormonal disorders. Dr. Altemus also has experise in medication treatment of obsessive-compulsive disorder and panic disorder.
Dr. Altemus is currently conducting research in premenstrual syndrome, the regulation of stress responses, stress and immune function, and anxiety during pregnancy and postpartum.
Dr. Altemus completed her psychiatry residency training at Yale University in 1987. She was then a research fellow first at Yale, then at the NIMH Intrumural Program. While at NIMH she received training in neuroendocrinology and directed the inpatient Eating Disorders Unit and the adult Obsessive-Compulsive Disorder Unit. Dr. Altemus came to the Weill Medical College Department of Psychiatry in 1996. She is also an adjunct faculty member at Rockefeller University.
To schedule an appointment:
Call - (646) 962-2820 or
Email - maltemus@med.cornell.edu

Office hours are:
Monday | Tuesday | Friday - 9:30 am to 5:00 pm
Insurances
Insurance Plans Accepted
The following represents most of the managed care plans accepted by this physician. If your insurance carrier does not appear here please contact the physician's office as they may have individual contracts not included on this site.

* indicates this physician is no longer accepting new patients with this insurance plan.
Aetna - Weill Cornell

[POS]

Medicare
Rockefeller University - CoreSource
Publications
Altemus M., Fong J., Yang R., Damast S., Luine V., Ferguson D., Jacobson K.. "Changes in cerebrospinal fluid neurochemistry during pregnancy." Biological Psychiatry. vol.56 (2004): 386-392.

Altemus M., Dhabhar F., Cloitre M. "Enhanced cell-mediated immunity in adult women with PTSD related to childhood abuse." American Journal of Psychiatry vol.160 (2003): 1705-1707.

Altemus, M., Rao, B., Dhabhar, F., Ding, W., Granstein, R. "Stress-induced Changes in Skin Barrier Function in Healthy Women." J Invest Dermatol. vol.117 (2001): 309-317.

Altemus, M., Roca, C., Romanos, C., Deuster, P. "Increased Vasopressin and ACTH Responses to Stress in the Mid-luteal Phase of the Menstrual Cycle." J Clin Endocrinol Metab. vol.86 (2001): 2525-2530.

Altemus, M., Redwine, L.S., Leong, Y.M., Porges, S.W., Carter, C.S. "Responses to Laboratory Psychosocial Stress in Postpartum Women. Psychosom Med. vol.63 (2001): 814-821.
Specialties
Psychiatry
Neuroendocrinology
Psychopharmacology
Clinical Expertise
Premenstrual Syndrome
Anxiety Disorder
Postpartum Disorders
Menopause
Obsessive-Compulsive Disorder
Mood Disorder
Contact Info
Weill Cornell Psychiatry Specialty Center
315 East 62nd Street
5th Flr
Appointments
Associate Attending Psychiatrist
NewYork-Presbyterian Hospital
Associate Professor of Psychiatry in Integrative Medicine
Weill Cornell Medical College
Associate Professor of Psychiatry
Weill Cornell Medical College
Education
M.D., Georgetown University School of Medicine, 1983