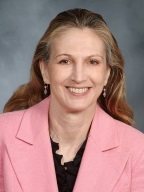 Linda A. Heier, M.D., F.A.C.R., Chief of the Division of Neuroradiology and Professor of Clinical Radiolog, earned her M.D. from the University of Western Ontario in Canada. This was followed by radiology residency training at the University of Toronto. She established her interest in Pediatric Neuroradiology at this time when she did her pediatric rotation at The Hospital for Sick Children. A two-year Fellowship in Neuroradiology followed at the NewYork-Presbyterian Hospital/Weill Cornell Medical Center and at Memorial Sloan-Kettering Cancer Center. Later in her career, Dr. Heier also did a one-year Interventional Neuroradiology Fellowship at N.Y.U. Medical Center. Dr. Heier was inducted as a Fellow of the American College of Radiology (F.A.C.R.) in April 2014 in recognition of her accomplishments and contributions to the discipline of radiology.
Dr. Heier is a senior member of the American Society of Neuroradiology, American Society of Pediatric Neuroradiology, American Society of Head and Neck Radiology, American Society of Spine Radiology, American Society of Interventional and Therapeutic Neuroradiology and the American Society of Functional Neuroradiology.
Dr. Heier is board certified in diagnostic radiology and earned a Certificate of Added Qualification (CAQ) in Neuroradiology. She reviews for the American Journal of Neuroradiology, the American Journal of Roentgenology, Neuroradiology and the Journal of Computerized Axial Tomography. Currently her interests include pediatric neuroradiology, fetal central nervous system MRI and clinical functional MRI for surgical planning.
Insurances
Insurance Plans Accepted
The following represents most of the managed care plans accepted by this physician. If your insurance carrier does not appear here please contact the physician's office as they may have individual contracts not included on this site.

* indicates this physician is no longer accepting new patients with this insurance plan.
AETNA

[HMO]

AETNA

[PPO]

AETNA

[Medicare]

Aetna - Weill Cornell

[POS]

Affinity Essential
Affinity Health Plan
Blue Priority Network
CIGNA
Emblem Select Care
Empire Blue Cross/Blue Shield

[Pathway X]

Empire Blue Cross/Blue Shield

[Pathway X Enhanced]

Empire Blue Cross/Blue Shield

[PPO]

Empire Blue Cross/Blue Shield

[EPO]

Empire Blue Cross/Blue Shield

[HMO]

Empire Blue Cross/Blue Shield

[Mediblue (Senior)]

Fidelis Care
GHI

[CBP]

Health First
Health Insurance Plan of NY (HIP)

[Medicare]

Health Insurance Plan of NY (HIP)

[Medicaid]

Health Insurance Plan of NY (HIP)
Health Plus - Amerigroup

[CHP]

Health Plus - Amerigroup
Health Republic
Medicaid
Medicare
Oscar
Oxford Health Plans

[Liberty]

Oxford Health Plans

[Medicare Advantage]

Oxford Health Plans

[Freedom]

POMCO
Rockefeller University - CoreSource
UHC Compass
United Empire
United Health Care
United Health Care

[Medicare]

United Health Care

[Community Plan]

VNSNY CHOICE Medicare

[Medicare]

VNSNY CHOICE Medicare

[HMO]
Publications
RECENT PUBLICATIONS:
1. Kacker A, Heier L, Jones J. Large intraosseous arteriovenous malformation of the maxilla-a case report with review of the literature. Int J Pediatr Otorhinolaryngol (Ireland) 52(1):89-92, 2000.
2. Kacker A, Sykes S, Heier LA, Selesnick S. Bilateral Paragangliomas with associated Venous Anomalies. Otology Neurotol (US) 22(1): 23, 2001
3. Filippi CG, Edgar MA, Ulug AM, Prowda JC, Heier LA, Zimmerman RD. Appearance of meningiomas on diffusion-weighted images: correlation diffusion constants with histopathologic findings. AJNR (US) 22(1): 65-72, 2001
4. Filippi CG, Ulug AM, Lin D, Heier LA, Zimmerman RD. Hyperintense Signal Abnormality in Subarachnoid Spaces and Basal Cisterns on MR Images of Children Anesthetized with Propofol: New Fluid Attenuated Inversion Recovery Finding. AJNR (US) 22(2):394-9, 2001
5. Selesnick SH, Rebol J, Heier LA, Wise JB, Gutin HG, Lavyne MH. Internal Auditory Canal Involvement of Acoustic Neuromas: Surgical Correlates to Magnetic Resonance Findings. Otology and Neurotology 22(6):912-916, 2001
6. Filippi CG, Ulug AM, Deck MD, Zimmerman RD, Heier LA. Developmental delay in children: assessment with proton MRS. AJNR 23(5):882-2, 2002
7. Chutorian AM, Boyko A, Heier L et al. Toxic Pediatric Parkinsonism: report of a child with metabolic studies and response to treatment. J Child Neurol (US)18(11):812-5 2003
8. Sharma G, Heier L, Kalish RB et al. Use of fetal magnetic resonance imaging in patients electing termination of pregnancy by dilatation and evacuation. Am J Obstet Gynecol (US)189(4):990-3, 2003
9. Filippi CG, Lin DD, Tsiouris AJ, Watts R, Packard AM, Heier LA, Ulug AM. Diffusion-Tensor MR Imaging in Children with Developmental Delay: Preliminary Findings. Radiology 229(1):44-50, 2003
10. Prabhu VC, Bilsky MH, Jambhekar K, Panageas KS, Boland PJ, Lis E, Heier L, Nelson PK. Results of preoperative embolization for metastatic spinal neoplasms. J Neurosurg (Spine 2) 98:156-164, 2003
11. Wang JC, Heier L, Souweidane MM. Advances in the endoscopic management of suprasellar arachnoid cysts in children. J Neurosurg (Pediatrics) 100 (5):418-426, 2004
12. Sanelli PC, Deshmukh M, Ougorets I, Caiati R, Heier LA. Safety and feasibility of using a central venous catheter for rapid contrast injection rates. AJR 183 (6):1829-34, 2004
13. Crystal RG, Sondhi D, Hackett NR, Kaminsky SM, Worgall S, Stieg P, Souweidane M, Heier L, Ballon D, Dinner M, Wisniewski K, Kaplitt M, Greenwald BM, Howell JD, Stybing K, Dyke J, Voss H. Clinical Protocol. Administration of a replication-deficient adeno-associated virus gene transfer vector expressing the human CLN2 cDNA to the brain of children with late infantile neuronal ceroid lipofuscinosis. Hum Gene Ther (US) 15 (11):1131-54, 2004
14. Chao KH, Riina HA, Heier L, Steig PE, Gobin YP. Endovascular management of dolichoectasia of the posterior cerebral artery report. AJNR Am J Neuroradiol (US) 25(10):1790-1, 2004.
15. Crystal RG, Sondhi D, Hackett NR, Kaminsky SM, Worgall S, Stieg P, Souweidane M, Hosain S, Heier L, Ballon D, Dinner M, Wisniewski K, Kaplitt M, Greenwald BM, Howell JD, Strybing K, Dyke J, Voss H. Clinical protocol. Administration of a replication-deficient adeno-associated virus gene transfer vector expressing the human CLN2 cDNA to the brain of children with late infantile neuronal ceroid lipofuscinosis. Hum Gene Ther (US)15(11):1131-54,2004
16. Heller SL, Heier LA, Watts R, Schwartz TH, Zelenko N, Doyle W, Devinsky O. Evidence of cerebral reorganization following perinatal stroke demonstrated with fMRI and DTI tractography. Clin Imaging (US) 29(4):283-7, 2005
17. Sanelli PC, Mifsud M, Zelenko N, Heier LA. CT angiography in cerebrovascular disease. AJR (US) Jan 2005, 184(1) p305-12
18. Zhang L, Thomas KM, Davidson MC, Casey BJ, Heier LA, Ulug AM. MR Quantitation of Volume and Diffusion Changes in the Developing Brain. AJNR 26(1): 45-49, 2005
19. Bhangoo A, Gu WX, Pavlakis S, Anhalt H, Heier LA Ten S, Jameson JL. Phenotypic features associated with mutations in steroidogenic acute regulatory protein. J Clin Endocrinol Metab (US)90 (11): 6303-9, 2005
20. Geyer JR, Sposto R, Jennings M, Boyett JM, Axtell RA, Breiger D, Broxson E, Donahue B, Finlay JL, Goldwein JW, Heier LA, Johnson D, Mazewski C, Miller DC, Packer R, Puccetti D, Radcliffe J, Tao ML, Shiminski-Maher T. Multiagent chemotherapy and deferred radiotherapy in infants with malignant brain tumors: a report from the Children's Cancer Group. J Clin Oncol (US) 23(30): 7621-31, 2005
21. Arkin LM, Sondhi D, Worgall S, Suh LH, Hackett NR, Kaminsky SM, Hosain SA, Souweidane MM, Kaplitt MG, Dyke JP, Heier LA, Ballon DJ, Shungu DC, Wisniewski KE, Greenwald BM, Hollmann C, Crystal RG. Confronting the issues of therapeutic misconception, enrollment decisions, and personal motives in genetic medicine-based clinical research studies for fatal disorders. Hum Gene Ther (US) 16 (9): 1028-36, 2005
Honors and Awards
Honors and Awards:
1975: University of Waterloo Science Scholarship
1978: Merck, Sharp and Dohme Award in Therapeutics
1978: Alpha Omega Alpha Honor Medical Society
1978,79: Dean's Honors List, Faculty of Medicine, University of Western Ontario
1979: Radiologist of Western Ontario Award in Diagnostic Radiology
1988: ASNR, Magna Cum Laude Anatomy Award for Scientific Exhibit
1991: American Journal of Neuroradiology Honors in Reviewing
Specialties
Radiology, Neuro/Interventional
Neuroradiology
Pediatric Neuroradiology
Neuro Radiology
Contact Info
1305 York Avenue
3rd Floor
Appointments
NewYork-Presbyterian Hospital
Professor of Clinical Radiology
Weill Cornell Medical College
Board Certifications
Diagnostic Radiology
Neuroradiology
Education
M.D., University of Western Ontario Faculty of Medicine (Canada), 1979