You are here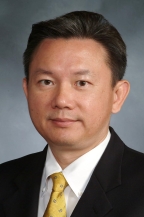 View Research
Specialties/Expertise
Board Certifications
Specialties
Expertise
Breast Cancer
Prostate Cancer
Gastrointestinal Cancer
Brain Cancer
Esophageal Cancer
Radiation Therapy
Pancreatic Cancer
Head and Neck Cancer
Education/Training
M.D., Kaohsiung Medical College (Taiwan), 1982
Honors and Awards
Best Doctors in America, 2004-2012
Chu H. Chang Distinguished Professor, Columbia University College of Physicians and Surgeons, 2008
Keynote Speaker of 2009 Asian Pacific Head and Neck Oncology Congress, Taipei, Taiwan, September 18, 2009
Keynote Speaker of 2008 International Symposium on Cancer Nanotechnology and Image-guided Therapy, Taipei, Taiwan, December 25, 2008
Keynote Speaker of 2006 Taiwan Radiology Society meeting, Kaohsiung, Taiwan, March 26, 2006
Keynote Speaker of 2006 International Society of Gastroenterology Oncology ICACT/ISGIO meeting, Paris, France, February 1, 2006
Annual Oration in Radiation Oncology, Radiological Society of North America (RSNA) Chicago, Illinois, November 30, 2005
Keynote Speaker of 8th Japan 3-D CRT Symposium, Ciba, Japan, July 25, 2003
Richard Evan Memorial Lecture at University of Kansas. February 14, 2003
ASTRO/ESTRO Travel Award Oct. 1997
Essay Award - Gilbert H. Fletcher Society, Nineteenth Annual Meeting of the Gilbert H. Fletcher Society, Houston, Texas, April 7-9, 1994
Essay Award - American Brachytherapy Society, Sixteenth Annual Meeting of the American Brachytherapy Society, Scottsdale, Arizona December 8-11, 1993
Best Intern of the Year, Chang-Gung Memorial Hospital, 1982
President, Medical Student Association, Kaohsiung Medical School, 1981
Head, Aboriginal Area Medical Service Corporation, Kaohsiung Medical School, 1980
Biography
KS Clifford Chao, M.D., is a pre-eminent expert in the use of image-guided targeted radiotherapy and intensity modulated radiation therapy (IMRT) for the treatment of cancers, and is the Chairman of the Combined Program in Radiation Oncology at New York- Presbyterian Hospital, Weill Cornell Medical College and Columbia University Medical Center. Dr. Chao came to New York from The University of Texas M. D. Anderson Cancer Center in Houston, where he was a professor and the director of Image-Guided Therapy.
Before joining M. D. Anderson in 2002, Dr. Chao was an associate professor at Washington University School of Medicine in St. Louis. He received his medical degree from Kaohsiung Medical School in Taiwan. His postgraduate training included a Radiation Oncology residency and fellowship at Washington University School of Medicine and a surgical fellowship in the Cancer Research Institute in Tokyo, Japan.
In addition to serving as the Principle Investigator of multiple NIH research grants and publishing more than 100 peer-reviewed papers, he is the author of two widely read textbooks, "Management Decisions in Radiation Oncology" and "Practical Essentials of IMRT". Dr. Chao's research focus includes combining positron emission tomography (PET) and computed tomography (CT) images to construct individualized treatment plans that address the molecular characteristics of each tumor.
Dr. Chao's clinical specialties include Head and Neck, Brain, Prostate, Digestive and Breast cancer.