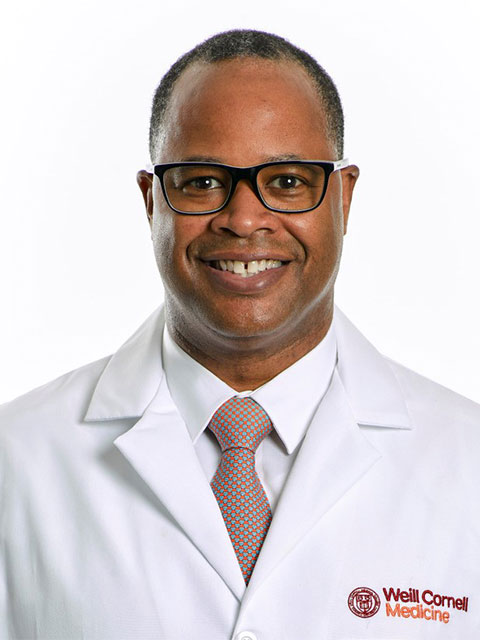 Dr. Kevin Holcomb practices at Weill Cornell Ob/Gyn's 68 th Street offices. He specializesingynecologic oncology.
"There's no question that Weill Cornell offers all the benefits and resources of a world-class academic medical center – but we present ourselves more like your local community hospital. What makes us different is the patient-friendly environment. The human element is still emphasized here."
Dr. Holcomb is a Gynecologic Oncologist at the New York Presbyterian Hospital-Weill Cornell Medical College and works closely with other members of the Weill Cornell Obstetrics and Gynecology Department. He also closely collaborates with colleagues in the departments of Hematology Oncology, Radiation Oncology and Surgery. He is gratified to work with so many gifted colleagues and to deliver the benefits of cutting-edge medicine to the patients they share.
In addition to helping diagnose and treat gynecologic cancers, Dr. Holcomb continues to develop more effective techniques in chemical, radiological and surgical treatments for these pernicious conditions. He is also very interested and active in the development of robotic and laparoscopic surgical techniques for gynecologic cancers. Dr. Holcomb was recently appointed Director of Minimally Invasive Surgery.
Dr. Holcomb's research contributions to the field of gynecologic oncology have included dozens of peer-reviewed journal articles, a book chapter, an interactive CD-ROM, and many presentations at regional and national conferences and symposia. His research activities include clinical trials of new chemotherapy regimens as well as research in endometrial cancers and lymph node sampling. Topics of his research articles and presentations have included treatment of locally advanced cervical cancer, pre-invasive cervical lesions in HIV-positive women, and analyses of cell characteristics in human ovarian cancers.
His dedication to medical education was recognized by the Council on Resident Education in Obstetrics and Gynecology, where he received the National Faculty Award in 2002 and 2004. He has been named one of New York's Top Doctors by New York Magazine, one of the New York Metro Area's Top physicians by Castle-Connolly Medical Ltd., and one of America's Leading Doctors by Black Enterprise magazine. Dr. Holcomb served as the President of the Board of Advisors for the American Cancer Society Upper Manhattan Office as well as President of the Metropolitan Gynecologic Cancer Society.
Dr. Holcomb believes strongly in a humanistic approach to medicine and establishing a personal connection with his patients. He believes the quality of patient care is enhanced by the quality of the caregiver's commitment to care. If the patient feels cared about as a person, it helps every aspect of that patient's medical care.
"The more I practice, the more I appreciate the training I received here at Weill Cornell."
A graduate of Cornell University, Ithaca, NY, Dr. Holcomb received his M.D. at New York Medical College, Valhalla, NY. His post-doctoral training has included an internship and residency in Obstetrics and Gynecology at New York Hospital – Cornell Medical Center, and a fellowship in Gynecologic Oncology at the State University of New York Downstate Health Science Center at Brooklyn-Kings County Hospital Center. Formerly the Director of Gynecologic Oncology at New York's Beth Israel Medical Center, and Assistant Clinical Professor at the Columbia University College of Physicians and Surgeons, Dr. Holcomb joined the faculty at Weill Medical College of Cornell University in 2006.
Insurances
Insurance Plans Accepted
The following represents most of the managed care plans accepted by this physician. If your insurance carrier does not appear here please contact the physician's office as they may have individual contracts not included on this site.

* indicates this physician is no longer accepting new patients with this insurance plan.
AETNA

[PPO]

AETNA

[Medicare]

AETNA

[HMO]

Aetna - Weill Cornell

[POS]

Affinity Essential
Affinity Health Plan
Empire Blue Cross/Blue Shield

[PPO]

Empire Blue Cross/Blue Shield

[Mediblue (Senior)]

Empire Blue Cross/Blue Shield

[EPO]

Empire Blue Cross/Blue Shield

[HMO]

Fidelis Care
Health First
Health Plus - Amerigroup

[CHP]

Health Plus - Amerigroup
Health Republic
Medicaid
Medicare
Oscar
Oxford Health Plans

[Liberty]

Oxford Health Plans

[Freedom]

POMCO
Rockefeller University - CoreSource
UHC Compass
United Empire
United Health Care
VNSNY CHOICE Medicare

[HMO]
Publications
Fruchter R, Maiman M, Arrastia CD, Matthews R, Gates EJ, Holcomb K. Is HIV Infection a Risk Factor for Advanced Cervical Cancer? J Acquir Immune Defic Syndr Hum Retrovirol 1998 Jul 1;18(3):241-245
Holcomb K, Abulafia O, Matthews RP, Gabbur N, Lee YC, Buhl A. The effect of pretreatment staging laparotomy on survival in locally advanced cervical carcinoma. Eur J Gynecol Oncol 1999;20(2):90-93
Holcomb K, Matthews RP, Abulafia O, Chapman J, Lee YC, Buhl A. The significance of ASCUS in HIV-positive women. Gynecol Oncol 1999;75:118-121
Holcomb K, Matthews RP, Abulafia O, Chapman J, Lee YC, Buhl A. The efficacy of cervical conization in the treatment of cervical intraepithelial neoplasia in HIV-positive women. Gynecol Oncol 1999;74:428-431
Abulafia O, Ruiz J, Holcomb K, Dimaio T, Matthews R, Lee YC. Angiogenesis in Stage I invasive and low malignant potential epithelial ovarian carcinoma. Obstet Gynecol 2000 Apr 1;95(4):548-552.
Holcomb K, DiMaio TM, Nicastri AD, Matthews RP, Lee YC, Buhl A. Cone biopsy and pathologic findings at radical hysterectomy in stage I cervical carcinoma. Obstet Gynecol 2001 Nov;98(5 Pt 1):779-82
Holcomb K., Delatorre R, Pedemonte B, McLeod C, Anderson L, Chambers JT. E-cadherin expression in endometrioid, papillary serous, and clear cell carcinoma of the endometrium. Obstet Gynecol 2002 Dec;100(6):1290-95
Holcomb K, Gabbur N, Tucker T, Matthews R, Lee Y, Abulafia O. 60Cobalt versus linear accelerator in the treatment of locally advanced cervix carcinoma: A comparison of survival and recurrence patterns. Eur J Gynaecol Oncol. 2001;22(1):16-9.
Holcomb K, Runowicz CD. Cancer Screening. Postgraduate Obstetrics and Gynecology. 2003 Mar;23(5):1-7
Seto-Young D, Leonardi O, Holcomb K, Park A, Salehi M, Chang P, Yih M, Rosenwaks Z, Poretsky L. Hormonally active non-transformed human ovarian cell culture from oophorectomy specimens: methods of development and characterization. Horm Res. 2005;64(5):238-47
Seto-Young D, Paliou M, Schlosser J, Avtanski D, Park A, Holcomb K, Chang P, Poretsky L.Thiazolidinedione action in the human ovary: direct effects on steroidogenesis and insulin-like growth factor binding protein-1 (IGFBP-1) production. J Clin Endocrinol Metab. 2005 Nov;90(11):6099-105
Seto-Young D, Avtanski D, Strizhevsky M, Parikh G, Patel P, Kaplun J, Holcomb K, Rosenwaks Z, Poretsky L. Interactions among peroxisome proliferator activated receptor-gamma, insulin signaling pathways, and steroidogenic acute regulatory protein in human ovarian cells. J Clin Endocrinol Metab 92(6): 2232-9.
Huang M, Chadha MD, Musa F, Friedmann P, Kolev C, Holcomb K. Lymph nodes: is total number or station number a better predictor of lymph node metastasis in endometrial cancer? Gynecol Oncol. 2010 Nov;119(2):295-8
Frey MK, Inhow SB, Heyman KP, Slomovitz BM, Kessler R, Worely MJ, Holcomb K. Minimally invasive staging of endometrial cancer is feasible and safe in elderly women. J Minim Invasive Gynecol. 2011 Mar-Apr;18(2):200-4.
Holcomb K, Vucetic Z, Miller MC, Knapp RC. Human epididymis protein 4 offers superior specificity in the differentiation of benign and malignant adnexal masses in premenopausal women. Am J Obstet Gynecol. 2011 Oct;205(4):358.e1-6.
Musa F, Huang M, Adams B, Pirog E, Holcomb K. Mucinous histology is a risk factor for nodal metastases in endometrial cancer. Gynecol Oncol. 2012 Jun;125(3):541-5.
Musa F, Frey MK, Im HB, Chekmereva M, Ellenson LH, Holcomb K. Does the presence of adenomyosis affect and lymph-vascular invasion affect the risk of lymph node metastases in patients with endometrioid adenocarcinoma of the endometrium? Am J Obstet Gynecol. 2012 Nov;207(5):417.e1-6.
Frey MK, Biewald M, Worely MJ, Taylor J, Lin SN, Holcomb K. Lynch syndrome awareness among medical students at a United States medical school. Curr Womens Health Rev. 2012 Aug;8(3):242-247.
Nagar H, Boothe D, Parikh A, Yondorf M, Parashar B, Gupta D, Holcomb K, Caputo T, Chao KS, Nori D, Wernicke AG. Administration of concurrent vaginal brachytherapyduring chemotherapyfor treatment of endometrial cancer. Int J Radiat Oncol Biol Phys. 2013 Nov 15;87(4):665-9
Frey MK, Bashir S, Ward NM, Hensel KJ, Caputo TA, Holcomb KM, Baergen R, Gupta D. Role of surgical staging and adjuvant treatment in uterine serous carcinoma. Eur. J. Gynaec. Oncol 2013;24(5):453-456.
Orfanelli T, Jeong J, Doulaveris G, Holcomb K, Witkin S. Involvement of Autophagy in Cervical, Endometrial and Ovarian Cancer. Int J Cancer 2013 Oct 7. doi: 10.1002/ijc.28524. [Epub ahead of print]
Galic V, Schiavone MB, Herzog TJ, Holcomb K, Lewin SN, Lu YS, Neugut AI, Hershman DL, Wright JD. Prognostic significance of mucinous differentiation of endometrioid adenocarcinoma of the endometrium. Cancer Invest 2013 Aug;31(7):500-4.
Honors and Awards
Castle Connelly Medical Ltd., "Best Doctors in New York Metro Area", 2009-2011
New York Magazine "Best Doctors 2010 and 2011"
2011 Chanel Award for Excellence in Obstetrics and Gynecology
Metropolitan Life Foundation Award for Academic Excellence. 1989
Alpha Omega Alpha, Iota Chapter. Inducted 1990
Senior Award in Obstetrics and Gynecology. 1992
CREOG National Faculty Teaching Award 2002
CREOG National Faculty Teaching Award 2004
The Network Journal #147;Best Black Doctors#148; 2005
The Network Journal #147;40 Under 40#148; Achievement Award 2005
Black Enterprise Magazine #147;The HotList; America#146;s Most Powerful Players under 40#148; 2005
Clinical Expertise
Robotic Surgery
Laparoscopic Surgery
Uterine Cancer
Ovarian Cancer
Cervical Cancer
Vulvar Cancer
Chemotherapy
Contact Info
525 East 68th Street
J-130
Appointments
Associate Attending Obstetrician and Gynecologist
NewYork-Presbyterian Hospital
Associate Professor of Clinical Obstetrics and Gynecology
Weill Cornell Medical College
Board Certifications
Gynecologic Oncology
Obstetrics and Gynecology
Education
M.D., New York Medical College, 1992