Interventional Cardiology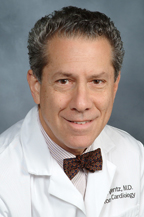 My professional interests lie in evidence-based interventional treatment of coronary, carotid and vascular disease. For me it has been gratifying to practice both consultative and interventional cardiology. This has allowed me not only to achieve a high level of technical proficiency, but also to really connect with patients and families, and to understand their concerns. On the clinical and research side, I continue to be active in the areas of coronary flow determination before stenting, carotid stenting, stroke prevention, new approaches to intermittent claudication, leg vessel stenting and atherectomy, and valvular heart disease treatment. Coming to Cornell as faculty allows me to interact with a team of excellent physicians all focused on the provision of the highest level of care to our patients.
Dr. Wilentz was born and raised in the New York area. He graduated Alpha Omega Alpha from the New York University School of Medicine after receiving his BA in English from Columbia University. He performed his Medicine residency and Hematology fellowship at Harvard's Peter Bent Brigham Hospital in Boston. He was a Cardiology fellow and attending at the Boston City Hospital where he was co-investigator on the first TIMI trial of clot-dissolving medication in acute myocardial infarction. After his Interventional Cardiovascular fellowship under Dr. Andreas Gruentzig, the originator of coronary balloon angioplasty, he became Associate Chief of the Catheterization Labs at Lenox Hill Hospital, and has directed the Interventional Cardiology Labs at Beth Israel and St. Luke's Roosevelt. Dr. Wilentz joined the full-time faculty at Weill Cornell Medical College – New York Presbyterian Hospital in 2011. He is a Fellow of the American Heart Association's Council on Clinical Cardiology, the American College of Cardiology and the Society for Cardiovascular Angiography and Intervention. Dr. Wilentz is the author of numerous publications on carotid and peripheral vascular disease interventions and has been an investigator on many trials of coronary and peripheral and carotid interventional devices and strategies.
Insurances
Insurance Plans Accepted
The following represents most of the managed care plans accepted by this physician. If your insurance carrier does not appear here please contact the physician's office as they may have individual contracts not included on this site.

* indicates this physician is no longer accepting new patients with this insurance plan.
AETNA

[HMO]

AETNA

[PPO]

AETNA

[Medicare]

Aetna - Weill Cornell

[POS]

Affinity Essential
Affinity Health Plan
Blue Priority Network
CIGNA
Emblem Select Care
Empire Blue Cross/Blue Shield

[Pathway X]

Empire Blue Cross/Blue Shield

[Pathway X Enhanced]

Empire Blue Cross/Blue Shield

[PPO]

Empire Blue Cross/Blue Shield

[EPO]

Empire Blue Cross/Blue Shield

[HMO]

Empire Blue Cross/Blue Shield

[Mediblue (Senior)]

Fidelis Care
GHI

[CBP]

Health First
Health Insurance Plan of NY (HIP)

[Medicare]

Health Insurance Plan of NY (HIP)

[Medicaid]

Health Insurance Plan of NY (HIP)
Health Plus - Amerigroup

[CHP]

Health Plus - Amerigroup
Health Republic
Medicaid
Medicare
Oscar
Oxford Health Plans

[Liberty]

Oxford Health Plans

[Medicare Advantage]

Oxford Health Plans

[Freedom]

POMCO
Rockefeller University - CoreSource
UHC Compass
United Empire
United Health Care
United Health Care

[Medicare]

United Health Care

[Community Plan]

VNSNY CHOICE Medicare

[Medicare]

VNSNY CHOICE Medicare

[HMO]
Publications
1. TIMI Study Group (Wilentz JR co-investigator, Boston University) The Thrombolysis in Myocardial Infarction (TIMI) Trial. Phase I Findings. N Engl J Med 1985, 312:932-6.
2. Hillis LD Borer J Braunwald E Chesebro JH Cohen LS Dalen J Dodge HT Francis CK Knatterud G Ludbrook P Markis JE Mueller H Desvigne-Nickens P Passamani ER Powers ER Rao AK Roberts R Roberts WC Ross A Ryan TJ Sobel BE Williams DO Zaret B and Co-Investigators [TIMI I] (Wilentz JR co-investigator, Boston University) High dose intravenous streptokinase for acute myocardial infarction: preliminary results of a multicenter trial. J Am Coll Cardiol 1985, 6:957-62.
3. *Wilentz JR Sanborn TA Haudenschild CC Valeri CR Ryan TJ Faxon DP Platelet accumulation in experimental angioplasty: time course and relation to vascular injury. Circulation 1987, 75:636-42.
4. Ellis SG Roubin GS Wilentz JR Douglas JS Jr King SB 3d Effect of 18- to 24-hour heparin administration for prevention of restenosis after uncomplicated coronary angioplasty. Am Heart J 1989, 117:777-82.
5. Lembo NJ Black AJ Roubin GS Wilentz JR Mufson LH Douglas JS Jr King SB 3rd Effect of pretreatment with aspirin plus dipyridamole on frequency and type of acute complications of percutaneous transluminal coronary angioplasty. Am J Cardiol 1990, 65:422-6.
6. Romanello PP Moses JW Wilentz JR Schiffer MB DePasquale NP Acute myocardial infarction complicating percutaneous aortic valvuloplasty successfully treated by percutaneous coronary angioplasty. Am Heart J 1990, 119:953-5.
7. Coplan NL Shimony RY Ioachim HL Wilentz JR Posner DH Lipschitz A Ruden RA Bruno MS Sherrid MV Gaetz H Englard A Kukin M Packer M Primary pulmonary hypertension associated with human immunodeficiency viral infection. Am J Med 1990, 89:96-9.
8. Coplan NL Morales MC Romanello P Wilentz JR Moses JW Exercise-related atrioventricular block: influence of myocardial ischemia. Chest 1991, 100:1728-30
9. Sacknoff DM Coplan NL Wilentz JR Schiffer MB Bush M Exercise-induced ST segment depression: Relation to non-occlusive coronary spasm. Am Heart J 1992, 125:242-4
10. Ambrose JA Torre SR Sharma SK Israel DH Monsen CE Weiss M Unterecker W Grunwald A Moses J Marshall J et. al. Adjunctive thrombolytic therapy for angioplasty in ischemic rest angina: results of a double-blind randomized pilot study (Wilentz JR co-investigator, Lenox Hill Hospital). J Am Coll Cardiol 1992, 20:1197-204
11. *Wilentz JR Fratellone P Diagnosis of Stenosis in a Pulmonary Valve-Conduit Using an angioplasty Guide and Probing Catheter. Cathet Cardiovasc Diagn 1993, 29: 144-147
12. Kjellgren O Wilentz JR Kaganovsky L Sherman W Prolonged lntracoronary infusion of Streptokinase: An Alternative Pharmacologic Approach to Extensive Thrombus in a Native Coronary Artery. Cathet Card Diag 1994, 33: 80-84
13. Fuchs J Cannon CP for the TIMI 7 Investigators (Wilentz JR Principal Investigator, Lenox Hill Hospital) Hirulog in the treatment of unstable angina. Results of the Thrombin Inhibition in Myocardial Ischemia (TIMI) 7 trial. Circulation 1995, 92:727-33
14. Bittl JA Comparative safety profiles of hirulog and heparin in patients undergoing coronary angioplasty. The Hirulog Angioplasty Study Investigators. (Wilentz JR Principal Investigator, Beth Israel Medical Center). Am Heart J 1995, 130(3 Pt 2):658-65
15. Bittl JA Strony J Brinker JA Ahmed WH Meckel CR Chaitman BR Maraganore J Deutsch E Adelman B Hirulog Angioplasty Study Investigators (Wilentz JR Principal Investigator, Beth Israel Medical Center). Treatment with bivalirudin (Hirulog) as compared with heparin during coronary angioplasty for unstable or postinfarction angina. N Engl J Med 1995, 333:764-9
16. *Wilentz JR Mishkel G McDermott D Ravi K Fox JT Reimers CD Outpatient Coronary Stenting Using the Femoral Approach with Vascular Sealing. J Invas Cardiol 1999, 11: 709-717
17. *Wilentz JR Mishkel G McDermott D Ravi K Fox JT Reimers CD Maydick S Outpatient Coronary Stenting: Femoral Approach with Vascular Sealing. Herz 1999, 24: 624 - 633
18. *Wilentz J Patel R Kunchithapatham S Rota-stenting of a calcified anomalous left coronary artery via the arm in a multi-vasculopathic patient J Invasive Cardiol 2001, 13: 460-3
19. The SEAL Trial Study Team (Wilentz JR Principal Investigator Beth Israel Medical Center) Assessment of the safety and efficacy of the DUETT vascular hemostasis device: Final results of the safe and effective vascular hemostasis (SEAL) trial. American Heart Journal. 2002, 143:612-619
20. *Wilentz JR Chati Z Krafft V Amor M Retinal Embolization During Carotid Angioplasty and Stenting: Mechanisms and Role of Cerebral Protection Systems Catheter Cardiovasc Interv 2002, 56: 320-327
21. Lee M Singh V Nero T Wilentz JR Cutting Balloon Angioplasty J Invasive Cardiol 2002, 14:552-6
22. Shteerman E Singh V Nero T Lee M Wilentz J Menon V. Images in cardiovascular medicine. Acute myocardial infarction in uncorrected tetralogy of fallot. Circulation. 2002 Jul 23;106(4):e13-4.
23. Stone GW, Rogers C, Ramee S (Wilentz, JR Principal Investigator St. Luke's Medical Center) Distal filter protection during saphenous vein graft stenting: Technical and clinical correlates of efficacy J. Am. Coll. Cardiol. 2002;40;1882-1888
24. Lee MS Nero T Makkar RR Wilentz JR. Treatment of coronary aneurysm in acute myocardial infarction with AngioJet thrombectomy and JoStent coronary stent graft J. Invas Cardiol 2004: 16:294–296
25. Lee MS. David EM. Makkar RR. Wilentz JR. Molecular and cellular basis of restenosis after percutaneous coronary intervention: the intertwining roles of platelets, leukocytes, and the coagulation-fibrinolysis system. Journal of Pathology 2004 203:861-70
26. Lee MS Wilentz JR, Makkar RR Singh V Nero T Swistel D Belsey SJ Simon C Rametta S DeRose J Hybrid Revascularization Using Percutaneous Coronary Intervention and Robotically Assisted Minimally Invasive Direct Coronary Artery Bypass Surgery J. Invas Cardiol 2004: 16: 419-425
27. Lee MS, Rametta S, Aragon J, Khan A, Wilentz J, Singh V, Levitt H, Kamra A, Valania G, Makkar R. New heparin dosing regimen for diabetics undergoing percutaneous coronary intervention. J Invasive Cardiol. 2005 May;17(5):248-50.
28. Lee MS Singh V Wilentz JR Makkar R Review: AngioJet Thrombectomy J Invasive Cardiol 2004 16: 587 - 591
29. Amor M Eid-Lidt G Chati Z Wilentz J Endovascular treatment of the subclavian artery: Stent implantation with or without predilatation Catheter Cardiovasc Interv 2004, 63: 364-370
30. Lee MS Makkar R Singh V Rametta S Valania G Platzman Z Wilentz J Pre-procedural Administration of Aminophylline Does Not Prevent AngioJet Rheolytic Thrombectomy-induced Bradyarrhythmias J Invasive Cardiol 2005: 19 – 22
31. DeRose JJ Jr, Balaram SK , Ro C, Swistel DG, Singh V, Wilentz JR, Todd GJ, Ashton RC Jr. Mid-term results and patient perceptions of robotically-assisted coronary artery bypass grafting. Interactive Cardiovascular and Thoracic Surgery 2005:406-411.
32. Schneider L, Vitek J, Wilentz J, Iyer S, Roubin G Stenting the Critical Calyceal Carotid Bifurcation – a Technical Update Journal of Invasive Cardiology 2008;20:255–257.
33. *Wilentz JR, Hecht HS. Utility of coronary computed tomography guidance for intervention of an anomalous right coronary artery. J Invasive Cardiol. 2009;21(7):374-6.
34. *Wilentz JR. Revascularization for renal-artery stenosis. N Engl J Med. 2010; 25;362(8):762 (letter) author reply 763-4
35. *Wilentz J In Haiti, a Lesson for U.S. Health Care. New York Times (Op-Ed) July 28 2010 accessed at: http://www.nytimes.com/2010/07/29/opinion/29wilentz.html
Editorials:
1. *WilentzJR. Anatomy is destiny, but physiology is here today. J Invasive Cardiol. 2010;22(9):417-8
2. *WilentzJR. Rotational atherectomy in the DES era - away go troubles down the drain? J Invasive Cardiol. 2011;23(1):33-4
3. *WilentzJR. Renal arterial ultrasound - predictor of things to come? J Invasive Cardiol. 2011 Jun;23(6):232-3.
Abstracts:
1. Lieberman SM, Undemir C, Shaknovich A, Wilentz JR, Friedman MS, Higgins J, CohenNT, McCrossan J, Moses JW. Coronary Flow Reserve By Doppler Wire is Not Equivalent to Stenotic Flow Reserve. Circulation 1993;88 (Suppl. I) I-204.
2. Meckel CR Kjelsberg MA Ahmed WH Ganz P Piana RN Deutsch E Strony J Bittl JA Hirulog Angioplasty Study Investigators (Wilentz JR Principal Investigator, Beth Israel Medical Center). Bailout Stenting for Abrupt Closure During Coronary Angioplasty. Circulation 1995 92: I-688
3. Strony J Ahmed WH Meckel CR Maraganore J Adelman B Bittl JA Hirulog Angioplasty Study Investigators (Wilentz JR Principal Investigator, Beth Israel Medical Center). Clinical Evidence for Thrombin Rebound After Stopping Heparin but not Hirulog Circulation. 1995 92: I-609
4. Ahmed WH Meckel CR Grines CL Strony J Borzak S Kraft PL Timmis GC Ferguson JJ Adelman B Bittl JA Hirulog Angioplasty Study Investigators (Wilentz JR Principal Investigator, Beth Israel Medical Center). Relation Between Ischemic Complications and Activated Clotting Times During Coronary Angioplasty: Different Profiles for Heparin and Hirulog. Circulation 1995 92: I-608
5. *Wilentz JR Mishkel G Reimers C Ravi K Sherman W McDermott D Kupersmith A. Outpatient Stenting Using the Femoral Approach with Vascular Sealing. Am. J. Cardiol 1998 82 (7A):355
6. Faxon DP Buchbinder M Cleman MW Wilentz JR Liprie SF Mehra A Petrovich Z Popma JJ Harrison L Ricci N Varkey J. Intracoronary Radiation to Prevent Restenosis in Native Coronary Lesions: The Results of the Pilot Phase of the ARREST Trial. Abstract presented to ACC 48th Annual Scientific Session
7. Sanborn TA Mooney MR Ellis SG Teirstein PS Wilentz JR The Safe and Effective Artery Sealing (SEAL) Trial. Initial results of the multicenter randomized trial. Abstract presented to ACC 48th Annual Scientific Session
8. Ellis S Mooney M Silber S Teirstein P Rodriguez R Sanborn T Feldman T Pichard A Collins T Wilentz J Gershony G DUETT Fernoral Artery Closure Device vs Manual Compression After Diagnostic or Interventional Catheterization: Results of the SEAL Trial. Circulation 1999;100: I-513
9. *Wilentz JR Mishkel G Reimers C Ravi K Sherman W McDermott D Kupersmith A. Outpatient Stenting Using the Femoral Approach with Vascular Sealing. Am. J. Cardiol 1999 84 (6A):38P
10. *Krafft V Chati Z Wilentz J Amor M Henry M. Immediate retinal events following carotid angioplasty and stenting: Mechanisms and role of cerebral protection systems Am. J. Cardiol. 2000 86 (8A): 29i
11. *Wilentz JR Friday M. Incidence And Degree Of Subclavian Stenosis In Patients Undergoing Left Internal Mammary Angiography Catheter Cardiovasc Interv 2002 56:135
12. Lee MS Singh V Rametta S Nero T Fox M Wilentz JR. Diabetics achieve lower activated clotting time when given the same dose of heparin as non-diabetics during percutaneous coronary intervention J Am Coll Cardiol 2003 41 (suppl A): 12A
Honors and Awards
Sept, 1981 - National Research Service Award, Public Health Service
June, 1976 - Alpha Omega Alpha, Delta Chapter, New York University School of Medicine
Specialties
Cardiology
Cardiovascular Disease
Interventional Cardiology
Clinical Expertise
IVC Filter Placement and Retrieval
Peripheral Arterial Intervention
Carotid Artery Stenting
Cardiovascular Disease
Cardiac Catheterization
Contact Info
1305 York Avenue
8th Floor
Appointments
Associate Attending Physician
NewYork-Presbyterian Hospital
Associate Professor of Clinical Medicine
Weill Cornell Medical College, Cornell University
Board Certifications
Interventional Cardiology
Cardiovascular Disease
Internal Medicine
Education
B.A., Columbia University, 1972
M.D., New York University School of Medicine, 1976