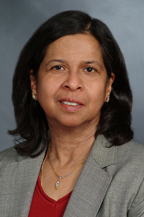 Dr. Fernandes is an Associate Professor of Pathology and Laboratory Medicine and Chief of the Solid Tumor Section Lab.
Publications
Successful use of Plasma Preparation Tubes™ (PPTs) in the COBAS® AmpliPrep/COBAS® TaqMan® HIV-1 Test J Clin Virol. 2013 May;57(1):77-9.Kraft CS, Binongo JN, Burd EM, Eaton ME, McCloskey CB, Fernandes H, Hill CE, Caliendo AM.
Molecular signatures linked with aggressive behavior in basal cell carcinoma: a report of 6 cases. Am J Dermatopathol. 2010 Aug;32(6):550-6.Fernandes H, Fernandes N, Bhattacharya S, Chen W, Seth A, Hameed M, Mirani N, Lambert WC.
Evaluation of the Effect of Specimen Handling Parameters in the Plasma Preparation Tubes on Viral Load Measurements Using the Abbott RealTime HIV-1 Viral Load Assay J Clin Microbiol. 2010 Jul;48(7):2464-8.Fernandes H, Morosyuk S, Abravaya K, Ramanathan M, Rainen L.
Prevalence and characteristics of Staphylococcus aureus colonization among healthcare professionals in an urban teaching hospital. Infect Control Hosp Epidemiol. 2010 Jun;31(6):574-80.Elie-Turenne MC, Fernandes H, Mediavilla JR, Rosenthal M, Mathema B, Singh A, Cohen TR, Pawar KA, Shahidi H, Kreiswirth BN, Deitch EA.
Contact Info
525 East 68th Street
Suite F-715
525 East 68th Street
Room K-502
Appointments
Associate Professor of Pathology and Laboratory Medicine
Weill Cornell Medical College
NewYork-Presbyterian Hospital
Education
B.S., University of Bombay (India), 1976
Ph.D., University of Bombay (India), 1980