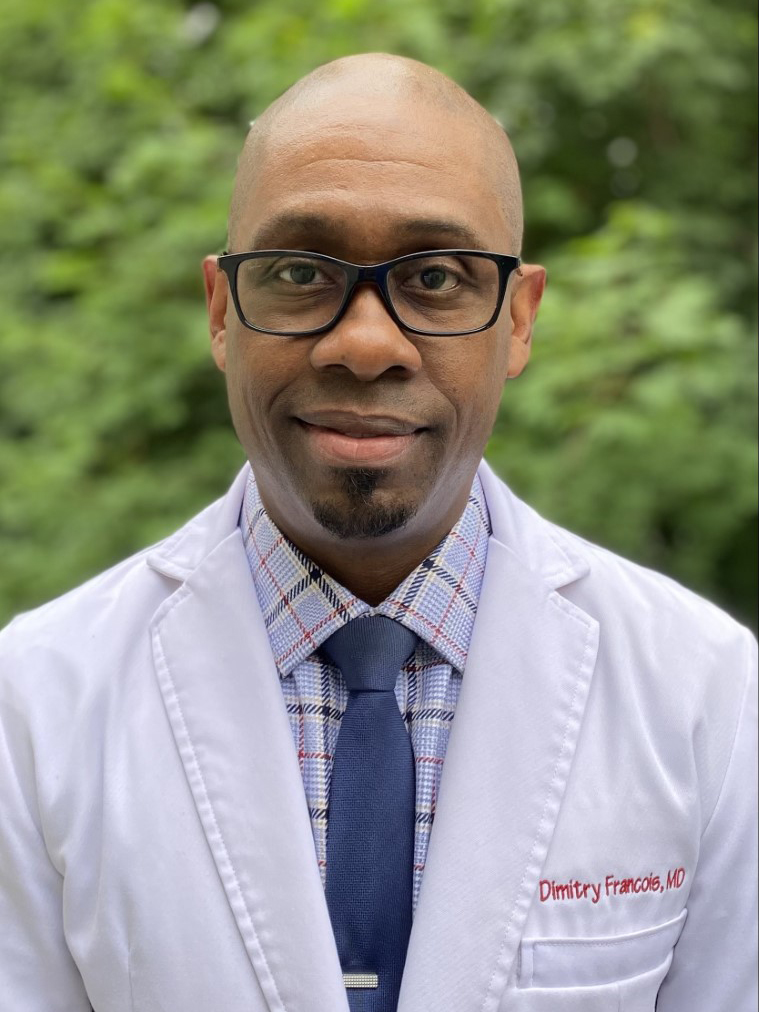 Dimitry Francois, M.D. is Associate Director of the Medical Student Psychiatry Clerkship, Site Director of the Medical Student Psychiatry Clerkship at Payne Whitney Westchester and Assistant Attending Psychiatrist at the New York-Presbyterian Hospital, Weill Cornell Medical College. Dr Francois is board certified in General Psychiatry, Geriatric Psychiatry and has expertise in cultural issues relevant to the African American and Caribbean population.
As a full time faculty member, Dr. Francois works as an Attending Psychiatrist in the Personality Disorders unit. In addition to his clinical duties, he teaches and supervises geriatric psychiatry fellows, psychiatry residents and medical students. He also serves on the Adult Residency Education, Geriatric Residency Education, Promotion and Graduation and Electroconvulsive Therapy Committees.
Dr. Francois received his medical degree from the State University of Haiti in 2000 and trained in Psychiatry at The Brookdale Hospital Medical Center in Brooklyn where he served as chief resident during the academic year 2008-2009. He then went on to complete a fellowship in Geriatric Psychiatry at the NewYork-Presbyterian Hospital Westchester Division, Cornell University.
He is currently an active member of the American Psychiatric Association, the American Geriatric Psychiatry Association, the Haitian American Psychiatrist Association and The Association of Directors of Medical Student Education in Psychiatry.
Dr. Francois practices in English, French and Creole. His areas of interest include depression in elderly, psychopharmacology and neuropsychiatric disorders.
Publications
Nabil Kotbi, MD; Anna Odom PhD; Dimitry Francois, MD; "Executive dysfunction in a patient with rapid cycling". Journal of Psychiatric Practice. In press
Nabil Kotbi, MD; Anna Odom PhD; Dimitry Francois, MD; "Mania, Cocaine, and Rhabdomyolysis: A Case Report". The American Journal on Addictions. In press.
Dimitry Francois, MD; Smita Agarkar, MD; Nabil Kotbi, MD; Psychogenic Seizure: Diagnosis and Treatment Challenges. Current Psychiatry. In press
N. Mahgoub, MD; J. Avari, MD; D. Francois, MD. "A case of Arnold Chiari Syndrome Associated with Dementia". J of Neuropsychiatry and Clinical Neurosciences". Spring 2012; 24 (2).
Dimitry Francois, MD; Daisy Klingman, MD; Nabil Kotbi, MD (2012) The hidden danger of hand sanitizer. Current psychiatry . April 2012
Jonathan Avery, Dimitry Francois, Olga Martins, Steve Park and Steven Roth. An Updated Model for the First-Time Hospitalization of Patients with Borderline Personality Disorder: Two Illustrative Case Reports. Psychiatry Quaterly. February 2012.
Dimitry Francois, MD, Anna Odom, PhD. and Nabil Kotbi, MD. (2011), A case of late-life onset mania during Varenicline assisted smoking cessation. Int. J. Geriat. Psychiatry, 26: 658–659.
Alexander Z. Harris, MD, PhD; Dimitry Francois, MD; Nahla Mahgoub, MD(2009) Disinhibition, Self-Neglect, and Cognitive Deficits: Clarifying the Diagnosis.Psychiatric Annals.December 2009 - Volume 39 · Issue 12: 968-973
Honors and Awards
Physician of the Year Award. New York-Presbyterian Hospital . October 2011
New York-Presbyterian CARE Award. March 2010
Chief Resident Award. Brookdale Hospital Medical Center. July 2008-June 2009
Prite Award. Brookdale Hospital Medical Center. June 2009
Outstanding Intern Award. Brookdale Hospital Medical Center. June 2006
Clinical Expertise
Electroconvulsive Therapy
Personality Disorder
Schizophrenia
Contact Info
Weill Cornell Psychiatry Westchester
Appointments
Assistant Attending Psychiatrist
NewYork-Presbyterian Hospital
Assistant Professor of Psychiatry
Weill Cornell Medical College
Education
M.D., University of Haiti, Faculty of Medicine and Pharmacy (Haiti), 2000