Barry Kosofsky, M.D., Ph.D.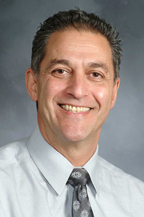 Dr. Barry Kosofsky is the Horace W. Goldsmith Foundation Professor of Pediatrics and Chief, Division of Pediatric Neurology at NewYork-Presbyterian Hospital/Weill Cornell Medical Center and the Director of the Horace W. Goldsmith Foundation Laboratory of Molecular and Developmental Neuroscience. He is also a Professor of Pediatrics and Professor of Neurology and Neuroscience at Weill Cornell Medical College as well as an Attending Pediatrician at NewYork-Presbyterian Hospital. He is Board Certified in Neurology with Special Competence in Child Neurology.

After receiving a B.A., M.A. in Biophysics at Johns Hopkins University, Dr. Kosofsky entered Johns Hopkins University School of Medicine, where he was awarded his medical degree (M.D.) and a Ph.D. in Neuroscience. He completed his pediatric residency training at Children's Hospital in Boston. Following residency, Dr. Kosofsky served as Assistant Resident/Chief Resident at Massachusetts General Hospital in Boston, where he also completed a Post-Doctoral Fellowship in the MGH-East Molecular Neurobiology Laboratory. In 1992, he was appointed Instructor of Neurology at Harvard Medical School and joined the staff of Massachusetts General Hospital.

He joined Weill Cornell following 19 years at Harvard Medical School, where he was an Associate Professor of Neurology, and Massachusetts General Hospital, where he was an Associate Neurologist and Director of the Child Neurology Residency Training Program. Dr. Kosofsky currently serves as the Co-Chair of the Long Range Planning Committee for the Child Neurology Society.

Research Summary

In addition to his clinical and administrative roles, Dr. Kosofsky is a clinician scientist who has developed and studied animal models of diseases, which affect human brain development. The goal of his studies is to gain mechanistic insights into such diseases, as a starting point for improved diagnosis and potentially therapy for affected infants and children.

An important component of his research program is focused on understanding the consequences of intrauterine exposure to drugs of abuse. He has pursued an animal model (in mice) to study neuropathologic, behavioral, electrophysiologic and neurochemical alterations induced by gestational exposure to cocaine, and pursues molecular analyses to better understand their molecular underpinnings.

In addition, he utilizes high-resolution structural (MR microscopy) and functional (fMRI) magnetic resonance brain imaging methods in rodents to identify structural and functional consequences of recurrent exposure to cocaine, including studies in adult animals. He has also applied computer-based methods for morphometric analyses of the MR scans of infants and children following intrauterine exposure to drugs of abuse. His approach is to use such sophisticated imaging methods as a foil for bi-directional translational research, which he is applying to study the impact of prenatal exposure to drugs of abuse on the developing brain.
Insurances
Insurance Plans Accepted
The following represents most of the managed care plans accepted by this physician. If your insurance carrier does not appear here please contact the physician's office as they may have individual contracts not included on this site.

* indicates this physician is no longer accepting new patients with this insurance plan.
AETNA

[PPO]

AETNA

[Medicare]

AETNA

[HMO]

Aetna - Weill Cornell

[POS]

Affinity Essential
Affinity Health Plan
Blue Priority Network
CIGNA
Emblem Select Care
Empire Blue Cross/Blue Shield

[EPO]

Empire Blue Cross/Blue Shield

[Pathway X Enhanced]

Empire Blue Cross/Blue Shield

[PPO]

Empire Blue Cross/Blue Shield

[Pathway X]

Empire Blue Cross/Blue Shield

[HMO]

Empire Blue Cross/Blue Shield

[Mediblue (Senior)]

Fidelis Care
Health First
Health Insurance Plan of NY (HIP)

[Medicare]

Health Insurance Plan of NY (HIP)

[Medicaid]

Health Insurance Plan of NY (HIP)
Health Plus - Amerigroup

[CHP]

Health Plus - Amerigroup
Health Republic
Medicaid
Medicare
Oscar
Oxford Health Plans

[Medicare Advantage]

Oxford Health Plans

[Liberty]

Oxford Health Plans

[Freedom]

POMCO
Rockefeller University - CoreSource
UHC Compass
United Empire
United Health Care

[Medicare]

United Health Care

[Community Plan]

United Health Care
VNSNY CHOICE Medicare

[HMO]
Publications
LINK: Dr. Kosofsky's articles on PubMed
Selected Peer-reviewed Publications
Redwine JM, Kosofsky BE, Jacobs RE, Games G, Reilly JF, Morrison JH, Young WG, Bloom FE. The dentate gyrus volume is reduced before onset of plaque formation in PDAPP mice: A magnetic resonance microscopy and stereologic analysis. Proc Natl Acad Sci USA. 2003;100:1381-1386.
Crandall JE, Hackett HE, Tobet SA, Kosofsky BE, Bhide PG Cocaine exposure decreases GABA neuron migration from the ganglionic eminence of the cerebral cortex in mice. Cereb Cort. 2004;14;665-75.
Rajadhyaksha A, Husson I, Satpute SS, Kuppenbender KD, Ren JQ, Guerriero RM, Standaert DG, Kosofsky BE. L-type Ca2 channels mediate adaptation of extracellular signal-regulated kinase 1/2 phosphorylation in the ventral tegmental area after chronic amphetamine treatment. J Neurosci. 2004;24;7464-76.
Mandeville JB, Jenkins BG, Chen YC, Choi JK, Kim YR, Belen D, Liu C, Kosofsky BE, Marota JJ. Exogenous contrast agent improves sensitivity of gradient-echo functional magnetic resonance imaging at 9.4 T. Magn Reson Med. 2004;52:1272-81.
Husson I, Rangon CM, Lelievre V, Bemelmans AP, Sachs P, Mallet J, Kosofsky BE, Gressens P. BDNF-induced white matter neuroprotection and stage-dependent neuronal survival following a neonatal excitotoxic challenge. Cereb Cort. 2005;15:250-61.
Guerriero RM, Hayes MM, Dhaliwal SK, Ren JQ, Kosofsky BE. Preadolescent methylphenidate versus cocaine treatment differ in the expression of cocaine-induced locomotor sensitization during adolescence and adulthood. Biol Psych. 2006;60(11):1171-80.
Walhovd KB, Moe V, Slinning K, Due-Tonnessen P, Bjornerud A, Dale AM, van der Kouwe A, Quinn BT, Kosofsky BE, Greve D, Fischl B. Volumetric cerebral characteristics of children exposed to opiates and other substances in utero. Neuroimage. 2007;36(4):1331-44.
Malanga CJ, Riday TT, Carlezon WA Jr., Kosofsky BE. Prenatal exposure to cocaine increases the rewarding potency of cocaine and selective dopaminergic agonists in adult mice. Biol Psych. 2008;63(2):214-21.
Worgall S, Sondhi D, Hackett NR, Kosofsky BE, Kekatpure MV, Neyzi N, Dyke JP, Ballon D, Heier L, Greenwald BM, Christos P, Mazumdar M, Souweidane MM, Kaplitt MG, Crystal RG. Treatment of late infantile neuronal ceroid lipofuscinosis by CNS administration of a serotype 2 adeno-associated virus expressing CLN2 cDNA. Hum Gene Ther. 2008;19(5):463-74.
Tropea TF, Guerriero RM, Willuhn I, Unterwald EM, Ehrlich ME, Steiner H, Kosofsky BE. Augmented D1 dopamine receptor signaling and immediate-early gene induction in adult striatum after prenatal cocaine. Biol Psych. 2008;63(11):1066-74.
Honors and Awards
Medical Scientist Training Program Award (1978)
Paul Erlich Award in Clinical Investigation (1985)
William Randolph Hearst Award (1990)
NIDA Scientist Development Award for Clinicians (1992)
NIDA: The Next Generation Award (1996)
NIDA Independent Scientist Development Award (1998)
INSERM 'Poste Orange' Visiting Scientist Award (2000)
Partners (Child) Neurology "Teacher of the Year" (2001)
Chair, Scientific Selection Committee, Child Neurology Society (2003-5)
NIDA Independent Scientist Development Award-II (2004)
Goldsmith Foundation Professorship (Endowed Chair; 2006)
Member NIDA CTN 0028 DSMB (2007-2009)
Awarded Tenure (2007)
Standing Member- DBD Study Section (2007-2010)
Secondary Appointment in the Department of Radiology (2008)
Chair, Long Range Planning Committee, Child Neurology Society (2008-)
Specialties
Pediatric Neurology
Child Neurology
Clinical Expertise
Developmental Disorder
Prenatal Diagnosis
Traumatic Brain Injury
Contact Info
505 East 70th Street
Helmsley Tower, 3rd Floor
Appointments
Weill Cornell Medical College
Professor of Neuroscience
Weill Cornell Medical College
Weill Cornell Medical College
Horace W. Goldsmith Foundation Professor of Pediatrics
Weill Cornell Medical College
Professor of Pediatrics in Radiology
Weill Cornell Medical College
Board Certifications
Neurology With Special Qualifications In Child Neurology
Education
M.D., Ph.D., The Johns Hopkins University School of Medicine, 1985