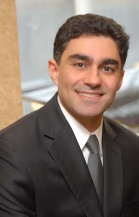 It takes a significant amount of multidisciplinary coordination of care to deliver cutting-edge cardiac surgical therapy to the patients we serve. Under strong leadership and direction, our department has performed at a remarkably high level for many years. Innovative technologies and techniques are responsibly implemented with the patients' best interests in mind. Our commitment to doing so distinguishes the cardiovascular service line here at Weill Cornell. I am proud to be part of a team that provides the best possible therapies for the widest selection of patients while still maintaining excellent outcomes.
Dr. Arash Salemi is an Associate Professor of Cardiothoracic Surgery in the Department of Cardiothoracic Surgery at New York Presbyterian-Weill Cornell Medical Center and is the Surgical Director of the William Acquavella Heart Valve Center of New York-Presbyterian Hospital.
Dr. Salemi completed his undergraduate studies at the Massachusetts Institute of Technology in 1993 where he obtained a degree in molecular biology. He pursued his medical education at Cornell University Medical College where he was elected to the Alpha Omega Alpha honor society in 1996. He subsequently completed his residency in both General Surgery and Cardiothoracic Surgery at New York Presbyterian Hospital/Cornell Medical Center. Dr. Salemi went on to complete a fellowship at the Cleveland Clinic Foundation in cardiovascular surgery, specializing in valve repair, before returning to Cornell to assume his present position at the medical center. He completed postgraduate specialty training in endovascular surgery at the University of Paris in France and at the University Vita Salute-San Raffaele in Milan, Italy.
Dr. Salemi has a strong interest in structural heart disease. He regularly performs surgical heart valve replacement. As Surgical Director of the Acquavella Heart Valve Center, he is also heavily involved in transcatheter aortic valve replacement (TAVR). He has performed over 500 transcatheter procedures. He teaches didactics and has proctored cases at over 50 centers across the U.S. He is a member of the Review Board for the seminal Partner Trial for TAVR and is involved in the development of novel techniques for transcatheter mitral valve replacement. Dr. Salemi is a member of many medical societies including the Society of Thoracic Surgeons, the Heart Valve Society of America, and the American College of Surgeons. He has many publications on topics in cardiovascular surgery and has presented both nationally and internationally.
Dr. Salemi has a special interest in minimally invasive alternatives in cardiac surgery.
He and his wife Jessica have three children and reside in New York City.
Rated One of New York Magazine's Best Doctors.
Insurances
Insurance Plans Accepted
The following represents most of the managed care plans accepted by this physician. If your insurance carrier does not appear here please contact the physician's office as they may have individual contracts not included on this site.

* indicates this physician is no longer accepting new patients with this insurance plan.
AETNA

[PPO]

AETNA

[Medicare]

AETNA

[HMO]

Aetna - Weill Cornell

[POS]

Affinity Essential
Affinity Health Plan
Blue Priority Network
CIGNA
Emblem Select Care
Empire Blue Cross/Blue Shield

[EPO]

Empire Blue Cross/Blue Shield

[Pathway X Enhanced]

Empire Blue Cross/Blue Shield

[PPO]

Empire Blue Cross/Blue Shield

[Pathway X]

Empire Blue Cross/Blue Shield

[HMO]

Empire Blue Cross/Blue Shield

[Mediblue (Senior)]

Fidelis Care
Health First
Health Insurance Plan of NY (HIP)

[Medicare]

Health Insurance Plan of NY (HIP)
Health Insurance Plan of NY (HIP)

[Medicaid]

Health Plus - Amerigroup

[CHP]

Health Plus - Amerigroup
Health Republic
Medicaid
Medicare
Oscar
Oxford Health Plans

[Medicare Advantage]

Oxford Health Plans

[Liberty]

Oxford Health Plans

[Freedom]

POMCO
Rockefeller University - CoreSource
UHC Compass
United Health Care

[Medicare]

United Health Care

[Community Plan]

United Health Care
VNSNY CHOICE Medicare

[HMO]
Publications
Gulkarov I, Bustillos L, Wong SC, Salemi A. A Hybrid Approach in the Treatment of Post-myocardial Infarction Ventricular Septal Defect. Cardiology (in press).
Salemi A, Lee B, Ivascu N, Webber G, Paul S. An Unusual Case of Cardiac Tamponade: Ruptured Subaortic Diverticulum. J Card Surg 2010;25:349-350.
Worley MJ, Aelion A, Caputo TA, Kent KC, Salemi A, Krieger KH, Goldstein MJ, Kuo DY, Slomowitz BM. Intravenous leiomyomatosis with intracardiac extension : a single-institution experience. American Journal of Obstetrics & Gynecology 2009; 201: 574.e1-5.
Salemi A, Shirazi A. Specific Gastrointestinal Complications after Mitral Valve Surgery and Prognosis. Iranian American Medical Association 4th Mtg. Los Angeles, CA. January 17, 2010.
Ugras SK, Finley DJ, Salemi A. Ascaris Lumbricoides Infection Causing Respiratory Distress After Coronary Artery Bypass Grafting. Surgical Infections; 10 (4) October, 2009.
Trocciola S, Girardi LN, Krieger KH, Isom OW, Salemi A. Gender Differences in the Management of Isolated Degenerative Mitral Valve Disease. Society for Heart Valve Disease. Berlin, Germany. June 29, 2009.
Bacchetta, MD, Salemi A, Milla F. et al. Low-Dose Spironolactone: Effects on Artery-to-Artery Vein Grafts and Percutaneous Coronary Intervention Sites American Journal of Therapeutics; 16(3):204-214, May/June 2009.
Catanzaro D, Borer JS, Yu F, Ene, Hochreiter CA, Herrold E, Supino PG, Carter JN, Salemi A, Girardi LN, Isom OW. Disease-Specific and Sex-inependent Clustering of Myocardial Gene Expression Patterns in Human Aortic Valvular Disease. American College of Cardiology. March 10, 2009.
Gillinov, Blackstone, Alaulaqi, Sabik, Mihaljevic, Svensson, Houghtaling, Salemi, Johnston, Lytle. Outcomes After Repair of the Anterior Mitral Leaflet for Degenerative Disease. Ann Thor Surg 2008; 86: 708-17.
Trocciola SM, Girardi LN, Shirazi A, Rossettie J, Krieger KH, Isom OW, Salemi A. Predictors of Tracheostomy after Mitral Valve Surgery. American College of Chest Physicians. Philadelphia, PA. October, 2008.
S Trocciola, C Yokoyama, L Bedrosian, L Girardi, K Krieger, OW Isom, A Salemi. Analysis of risk factors associated with gastrointestinal complications after mitral valve surgery. American College of Surgeons. San Francisco, CA, October, 2008.
Honors and Awards
"America's Top Surgeons" -2007-2010
Research Council of America
George N. Papanicolaou Fellow in Clinical Anatomy
Alpha Omega Alpha
National Institutes of Health Medical Research Fellowship
Westinghouse Science Research Semi-finalist
Specialties
Cardiothoracic Surgery
Heart Surgery
Surgery, Thoracic Cardiovascular
Cardiac Surgery
Thoracic Surgery
Clinical Expertise
Transcatheter Heart Valve Surgery
Aortic and Mitral Valve Surgery
Minimally Invasive Adult Cardiothoracic Surgery
Heart Failure
Cardiac Valve Surgery
Heart Valve Repair
Coronary Artery Bypass Surgery
Mitral Valve Repair
Off Pump Coronary Bypass Surgery
Heart Valve Surgery
Adult Congenital Heart Disease
Aneurysm Surgery
Minimally Invasive Cardiac Surgery
Thoracic Aneurysms and Dissections
Aneurysm Repair
Thoracoabdominal Aortic Aneurysm Surgery
Mitral/Aortic Valve Replacement
Mitral Valve Surgery
Cardiac Valve Replacement
Aneurysm Repair, Aortic
Thoracic/Cardiothoracic Surgery
Minimally Invasive Aneurysm Repair
Aortic Aneurysm
Aortic Dissection
Aortic Valve Surgery
Arterial/Aortic Aneurysm Surgery
Coronary Artery Bypass
Bloodless Surgery
Mitral Valve Reconstruction
Open Heart Surgery
Thoracic Aneurysm
Thoraco Abdominal Aneurysm
Thoracic Aneurysm Repair
Thoracic Aneurysm Surgery
Percutaneous Valve Interventions
Contact Info
525 East 68th Street
M-404
Appointments
Associate Attending Cardiothoracic Surgeon
NewYork-Presbyterian Hospital
Associate Professor of Cardiothoracic Surgery
Weill Cornell Medical College
Board Certifications
Surgery
Surgery, Thoracic
Education
M.D., Cornell University Medical College, 1997