Anna-Maria Demetriades, M.D., Ph.D.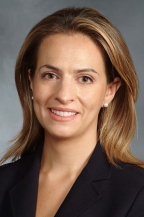 Dr. Demetriades is an Assistant Professor of Ophthalmology at Weill Cornell Medical College and a member of the Weill Cornell Eye Associates. She is a fellowship-trained glaucoma specialist and her expertise encompasses the medical and surgical management of glaucoma.
After graduating from Oxford University Medical School, England, Dr. Demetriades completed her residency at the Wilmer Eye Institute, Johns Hopkins Hospital, and her glaucoma fellowship at the Bascom Palmer Eye Institute, University of Miami. The Wilmer Eye Institute and the Bascom Palmer Eye Institute are recognized as the leading ophthalmology departments in the United States.
While at Johns Hopkins, Dr. Demetriades completed a research fellowship focusing on the role of gene therapy in the treatment of ocular neovascularization, targeting diseases such as age-related macular degeneration and diabetic retinopathy. She received research grant awards, published her scientific work in peer-reviewed journals, and presented at international meetings. During her residency at The Wilmer Eye Institute, she received the House Staff Teaching Award for her contribution to medical student education.
Dr. Demetriades keeps up to date on the latest innovations in glaucoma treatment from around the world and her laboratory is focused on developing novel treatment technologies. Her team is currently exploring new methods to delay and prevent progression of glaucoma. As a physician-scientist, her ultimate goal is to help patients manage their disease and maintain vision throughout their lives.
Dr. Demetriades is currently accepting new patients. Appointments can be made by calling 646-962-2020, or by visiting http://www.weillcornelleye.org/.
Insurances
Insurance Plans Accepted
The following represents most of the managed care plans accepted by this physician. If your insurance carrier does not appear here please contact the physician's office as they may have individual contracts not included on this site.

* indicates this physician is no longer accepting new patients with this insurance plan.
AETNA

[PPO]

AETNA

[Medicare]

AETNA

[HMO]

Aetna - Weill Cornell

[POS]

Affinity Essential
Affinity Health Plan
Blue Priority Network
CIGNA
Emblem Select Care
Empire Blue Cross/Blue Shield

[Pathway X]

Empire Blue Cross/Blue Shield

[Pathway X Enhanced]

Empire Blue Cross/Blue Shield

[EPO]

Empire Blue Cross/Blue Shield

[PPO]

Empire Blue Cross/Blue Shield

[Mediblue (Senior)]

Empire Blue Cross/Blue Shield

[HMO]

Fidelis Care
GHI

[CBP]

Health First
Health Insurance Plan of NY (HIP)
Health Insurance Plan of NY (HIP)

[Medicare]

Health Insurance Plan of NY (HIP)

[Medicaid]

Health Plus - Amerigroup

[CHP]

Health Plus - Amerigroup
Health Republic
Medicaid
Medicare
Oscar
Oxford Health Plans

[Freedom]

Oxford Health Plans

[Liberty]

Rockefeller University - CoreSource
UHC Compass
United Empire
United Health Care

[Medicare]

United Health Care
VNSNY CHOICE Medicare

[HMO]
Publications
PEER-REVIEW ARTICLES
Chapman KO, Demetriades AM. Juvenile Iridoschisis and Incomplete Plateau Iris Configuration. J Glaucoma 2015; 24 (5): 142-4
Chung E, Demetriades AM, Christos PJ, Radcliffe NM. Structural glaucomatous progression before and after occurrence of an optic disc haemorrhage. British Journal of Ophthalmology 2015; 99 (1): 21-5
Kim C, Demetriades AM, Radcliffe NM. One year of glaucoma research in review: 2012 to 2013. Asia-Pacific Journal of Ophthalmology 2014; 3: 48-55
Demetriades AM, Leyngold IM, D'Anna S, Eghrari A, Emmert D, Grant MP, Merbs SL. Intraglandular injection of Botulinum Toxin A reduces tear production in rabbits. Ophthalmic Plastic and Reconstructive Surgery 2013; 29(1): 21-4
Demetriades AM. Gene therapy for glaucoma. Current Opinion in Ophthalmology 2011; 22(2):73-77
Demetriades AM, Miller NR, Garibaldi D. Bilateral internal carotid artery dissection presenting as unilateral Horner syndrome. Journal of Ophthalmic Plastics & Reconstructive Surgery 2009; 25 (6): 485-486
Demetriades AM, Seitzman GL. Unilateral congenital lacrimal gland agenesis presenting as filamentary keratopathy in a child. Cornea 2009; 28 (1): 87-8
Demetriades AM, Deering T, Liu H, Lu L, Gehlbach P, Packer JD, MacGabhann F, Popel AS, Campochiaro PA. Trans-scleral delivery of anti-angiogenic proteins. Journal of Ocular Pharmacology & Therapeutics 2008; 24 (1): 70-79
MacGabhann F, Demetriades AM, Deering T, Packer JD, Duh E, Shah SM, Campochiaro PA, Popel AS. Protein transport to choroid and retina following periocular injection: Theoretical and experimental study. Annals of Biomedical Engineering 2007; 35 (4): 615-30
Kreisel D, Arora N, Weisenberg SA, Saqi A, Krupnick AS, Demetriades AM, Iakovou C, Lee PC. Tuberculosis presenting as endobronchial mass. Journal of Thoracic & Cardiovascular Surgery 2007; 133: 584-5
Demetriades AM, Liu H, Xiao WH, Vinores SA, Campochiaro PA. Mouse model of post-surgical breakdown of the blood-retinal barrier. Current Eye Research 2004; 28: 421-426
Regard JB, Scheek S, Borbiev T, Lanahan AA, Demetriades AM, Hiemisch H, Verin AD, Worley PF. VERGE: a novel vascular early response gene. Journal of Neuroscience 2004; 24
Gehlbach PL, Demetriades AM, Yamamoto S, Deering Xiao WH, Duh EJ, Yang HS, Lai H, Kovesdi I, Carrion M, Wei L, Campochiaro PA. Periocular gene transfer of sFlt-1 suppresses ocular neovascularization and vascular endothelial growth factor-induced breakdown of the blood-retinal barrier. Human Gene Therapy 2003; 14: 129-141
Demetriades AM, Thompson R, Azab A, Stark WJ, Campochiaro PA, de Juan E, Gottsch JD, Haller JA. Combined phacoemulsification, intraocular lens implantation and vitrectomy for eyes with coexisting cataract and vitreoretinal pathology. American Journal of Ophthalmology 2003; 135: 291-296
Gehlbach PL, Demetriades AM, Yamamoto S, Deering T, Duh EJ, Wei L, Campochiaro PA. Periocular injection of adenoviral vectors encoding pigment epithelium-derived factor inhibits ocular neovascularization. Gene Therapy 2003; 10: 637-646
Melki SA, Talamo JH, Demetriades AM, Jabbur NS, Essepian J, O'Brien TP, Azar DT. Late traumatic dislocation of laser in situ keratomileusis corneal flaps. Ophthalmology 2000; 107: 2136-2139
Akpek EK, Demetriades AM, Gottsch JD. Peripheral ulcerative keratitis following clear corneal cataract extraction. Journal of Cataract & Refractive Surgery 2000; 26: 1424-1427

BOOK CHAPTERS
Radcliffe NM, Demetriades AM. Surgical Dictations. Essentials of Glaucoma Surgery. Kahook M ed. Slack Incorporated, 2012.
PUBLISHED ABSTRACTS
Pan C, Shaikh N, Gu S, Byrne L, Visel M, Chalberg T, Schaffer D, Flannery J, Demetriades AM. Neuroprotective effect of AAV-mediated cell-specific expression of GDNF in Müller glial cells versus retinal ganglion cells in a murine model of glaucoma. Investigative Ophthalmology & Visual Science 2015; 56: 2421
Van Tassel SH, Demetriades AM. Video screen capture of flicker chronoscopy and other ophthalmic imaging. American Glaucoma Society Annual Meeting 2015
Demetriades AM, Guo L, Pan C. Intravitreal AAV-mediated expression of Neurotrophin-4 in the visual pathway is neuroprotective in a murine model of microbead-induced glaucoma. Ophthalmology & Visual Science 2013; 54: 779
Pan C, Guo L, Berger E, Demetriades AM. Neurotrophin-4 promotes retinal ganglion cell survival following neuronal injury in Thy1-YFP mice. Investigative Ophthalmology & Visual Science 2013; 54: 4940
Demetriades AM, Pan C, Guo L, Gu S, Chalberg T, Schaffer D, Flannery J. A novel Müller glia cell-specific AAV vector expressing GDNF is neuroprotective in a murine model of microbead-induced glaucoma. Investigative Ophthalmology & Visual Science 2012; 53: 4680
Pan C, Guo L, Gu S, Chalberg T, Schaffer D, Flannery J, Demetriades AM. A novel Müller glia cell-specific AAV vector expressing GDNF promotes retinal ganglion cell survival following neuronal injury in Thy1-YFP mice. Investigative Ophthalmology & Visual Science 2012; 53: 6596
Demetriades AM, Liu H, Gehlbach PL, Deering T, Wei TT, Campochiaro PA. Periocular delivery of transforming growth factor beta-1 inhibits developmental eye growth in mice. Investigative Ophthalmology & Visual Science 2009; 50: 3843
Demetriades AM, D'Anna S, Eghrari A, Emmert D, Grant MP, Merbs SL. Intraglandular injection of Botulinum Toxin A reduces tear production in rabbits. Investigative Ophthalmology & Visual Science 2008; 49: 2448
Demetriades AM, Seitzman GD. Isolated unilateral congenital lacrimal gland agenesis presenting as a filamentary keratopathy in a child. Investigative Ophthalmology & Visual Science 2007; 48: 405
Demetriades AM, Deering T, Saishin Y, Wei L, Campochiaro PA. Ocular levels of pigment epithelium-derived factor after repeated intraocular or periocular injections of adenovirus-mediated PEDF. Investigative Ophthalmology & Visual Science 2004; 45: 4770
Deering TG, Demetriades AM, Duh E, MacGabhann F, Popel A, Campochiaro PA. Transscleral penetration of recombinant pigment epithelium-derived factor. Investigative Ophthalmology & Visual Science 2004; 45: 5054
Demetriades AM, Lu L, Gehlbach PL, Liu H, Duh E, Wei L, Campochiaro PA. Transscleral delivery of proteins by periocular gene transfer.& Investigative Ophthalmology & Visual Science 2003; 44: 2329
Liu H, Xiao W, Demetriades AM, Vinores S, Campochiaro PA. Mouse model of post-surgical breakdown of the blood-retinal barrier. Investigative Ophthalmology & Visual Science 2003; 44: 353
Callahan K, Gehlbach PL, Demetriades AM, Lu L, Yamamoto S, Deering T, Liu H, Wei L, Campochiaro PA. Adenoviral-vectored TGF-b1 does not inhibit retinal or choroidal neovascularization. Investigative Ophthalmology & Visual Science 2003; 44: 3579
Demetriades AM, Gehlbach PL, Yamamoto S, Deering T, Ng EW, Kovesdi I, McVey D, Wei L, Campochiaro PA. Periocular injection of an adenoviral vector expressing the extracellular portion of the VEGF receptor -1 inhibits choroidal neovascularization. Investigative Ophthalmology & Visual Science 2002; 43: 3916
Gehlbach PL, Yamomoto S, Demetriades AM, Ng EW, Duh E, Deering T, Campochiaro PA. Periocular adenovirus-mediated delivery of pigment epithelium-derived factor inhibits choroidal neovascularization. Investigative Ophthalmology & Visual Science 2002; 43: 4595
Demetriades AM, Archer HA, Rakovic S, Terrar DA. Effects of phorbol dibutyrate on post-rest contractions in guinea-pig cardiac ventricular myocytes. Journal of Physiology 1999; 521P: 29P
Honors and Awards
Research to Prevent Blindness Career Development Award, 2014
BrightFocus Foundation National Glaucoma Research Grant, 2013
National Institutes of Health / National Eye Institute Research Grant (1R1EY022848), 2012
Fight for Sight Grant-In-Aid, 2012
American Glaucoma Society Mentoring for Advancement of Physician Scientists Award, 2011
Arnall J. Patz Research Award, Wilmer Eye Institute, Johns Hopkins, 2008
W.Richard Green House Staff Teaching Award, Johns Hopkins, 2007
Michael P. Grant Research Award, Wilmer Eye Institute, Johns Hopkins, 2007
Peter J. McDonnell Research Award, Wilmer Eye Institute, Johns Hopkins, 2006
Association for Research in Vision & Ophthalmology Travel Grant Award, 2003
Morton F. Goldberg Research Award, Wilmer Eye Institute, Johns Hopkins, 2003
American Diabetes Association Trans-Atlantic Research Fellowship Award, 2002
British Medical Association Johns William Clark Award, 2001
Knights Templar Eye Foundation, Inc. Research Grant, 2001
Specialties
General Ophthalmology
Ophthalmology
Clinical Expertise
Glaucoma
Glaucoma Surgery
Cataract Surgery
Trabeculectomy
Laser Iridotomy
Laser Trabeculoplasty
Cyclophotocoagulation
Ocular Hypertension
Contact Info
1305 York Avenue
11th and 12th Floor
Appointments
Assistant Attending Ophthalmologist
NewYork-Presbyterian Hospital
Assistant Professor of Ophthalmology
Weill Cornell Medical College, Cornell University
Education
B.A., Oxford University (United Kingdom), 1997
B.M.,B.Ch., Oxford University Medical School (United Kingdom), 2000
M.A., Oxford University (United Kingdom), 2002
Ph.D., Oxford University (United Kingdom), 2012