You are here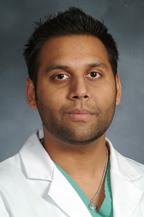 View Research
1.
Pediatric Dental Medicine
505 East 70th Street, Helmsley Tower, 1st Floor
New York, NY 10021
P: (212) 746-5119 | F: (212) 746-8330
Call for appointment
(212) 746-5119
Call for appointment
(212) 746-5119
Personal Statement
Abhinav Sinha, D.M.D. is the Director of the Children's Dental Health Center and is an Assistant Professor of Surgery in the Department of Dentistry, Oral and Maxillofacial Surgery at Weill Cornell Medical College. He is an Assistant Attending Surgeon at NewYork-Presbyterian Hospital/Weill Cornell Medical Center. Dr. Sinha is board-certified in Pediatric Dentistry.
Dr. Sinha has clinical expertise in all phases of Pediatric Dental Medicine, including special needs patients and complex oral rehabilitation under general anesthesia.
He earned his Bachelor of Science degrees in Physiology/Neurobiology and Psychology from the University of Maryland, College Park. Dr. Sinha earned his Doctor of Dental Medicine in 2005 from the University of Pennsylvania School of Dental Medicine, in Philadelphia, PA. He completed his residency in pediatric dental medicine at the Long Island Jewish Medical Center/Schneider Children's Hospital.
Dr. Sinha is a member of the American Academy of Pediatric Dentistry and a member of the American Dental Association.
View Biography
Specialties/Expertise
Board Certifications
Specialties
Expertise
Oral Medicine
Oral Surgery
Craniofacial Disorders
Oral Rehabilitation
Education/Training
D.M.D., University of Pennsylvania School of Dental Medicine, 2005
Honors and Awards
Dr. Abhinav Sinha is board-certified in Pediatric Dentistry by the American Board of Pediatric Dentistry (ABPD)
Biography