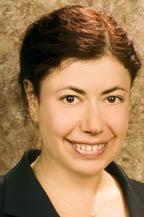 Dr. Yulia Landa is a Clinical Psychologist whose practice and research focuses on developing Cognitive Behavioral interventions for Psychosis.
Dr. Landa is currently conducting research on her novel "Cognitive Behavioral Therapy for the Prevention of Paranoia in Adolescents at High Risk" (ages 16-21). Adolescents ages 16-21 receive& specialized Cognitive Behavioral Therapy (CBT), and family members participate in a support group where they learn to help adolescents practice these CBT skills. CBT is aimed to help adolescents develop a better understanding of their experiences and& sharpen their logical reasoning skills to prevent paranoid thoughts.& & CBT research program may be of particular interest for adolescents who tend to become suspicious and fearful.
Dr. Landa has developed a Cognitive Behavioral Therapy for Psychosis (CBT for Psychosis) training program and has been teaching clinicians both in the US and internationally. In 2006 Dr. Landa was named a Beck Institute for Cognitive Therapy and Research Scholar.
What services are currently available?
Comprehensive assessment and consultations for anyone diagnosed with Schizophrenia, or who think they might have Schizophrenia.
Individual CBT for patients with persistent delusions and/or hallucinations, as well as for patients with a history of Psychosis who currently suffer from other disturbances, such as anxiety, depression, OCD, low self esteem, relational difficulties, job related difficulties.
Group CBT for patients with persistent delusions and/or hallucinations. For example, we have groups for patients who hear voices, for those who suffer from paranoid thoughts, or other disturbing thoughts.
Consultations for spouses, family members and significant others of someone who suffers from psychotic symptoms.
Family therapy, if someone in a family suffers from psychotic symptoms.



Office Hours:
By Appointment: Call 212-821-0711 [or] 646-825-1000.

Office Location:
Manhattan:
425 East 61st St.
PH, RM 1312
New York, NY, 10065
Insurances
Insurance Plans Accepted
The following represents most of the managed care plans accepted by this physician. If your insurance carrier does not appear here please contact the physician's office as they may have individual contracts not included on this site.

* indicates this physician is no longer accepting new patients with this insurance plan.
Specialties
Psychiatry
Clinical Psychology
Psychology
Adult Psychiatry
General Psychiatry
Clinical Expertise
Schizophrenia
Cognitive Behavioral Psychotherapy
Appointments
Assistant Attending Psychologist
NewYork-Presbyterian Hospital
Assistant Professor of Psychology in Psychiatry
Weill Cornell Medical College
Education
M.S., St. Petersburg Medical University (Russia), 1991
Psy.D., University of Hartford, 2002
Degree Info Pending, Weill Cornell Graduate School of Medical Sciences, 2012