Diagnostic Radiology
Diagnostic Radiology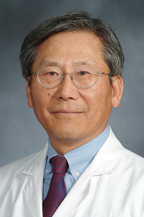 I have a unique career in radiology. I have dual radiology training in Korea and in the United States. I served as faculty member for many years at both Weill Cornell Medical College and Asan Medical Center which is the largest and the best institution in Korea. For almost 30 years my practice, education, and research have been focused in body imaging, particularly hepatobiliary-pancreas imaging. I have seen the evolution of radiologic imaging from the traditional modalities to state-of-the-art modalities. I am well adapted in various image modalites and techniques.
After I graduated from medical school inKorea in 1972, I had five years of postgraduate training in radiology including one year of rotataing intership. I arrived in the United States in 1977, and trained in radiology at Temple University Hospital in Philadelphia for two years. This was followed by a year (1979) of fellowship tranining in abdominal imaging at NewYork-Presbyterian Hospital-Weill Cornell Medical Center. I was invited to join the Radiology faculty at Weill Cornell Medical College where I remained until 1986. At this time, I returned to Korea to as the chair of radiology department at the brand new hospital. This institution became the largest and one of the best institutions in Korea in a very short period time. After stepping down as chair, I returned to the United States in 2000 and rejoined the Department of Radiology at Weill Cornell as a Chief of the Division Body imaging. I have published more than 200 papers in peer-reviewed journals and have authored three books and 14 chapters in distinguised radiology textbooks. I enjoy teaching and have been an invited lecturer to numerous conferences and have been visiting professor to several institutions in Korea and China.
Insurances
Insurance Plans Accepted
The following represents most of the managed care plans accepted by this physician. If your insurance carrier does not appear here please feel free to contact this physician or this physician's practice as they may have individual contracts not included on this site.
AETNA

[PPO]

AETNA

[Medicare]

AETNA

[HMO]

Aetna - Weill Cornell

[POS]

Affinity Health Plan
CIGNA
Empire Blue Cross/Blue Shield

[PPO]

Empire Blue Cross/Blue Shield

[EPO]

Empire Blue Cross/Blue Shield

[HMO]

Empire Blue Cross/Blue Shield

[Mediblue (Senior)]

Fidelis Care
GHI

[CBP]

Health First
Health Insurance Plan of NY (HIP)

[Medicaid]

Health Insurance Plan of NY (HIP)
Health Insurance Plan of NY (HIP)

[Medicare]

Health Plus - Amerigroup
Medicare

[Medicare]

Oxford Health Plans

[Freedom]

Oxford Health Plans

[Medicare Advantage]

Oxford Health Plans

[Liberty]

Rockefeller University - CoreSource
United Empire
United Health Care

[Community Plan]

United Health Care

[Medicare]

United Health Care
Publications
RECENT PUBLICATIONS:
1. Park KB, Auh YH, Kim JH, Lee MG, Ha HK, Kim PN, Shin YM, Kim MH, Kim HJ, Min YI. Diagnostic pitfalls in the cholangiographic diagnosis of choledochoceles: cholangiographic quality and its effect on visualization. Abdom Imaging. 2001; 26:48-54.
2. Ji EK, Ryu JS, Kang GH, Moon DH, Auh YH, Lee HK. Pelioid-type hepatocellular carcinoma masquerading as a hepatic hemangioma on technetium-99m red blood cell scintigraphy. Clin Nucl Med. 2001 Jan; 26(1):33-5.
3. Kim HJ, Ha HK, Cho KS, Yu E, Kim JC, Yoo CS, Kim HC, Yang SK, Jeong HY, Auh YH. CT features of primary colorectal signet-ring cell carcinoma. J Comput Assist Tomogr. 2001; 25:225-30.
4. Lee IJ, Ha HK, Park CM, Kim JK, Kim JH, Kim TK, Kim JC, Cho KS, Auh YH. Abdominopelvic actinomycosis involving the gastrointestinal tract: CT features. Radiology 2001; 220:76-80.
5. Kim JK, Ha HK, Byun JY, Yang SK, Jung HY, Min YI, Kim PN, Lee MG, Auh YH. CT differentiation of mesenteric ischemia due to vasculitis and thromboembolic disease. J Comput Assist Tomogr. 2001; 25:604-11.
6. Kim JK, Ha HK, Han DJ, Auh YH. CT analysis of postoperative tumor recurrence patterns in periampullary cancer. Abdom Imaging 2003;28:384-91.
7. Kim JH, Ha HK, Kim TK, Kim PN, Lee MG, Auh YH. Intragastric metastasis in a patient with gastric cancer: unusual CT manifestation. Abdom Imaging 2003 ;28:1-3.
8. Kim JH, Ha HK, Kim JK, Eun HW, Park KB, Kim BS, Kim TK, Kim JC, Auh YH. Usefulness of known computed tomography and clinical criteria for diagnosing strangulation in small bowel obstruction: Analysis of true and false interpretation groups in computed tomography. World J Surg 2004;28:63-68.
9. Gupta P, Naran A, Auh YH, Chung JS. Focal intrahepatic extramedullary hematopoiesis presenting as fatty lesions. AJR 2004;182:1031-1032.
10. Margulis AR, Auh YH, Gagner M. Oral use of gadopentetate dimeglumine for anastomotic leak in patients with iodine sensitivity. Radiology 2004;232: 937.
11. ChinDG, Auh YH, BasukPM. Milk of calcium in a pancreatic pseudocyst.
Abdom Imaging. 2005;30:93-5.
12. Kim JH, Eun HW, Hong SS, Auh YH. Early gastric cancer: virtual gastroscopy. Abdom Imaging. 2006 Feb 7
13. Kim JH, Park SH, Hong HS, Auh YH. CT gastrography. Abdom Imaging. 2005 Sep - Oct;30(5):509-17.
14. Kim YH, Saini S, Sahani D, Hahn PF, Mueller PR, Auh YH. Imaging diagnosis of cystic pancreatic lesions: pseudocyst versus nonpseudocyst. Radiographics. 2005 May-Jun;25(3):671-85.
Clinical Expertise
Abdominal Imaging
Ultrasound
Body BT
CAT Scan (CT Scan)
Body Magnetic Resonance Imaging (MRI)
Hepatobiliary Pancreas Disease
Hepatobiliary Pancreas Imaging
Contact and Practices
1305 York Avenue
3rd Floor
Board Certifications
Diagnostic Radiology
Diagnostic Radiology
Education
M.D., Seoul National University College of Medicine (Korea), 1972