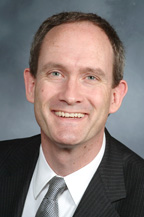 William C. Wood, MD is an Assistant Professor of Psychiatry in the Division of Child and Adolescent Psychiatry at Weill Cornell Medical College and an Assistant Attending Psychiatrist at NewYork-Presbyterian Hospital. He is the Co-Director of the Adolescent Partial Hospitalization Program (PHP) where he oversees a multi-disciplinary treatment team that provides five-days-per-week comprehensive psychiatric care to teenagers requiring intensive outpatient intervention combined with a daily school curriculum. In addition, through the Cornell Physicians Organization, Dr. Wood treats children, adolescents, and adults on an outpatient basis.
He specializes in the early identification and treatment of mood conditions such as depression and bipolar disorder. He also performs comprehensive assessments to clarify the diagnoses of patients who have not responded favorably to treatment in the past, with particular emphasis on anxiety, attention, mood, and psychotic disorders. Based on the results of this assessment, he collaborates with patients and their families to ensure that an optimal treatment plan is developed and put into practice.

He graduated with his M.D. degree from the University of California, San Francisco. He completed residencies in both General Psychiatry and Child and Adolescent Psychiatry at the Massachusetts General Hospital/McLean Hospital Psychiatry program of Harvard Medical School. In his final year of the General Psychiatry program, he served as the Administrative Chief Resident for the MGH campus. He also served as Chief resident during the Child and Adolescent Psychiatry program. Dr. Wood returned to UCSF as a National Institute of Mental Health postdoctoral research fellow to conduct research on how parent-infant interactions promote early childhood mental health. While at UCSF, he also completed the Advanced Training in Clinical Research program through the Department of Epidemiology and Biostatistics. Before assuming his current position, Dr. Wood served as the Director of the Adolescent Inpatient Psychiatry Service at NewYork-Presbyterian Hospital/Cornell campus.

Dr. Wood served for three years as a member of the American Psychiatric Association Board of Trustees. He is board-certified in both general psychiatry and child and adolescent psychiatry. Prior to attending medical school, he worked as an economist at the World Bank.

To make an outpatient appointment with Dr. Wood, please call (212) 746-3739.

Insurances
Insurance Plans Accepted
The following represents most of the managed care plans accepted by this physician. If your insurance carrier does not appear here please feel free to contact this physician or this physician's practice as they may have individual contracts not included on this site.
Aetna - Weill Cornell

[POS]

Rockefeller University - CoreSource
Publications
Original Articles:
1. Psacharopoulos G, Morley S, Fiszbein A, Lee H, Wood W. Poverty and income inequality in Latin America during the 1980s. Rev of Income and Wealth 1995; 41(3): 245-264.

2. Schlozman S, Althoff R, Caplan J, Derenne J, Levin H, Newberry P, Rubin D, Strange M, Wood W, Beresin E. Choosing a child and adolescent psychiatry residency. Acad Psychiatry 2006; 30: 248-256.

3. DeFrancisci Lis L, Wood WC, Petkova E, Addasis NM, Shatkin JP. Mentoring in psychiatric residency programs: A survey of chief residents. Acad Psychiatry 2009; 33: 307-312.
Books, Book Chapters, and Reviews:

1. Wood W, Psacharopoulos G. Social indicators in Latin America and the Caribbean: A compilation of statistics from 1970 to the present. [Technical report]. Washington, DC: World Bank, Latin America and Caribbean Technical Department; 1991.

2. World Bank (as an official publication of the World Bank, co-authors are not credited on the cover of this book but rather are acknowledged in the credits). Human resources in Latin America and the Caribbean: Priorities and action. Washington, DC: World Bank; 1993.

3. Psacharopoulos G, Morley S, Fiszbein A, Lee H, Wood W. Poverty and income distribution in Latin America: The story of the 1980s. Washington, DC: World Bank; 1997.

4. Wood W, Patrinos HA. Bolivia. In: Psacharopoulos G, Patrinos HA, editors. Indigenous people and poverty in Latin America. Washington, DC: World Bank; 1994.

5. Wood W. An approach to the patient with problematic interpersonal relationships: Personality disorders and their manifestations. In: Stem TA, editor. The 10-minute guide to psychiatric diagnosis and treatment. New York: Professional Publishing Group, Ltd; 2005.

6. Wood WC. [Review of the book: The neurobehavioral and socio-emotional development of infants and children]. J Am Acad Child Adolesc Psychiatry 2008; 47(10): 1205-1206.
Honors and Awards
2007-2010 Ruth L. Kirschstein National Research Service Award from the National Institute of Mental Health
2008 American Psychiatric Association Research Colloquium for Junior Investigators Award
2005-2006 Laughlin Fellow, American College of Psychiatrists
2003-2004 American Psychoanalytic Association Fellow
2003-2004 American Psychiatric Association/Shire Child and Adolescent Psychiatry Fellow
1994-1995 Fulbright Scholar (Public Health), Chilean National Health Service (Valparaíso, Chile)
1992 Honors in Latin American Studies, University of California, Los Angeles
1988 Honors in International Relations, Stanford University
Specialties
Infant Psychiatry
Child Psychiatry
Adult Psychiatry
Adolescent Psychiatry
Clinical Expertise
Psychiatric Consultation and Evaluation
Depressive Disorder
Bipolar Disorder
Anxiety Disorder
Psychotic Disorder
Attention Deficit Hyperactivity Disorder (ADHD)
Child and Adolescent Psychopharmacology
Psychotherapy
Board Certifications
Psychiatry
Child and Adolescent Psychiatry
Education
A.B., Stanford University, 1988
M.A., University of California, Los Angeles, 1992
M.D., University of California, San Francisco, School of Medicine, 2000