Tessa Cigler, M.D., M.P.H.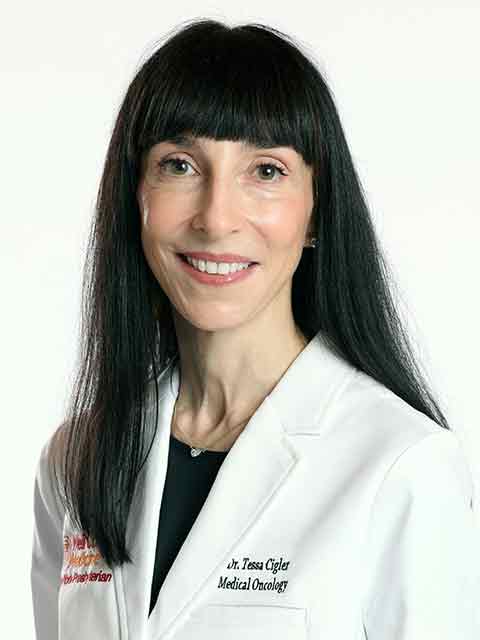 Dr. Cigler is a medical oncologist whose work is dedicated to the treatment and prevention of breast cancer. She practices at the Weill Cornell Breast Center where comprehensive state-of-the-art care is provided in a personalized and warm environment. As a believer in the benefits of a multidisciplinary approach to breast cancer care, Dr. Cigler meets weekly with breast surgeons, radiation oncologists, pathologists, genetic counselors and other medical oncologists to ensure that her patients receive well-coordinated and optimal care.
Dr. Cigler pays careful attention to the short and long term effects of diagnosis and treatment on physical and emotional well being. She provides personalized and comprehensive care, addressing issues such as diet, exercise, fatigue, anxiety, bone health, and hormone mediated symptoms. For younger patients, options for fertility preservation are carefully considered as the treatment plan is formulated. Women are supported both during treatment and beyond, when attention shifts to issues of breast cancer survivorship. Dr. Cigler treats all stages of breast cancer and also counsels high risk women on options for breast cancer prevention.
Dr. Cigler is an active clinical investigator. As a member of the Weill Cornell Breast Center research team, she heads several clinical trials designed to provide her patients with access to the newest and most promising options for therapy. Her collaborative research focuses on ways to gain a better understanding of breast cancer pathogenesis and side effects of therapy, with the overall goal of improving breast cancer treatment and prevention.
Dr. Cigler teaches second year medical students at the Weill Cornell medical college and mentors medical students and fellows on the wards. She is a member of the American Society of Clinical Oncology and the New York Metropolitan Breast Cancer Group. She is the author of several journal articles and book chapters.
Dr. Cigler received her undergraduate degree from Harvard College, and her medical degree from Duke University School of Medicine. She also holds a Master's degree in Public Health from the Harvard School of Public Health. She completed her residency in Internal Medicine at New York Presbyterian Hospital Weill Cornell Medical Center, followed by a fellowship in Medical Oncology and Hematology at the Dana-Farber Harvard Cancer Center. Dr Cigler joined the Cornell faculty in August 2007 as a medical oncologist and clinical investigator at the Weill Cornell Breast Center.
Insurances
Insurance Plans Accepted
The following represents most of the managed care plans accepted by this physician. If your insurance carrier does not appear here please feel free to contact this physician or this physician's practice as they may have individual contracts not included on this site.
AETNA

[HMO]

AETNA

[Medicare]

AETNA

[PPO]

Aetna - Weill Cornell

[POS]

Affinity Health Plan
CIGNA
Empire Blue Cross/Blue Shield

[EPO]

Empire Blue Cross/Blue Shield

[HMO]

Empire Blue Cross/Blue Shield

[Mediblue (Senior)]

Empire Blue Cross/Blue Shield

[PPO]

Fidelis Care
GHI

[CBP]

Health First
Health Insurance Plan of NY (HIP)

[Medicaid]

Health Insurance Plan of NY (HIP)

[Medicare]

Health Insurance Plan of NY (HIP)
Health Plus - Amerigroup
Medicare

[Medicare]

Oxford Health Plans

[Medicare Advantage]

Oxford Health Plans

[Liberty]

Oxford Health Plans

[Freedom]

Rockefeller University - CoreSource
United Empire
United Health Care

[Medicare]

United Health Care

[Community Plan]

United Health Care
Publications
Journal Articles
Cigler, T. and L. Vahdat. Integrating epothilones into the treatment of patients with metastatic breast cancer: clinical perspectives on incorporating recent data in the practice setting. Clin Breast Cancer, 2008. 8 Suppl 4: p. S166-70.
Cigler, T. and P.E. Goss. Breast cancer adjuvant endocrine therapy. Cancer J, 2007. 13(3): p. 148-55.
Cigler, T. and P.E. Goss. Aromatase inhibitor withdrawal response in metastatic breast cancer. J Clin Oncol, 2006. 24(12): p. 1955-6.
Kauff, N.D., Mitra, N., Robson, M. E., Hurley, K. E., Chuai, S., Goldfrank, D., Wadsworth, E., Lee, J., Cigler, T., Borgen, P. I., Norton, L., Barakat, R. R., Offit, K. Risk of ovarian cancer in BRCA1 and BRCA2 mutation-negative hereditary breast cancer families. J Natl Cancer Inst, 2005. 97(18): p. 1382-4.
Cigler, T., LaForge, K. S., McHugh, P. F., Kapadia, S. U., Leal, S. M., Kreek, M. J. Novel and previously reported single-nucleotide polymorphisms in the human 5-HT(1B) receptor gene: no association with cocaine or alcohol abuse or dependence. Am J Med Genet, 2001. 105(6): p. 489-97.
Book Chapters
Cigler, T, Ryan PD. Breast Cancer Genetics and Clinical Presentation. Harrison's Handbook of Oncology, Bruce Chabner, Thomas Lynch, Dan Longo eds. 2007 McGraw-Hill, New York, NY.
Honors and Awards
Howard Hughes Medical Institute Undergraduate Research Scholarship (1994)

Harvard University Derek Bok Certificate of Distinction in Teaching (1995)

John Harvard Scholarship for Academic Achievement (1995)
Elizabeth Carey Agassiz Merit Award for Academic Excellence (1996)
Magna cum laude Biochemical Sciences, Harvard College, Cambridge, MA (1996)
Howard Hughes Medical Institute Research Fellowship (1999-2000)
Duke University School of Medicine commendation for thesis research (2001)
Specialties
Medical Oncology
Hematology
Breast Oncology
Contact and Practices
425 East 61st Street
8th Floor
525 East 68th Street
Payson 3
Board Certifications
Medical Oncology
Internal Medicine
Education
A.B., Harvard University, 1996
M.D., Duke University School of Medicine, 2001