Shivakumar Subramaniyam, PhD.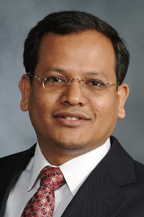 Dr. Shivakumar Subramaniyam received his undergraduate education and Ph.D from India. He completed Masters of Science (M.Sc.) in Applied Genetics in 1996 from Bangalore University, India, and Ph.D degree in Cancer Cytogenetics from Christian Medical College, Vellore, India in 2003. During his Ph.D program he received training in Cancer Cytogenetics from the Departments of Oncology and Haematology, University of Kiel, Kiel, Germany and the Department of Haematology, Royal Free and University College Medical School, University college London, London, U.K in the year 1999.
After obtaining his Ph.D degree, He moved to the United States and joined the prestigious Columbia University, New York, as post doctoral scientist in 2004. His research focussed mainly on chromosomal regions 5p and 20q in cervical cancer. Simultaneously he also worked on various cytogenetics, and molecular cytogenetic aspects of leukemia, lymphoma and solid tumors and published research papers in peer reviewed journals. He also completed the American Board for Medical Genetics (ABMG), Fellowship program (2006-2008) from Columbia university in Clinical Cytogenetics under the mentor ship of Dr. Dorothy Warburton. He is currently Board certified in clinical cytogenetics and is an active member of the American Society of Hematology (ASH) and a fellow of American College of Medical Genetics (ACMG).
Dr. Subramaniyam joined the faculty at Weill-Cornell Medical College in September 2008 and currently is working as an Assistant Director of the Cytogenetics laboratory.
Publications
Madhuri V, Bose A, Danda S, Shivakumar S, Kirubakaran C, Seshadari M S. Chromosomes 6/7 translocation t(6;7)(q15;q32) presenting as multiple pterygium syndrome. Indian Pediatr 2001; 38:194-197.
Shivakumar S, Poonkhuzhali B, Gunasekaran S, Srivastava A, Chandy M. Cytogenetic, Fluorescence insitu hybridization & reverse transcriptase-polymerase chain reaction analysis Acute promyelocytic leukemia patients. Indian J Med Res 2002; 115:59-67.
Shivakumar S, Mathew S, Dalton J, Chandy M, Srivastava A. A Complex karyotype involving chromosomes 3, 6, 11, 12, and 22 in adult acute lymphoblastic leukemia. Leuk Lymphoma 2002; 43:1673-1677.
Subramaniyam S, Nandula VS, Nichols G, Alobeid B, Bhagat G, Murty VVS. Do RARA/PML Fusion Gene Deletions Confer Resistance to ATRA Based Therapy in Patients with Acute Promyelocytic Leukemia? Leukemia 2006; 20:2193-2195.
Vakiani E, Nandula SV, Subramaniyam S, Keller CE, Alobeid B, Murty VV, Bhagat G. Cytogenetic analysis of B-cell posttransplant lymphoproliferations validates the World Health Organization classification and suggests inclusion of florid follicular hyperplasia as a precursor lesion. Human Pathology 2007; 38:315-25.
Xing L, Salas M, Lin CS, Zigman W, Silverman W, Subramaniyam S, Murty VVS, Tycko B. Faithful tissue-specific expression of the human chromosome 21-linked COL6A1 gene in BAC-transgenic mice. Mammalian Genome 2007;18:113-122.
Subramaniyam S, Weimer J, Danda S, Thomas N, Pagerolls Ralui L, Jonat W, Arnold N . Primary amenorrhea in an Indian patient with a complex chromosome rearrangement involving the critical region Xq24 characterized by FISH-MD analysis: Case report. Fertil Steril 2007; 88:1677e9-e13.
Saal LH, Gruvberger-Saal SK, Persson C, Lövgren K, Jumpannen M, Staaf J, Jönsson G, Pires MM, Maurer M, Holm K, Koujak S, Subramaniyam S, Vallon-Chistersson J, Olsson H, Su T, Memeo L, Ludwig T, Ethier SP, Krogh M, Szabolcs M, Murty VVVS, Isola J, Hibshoosh H, Parsons R, Borg A. Recurrent gross mutations of the PTEN tumor suppressor gene in breast cancers with deficient DSB repair. Nat Genet 2008;40:102-107.
Scotto L, Narayan G, Nandula SV, Subramaniyam S, Kaufmann AM, Wright JD, Pothuri B, Mansukhani M, Schneider A, Arias-Pulido H, Murty VV. Integrative Genomics Analysis of Chromosome 5p Gain in Cervical Cancer Reveals Target Over-expessed Genes, including Drosha. Mol Can 2008;7:58.
Scotto L, Narayan G, Nandula SV, Arias-Pulido H, Subramaniyam S, Schneider A, Kaufmann AM, Wright JD, Pothuri B, Mansukhani M, Murty VV. Identification of Copy Number Gain and Overexpressed Genes on Chromosome Arm 20q by an Integrative Genomic Approach in Cervical Cancer: Potential Role in Progression. Genes Chro Can 2008;47:755-765.
Keller CE, Nandula S, Fisher J, Subramaniyam S, Vakiani E, Savage DG, Murty VV, Alobeid B, Bhagat G. The Spectrum of B-Cell Non-Hodgkin Lymphoma with dual IgH-BCL2 and BCL6 translocations. Am J Clin Pathol 2008;130:193-201.
Subramaniyam S, Fraser CR, Rao PH, Feldman E, Ely S, Mathew S. De novo B lymphoblastic leukemia/lymphoma in an adult with t(14;18)(q32;q21) and c-MYC gene rearrangement involving 10p13. Leuk Lymphoma. 2011 Nov;52(11):2195-9.

Narayan G, Freddy AJ, Xie D, Liyanage H, Clark L, Kisselev S, Kang JU, Nandula SV, McGuinn C, Subramaniyam S, Alobeid B, Satwani P, Savage D, Bhagat G, Murty VV. Promoter Methylation-Mediated Inactivation of PCDH10 in Acute Lymphoblastic Leukemia Contributes to Chemotherapy Resistance. Genes Chro Can. 2011 Dec;50(12):1043-53.
Boiocchi L, Espinal-Witter R, He B, Subramaniyam S, Mathew S, Nie K, Cerutti A, Coleman M, Knowles DM, Orazi A, Tam W. Composite Chronic Lymphocytic Leukemia/Small Lymphocytic Lymphoma and Follicular Lymphoma are biclonal lymphomas: a report of two cases. Am J Clin Pathol 2012;137:647-659.
Subramaniyam S, Pulijaal V, Mathew S. Double and multiple chromosomal aneuploidies in spontaneous abortions: A single institutional experience. Fertil Steril 2012 (under review).
Honors and Awards
Fellow American College of Medical Genetics (FACMG)
Specialties
Clinical Cytogenetics
Pathology
Contact Info
Appointments
Assistant Professor of Pathology and Laboratory Medicine
Weill Cornell Medical College
Education
B.Sc., Bangalore University (India), 1994
M.Sc., Bangalore University (India), 1996
Ph.D., Christian Medical College Dr. M.G.R. Medical University (India), 2003