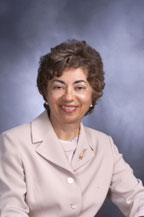 Ruth Rosenblatt, M.D., F.A.C.R., is a Professor Emerita of Clinical Radiology at Weill Cornell Medical College. Dr. Rosenblatt is a nationally recognized expert in mammography, ultrasonography, and diseases of the breast. Effective July 1, 2014, Dr. Rosenblatt retired from clinical practice. Although she no longer provides patient care Dr. Rosenblatt continues to perform research. Dr. Rosenblatt served as Chief of the Division of Women?s Imaging at NYPH-Weill Cornell from 1997-2007 and continued to see patients through June 201
Dr. Rosenblatt earned her B.A. from New York University (Washington Square College) New York, NY. She was awarded her M.D. from The Medical College of Pennsylvania, Philadelphia, PA. Dr. Rosenblatt served as an intern and resident in Radiology at Montefiore Medical Center, Bronx, NY from 1964-1969; she was elected as Chief Radiology Resident in 1968-69.
She achieved Board Certification in Diagnostic Radiology from the American Board of Radiology in 1969. Dr. Rosenblatt was inducted as a Fellow, American College of Radiology (F.A.C.R.) in 1984.
Dr. Rosenblatt has been active in many professional/medical societies and has been elected to leadership positions including President of the New York Roentgen Society (1989-90), President of the New York State Radiological Society 1995-96) and President of the NY Metropolitan Mammography Society (1998-2002).
Dr. Rosenblatt has been appointed to state and national accreditation boards. She is a Reviewer for the Mammography Accreditation Program of the American College of Radiology from 2002 to the Present. She was a Member of the Mammography Accreditation Committee of the American College of Radiology from 1998-2004, a Member of the Breast Cancer Detection and Education Program Advisory Council of the State of New York from 1997-2001 and the Steering Committee, Member of Clinical Guideline Development: Breast/Ovarian Cancer Screening, Counseling and Testing, New York State Department of Health and the American College of Medical Genetics from 1996-1997.
Dr. Rosenblatt is an active, enthusiastic and beloved teacher who has taught and mentored numerous residents, fellows and medical students. Dr. Rosenblatt is the author of numerous peer-reviewed publications and book chapters and has is an invited speaker at national and international meetings.
Before joining Weill Cornell Medical College in 1997, Dr. Rosenblatt served on the faculty and medical staff of the Albert Einstein College of Medicine, Bronx, NY for many years and achieved the rank of full professor.
Insurances
Insurance Plans Accepted
The following represents most of the managed care plans accepted by this physician. If your insurance carrier does not appear here please contact the physician's office as they may have individual contracts not included on this site.

* indicates this physician is no longer accepting new patients with this insurance plan.
Publications
RECENT PUBLICATIONS:
1. Schultz E, Rosenblatt R, Mitsudo S, Mitsudo S, Weinberg G. Detection of a deep lipoblastoma by MRI and ultrasound. Pediatric Radiology 23:409-410, 1993.
2. Letter to the Editor: Kutcher R, Rosenblatt R, Kremer S. Testicular microlithiosis. Amer J Roent 159:1129, 1994.
3. Rosenblatt R, Fineberg S, Sparano JA, Kaleya RN. Stereotactic breast core needle biopsy of multiple sites: efficacy and impact on management. Radiology 201: 67-70, 1996.
4. Casey M, Zimmerman J, Rosenblatt R, Fineberg S. Mastectomy without malignancy following carcinoma diagnosed by large core stereotactic biopsy. Modern Pathology 10(2): 1209-1213, 1997.
5. Kabat GC, Chang CJ, Sparano JA, Sepkovic DW, Hu XP, Khalil A, Rosenblatt R, Bradlow HL: Urinary estrogen metabolites and breast cancer: a case control study. Cancer Epidemiology, Biomarkers & Prevention 6:505-509, 1997.
6. Giess CS, Keating DM, Osborne MP, Ng Y, Rosenblatt R, Retroareolar breast carcinoma: clinical, imaging and pathologic features. Radiology 1998: 207: 669-673.
7. Giess CS, Keating DM, Osborne MP, Rosenblatt R: Local tumor recurrence following breast #150;conservation therapy: correlation of histopathologic finding with detection method and mammographic findings. Radiology 1999: 212:829-835.
8. Frelix GD, Rosenblatt R, Solomon M, Vikran B: Breast cancer screening in underserved women in the Bronx. J Natl Med Assoc 1999: 91: 195-200.
9. Mester J, Simmons R, Vazquez MF, Rosenblatt R. In situ and infiltrating duct carcinoma arising in breast hamartoma: AJR 175:64-67 2000.
10. Mester J, Prasad ML, Moore A, Rosenblatt R: Intraductal papillary carcinoma. The Breast Journal 2000. Vol 6 No. 2 137-138.
11. Giess C, Keating D, Osborne M, Mester J, Rosenblatt R. Comparison of rate of development and rate of change of benign and malignant micro- calcifications at lumpectomy. AJR 2000:175:789-93.
12. Saqi A, Osborne MP, Rosenblatt R, Shin S, Hoda SA. Quantifying mammary duct carcinoma in situ -- a wild goose chase? Am J Clin Pathol 2000; 113(supp1) S 30-37.
BOOKS, BOOK CHAPTERS AND REVIEWS:
1. Mousssouris H, Rosenblattt R, Kutcher R, Koss L. Thin needle aspiration of abdominal organs. Koss L, (ed). Advances in Clinical Cytology. 2nd ed. Masson Pub. USA Inc., 1984.
2. Rosenblatt R, Imaging modalities as guides to percutaneous aspiration. Koss L, (ed) Aspiration Cytology and its Histopathologic Bases. Igaku Shoin Inc., NY, 2nd ed., 1992.
3. Rosenblatt R, Kutcher R. The role of ultrasonography in renal allograft complications. Castaneda, WR (ed). An Integrated Diagnostic Approach . University of Minnesota Press, 1986.
4. Rossenblatt R, Kutcher R. Malignant diseases of the ovaries. Berman M, Craig M, Kawamura DM, (eds). Medical Sonography : A guide to Clinical Practice. 2nd Ed. J.B. Lippincott, 1996.5. Rosenblatt R, Kutcher R. Malignant disease of the uterus and cervix . Berman M, Craig Kawamura DM, (eds). Medical Sonography: A guide to Clinical Practice. 2nd Ed. J.B. Lippincott, 1996.
Appointments
Professor Emerita of Clinical Radiology
Weill Cornell Medical College
Education
M.D., Women's Medical College of Pennsylvania, 1964