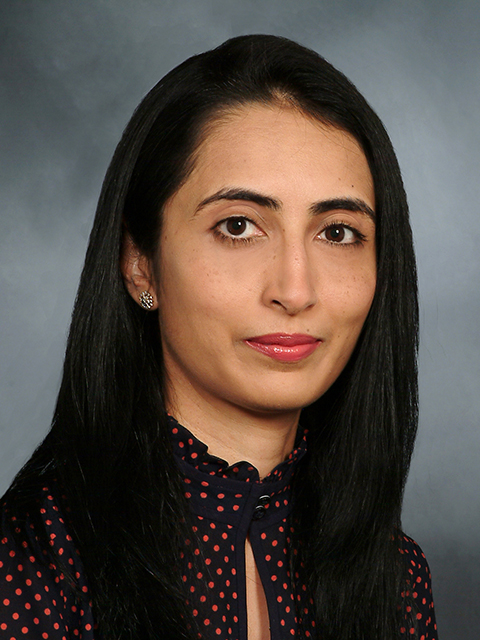 Dr. Rizwana Popatia is Assistant Professor of Pediatrics at Weill Cornell Medical College and Assistant Attending Pediatrician at NewYork-Presbyterian Hospital/Weill Cornell Medical Center. She is board certified in Pediatrics.

Her medical expertise includes pediatric asthma, cystic fibrosis, and pediatric bronchoscopy.

Dr. Popatia received her medical degree (M.D.) from M.P. Shah Medical College, India, and was awarded a "Best Resident Physician Award" during a residency tenure in Jamnagar, India. She completed her residency in Pediatrics at the State University of New York – Downstate Hospital, Brooklyn, NY, and a fellowship in Pediatric Pulmonology at Boston Children's Hospital/Harvard Medical School.

In addition to her clinical work, Dr. Popatia is active in medical education and research, and global health.

Publications
Popatia, R, Subramaniam M. An interesting case of dysautonomia presenting with dyspnea. (in press)
Popatia R, Rosen D. Infant with obstructive sleep apnea (OSA) successfully treated with CPAP (Continous Positive Airway Pressure) (in press)
Popatia R, Haver K, Casey A: Review article on Primary Ciliary Dyskinesia. (in press).
Popatia R : Berman's Pediatric 5th Edition JAMA. 2012;307(6):617-618.
Popatia R, Ericson D: Heterozygous mutation of surfactant protein-C deficiency presenting as lipoid interstitial Pneumonia. Oral Presentation at CHEST Conference in Atlanta, October 2012; published in CHEST supplement, October 2012.
Popatia R, Pai V, Zandieh S, Rosen D Beyond the Blues : Cord Blood 25 Hydroxy Vitamin D levels and Risk of Respiratory Infection in children, Am. J. Respir. Crit. Care Med. 2012; 185: 1125-1126.
Honors and Awards
2004, 2005. Won the Dr. Keya Lahiri Gold Medal Award for best free paper presentation for two consecutive years in the National Respiratory Chapter Conference.
2001-2002. Won the Pfizer Gold medal award for Top Ranking in Final MBBS.
Received "Best Resident Physician Award" during residency tenure in Jamnagar, India.
Awarded a certificate for contribution in the public health care fair by Health and Family Welfare Ministry, Indian Government.
1st rank in Saurashtra University - India in Final MBBS part 1 Examination and Awarded Gold medal in the subject of Preventive and Social Medicine.
1st rank in Saurashtra University in Final MBBS part 2 Examination. Awarded 8 gold medals for scoring highest marks (total as well as in all individual subjects).
Contact Info
505 East 70th Street
Helmsley Tower, 3rd Floor
Appointments
Assistant Professor of Pediatrics
Weill Cornell Medical College, Cornell University
Assistant Attending Pediatrician
NewYork-Presbyterian Hospital