Pediatric Cardiology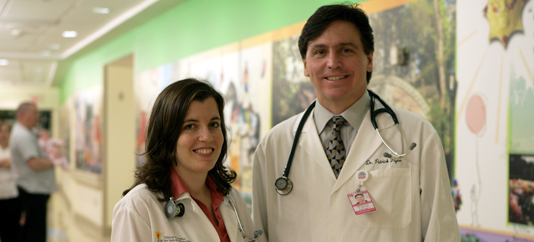 Dr. Sheila Carroll and Dr. Patrick Flynn


Visit our Pediatric Cardiology web page at the NewYork-Presbyterian Phyllis and David Komansky Center for Children's Health!


Pediatric Cardiovascular Services at Weill Cornell is comprised of the combined programs of Pediatric Cardiology and Pediatric Cardiovascular Surgery. In addition, these divisions represent the Weill Cornell campus of the composite Weill Cornell-Columbia Pediatric Cardiovascular Center, one of the largest and most famous of its type in the world. The program has specialists for every facet of congenital heart disease in infants, children, adolescents and adults.

Our Services
Diagnostic imaging, such as echocardiography, magnetic resonance imaging (MRI), cardiac computed tomography (CT), and cardiac catheterization is available at Weill Cornell, as are interventional cardiology procedures such as balloon angioplasty, coiling, stenting of blood vessels and device closure of heart defects. Many of these procedures may prevent the need for later heart surgery. However, when necessary, cardiovascular surgery by an outstanding team of heart surgeons is available for the correction of heart defects. For more information about our heart surgery team, visit the Pediatric Cardiac Surgery website.
Leaders in Cardiovascular Research
Members of the faculty of Pediatric Cardiovascular Services at Weill Cornell have a distinct interest in cardiovascular basic science research. Dr. David Lyden, Stavros S. Niarchos Associate Professor in Pediatric Cardiology, is a leader in this area. Also Associate Professor of Cell and Developmental Biology and Associate Professor of Pediatrics, Dr. Lyden and his team are engaged in studies evaluating vasculogenesis - or the development of blood vessels - and its application to congenital heart disease represent the foundations of these investigations. Our faculty are also contributors to several national multi-center studies evaluating various aspects of congenital heart disease in children and adults.
Preparing For Your Child's Visit

Thank you for choosing Weill Cornell Pediatrics! To facilitate the check-in process during your child's visit, we have posted important forms and information for you to read, complete and return to the physician's office prior to your arrival. Please download the forms and questionnaires and email to pedscardiotele@med.cornell.edu or fax to 212-746-8373 at least 72 hours before your appointment.

Welcome Packet Documents
Welcome Letter
New Patient Questionnaire PDF | Word
Follow Up Patient Questionnaire PDF | Word
E-Prescription Pharmacy Form PDF | Word
Insurance Plans Accepted
Health Info Disclosure Form
Patient Portal Signup
Parking Options
Campus Map
Department of Pediatrics Brochure

Humanitarian Outreach
The group at Weill Cornell is also particularly dedicated to the care of children with congenital heart disease all over the world. In particular, our faculty have dedicated their efforts and teaching to the Phnom Penh Heart Center in Cambodia, and the Fann Cardiovascular Center in Dakar, Senegal and, in 2008, in Jilin, China where they furthered their humanitarian outreach.
_______________________________________________
Contact Us
Pediatric Cardiovascular Services
NewYork-Presbyterian Hospital/Weill Cornell Medical Center
525 East 68th Street, Suite F-695-B
New York, NY 10065

Telephone/Appointments:
Phone: 212-746-3561
Fax: 212-746-8373