Pediatric Medical Genetics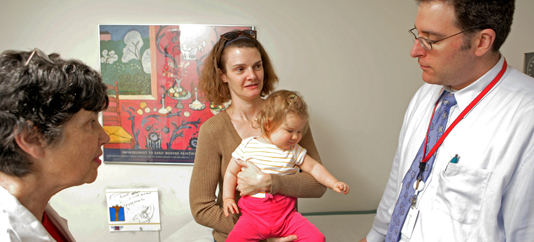 Dr. Jessica Davis (l)
For more information, please visit our patient web site:

Pediatric Medical Genetics
We provide clinical evaluation and risk assessment, genetic counseling and genetic testing for a variety of genetic conditions.
Genetic Testing and Counseling
Collaborating with obstetricians, maternal fetal subspecialists and perinatologists, we provide high quality, comprehensive diagnostic treatment and laboratory services to patients and families with or at risk for genetic problems and/or birth defects.
Ongoing Care
We also offer ongoing care for patients, offering treatments such as bone marrow, liver, or cardiac transplants, enzyme replacement therapy, and diet modification for certain metabolic disorders. Staff members of the Clinical Genetics programs serve as the clinical coordinators for children with rare genetic disorders that require multiple subspecialists.