Yashpal Agrawal, M.B.,B.S., Ph.D.
Anatomic Pathology and Clinical Pathology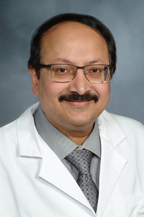 Dr. Yash Pal Agrawal, M.B.,B.S., PhD is Professor of Clinical Pathology and Laboratory Medicine at Weill Medical College. He is the Director of the Central Laboratory and Director of Point of Care Services at New York Presbyterian Hospital. He is an expert in clinical diagnostic testing and laboratory medicine. Dr. Agrawal is board certified by the American Board of Pathology in Clinical Pathology, and in Clinical Chemistry by the Medical Board of Finland. Dr. Agrawal is the Chair of the College of American Pathologists (CAP) Resource Committees on Toxicology and Therapeutic Drug Monitoring. He has been a past member of the College of American Pathologists working groups on Pharmacogenetics and involved in the design of teaching modules and as a reviewer for Pharmacogenomics modules. He is a past member of the Special Chemistry committee. He also serves as an ad hoc member of the Clinical Laboratory Standards Institution (CLSI) working groups. He has published extensively in laboratory medicine and is also a contributing author to multiple text books in laboratory medicine.
Dr. Agrawal completed his medical training in his native India and completed a Ph.D in reproductive biology at the University of Kuopio, Finland in 1987. Subsequently he completed 4 years of residency training in clinical chemistry (laboratory medicine) at the Kuopio University Hospital, Finland. At Kuopio he served as the Assistant Chief of Laboratory Medicine (Clinical Chemistry). Dr.Agrawal did his post-doctoral training at the University of California, San Diego in the field of Gene Therapy and Hematopoietic Stem Cells. Subsequently, he immigrated to the United States and trained in Anatomic Pathology at Yale University and in Clinical Pathology at Massachusetts General Hospital, Harvard University. He has served as a faculty member and attending physician at the University of Iowa Hospitals and Clinics and as Director of Chemistry at the Iowa City VA Medical Center and also as Regional Commissioner for Region 7 (seven midwestern states) in the National Veterans Administration Health System. He currently serves at the New York Presbyterian Hospital-Cornell Campus and at the Weill Medical College.