William C. Wood, M.D.
Psychiatry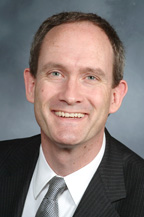 William C. Wood, MD is an Assistant Professor of Psychiatry in the Division of Child and Adolescent Psychiatry at Weill Cornell Medical College and an Assistant Attending Psychiatrist at NewYork-Presbyterian Hospital. He is the Co-Director of the Adolescent Partial Hospitalization Program (PHP) where he oversees a multi-disciplinary treatment team that provides five-days-per-week comprehensive psychiatric care to teenagers requiring intensive outpatient intervention combined with a daily school curriculum. In addition, through the Cornell Physicians Organization, Dr. Wood treats children, adolescents, and adults on an outpatient basis.
He specializes in the early identification and treatment of mood conditions such as depression and bipolar disorder. He also performs comprehensive assessments to clarify the diagnoses of patients who have not responded favorably to treatment in the past, with particular emphasis on anxiety, attention, mood, and psychotic disorders. Based on the results of this assessment, he collaborates with patients and their families to ensure that an optimal treatment plan is developed and put into practice.

He graduated with his M.D. degree from the University of California, San Francisco. He completed residencies in both General Psychiatry and Child and Adolescent Psychiatry at the Massachusetts General Hospital/McLean Hospital Psychiatry program of Harvard Medical School. In his final year of the General Psychiatry program, he served as the Administrative Chief Resident for the MGH campus. He also served as Chief resident during the Child and Adolescent Psychiatry program. Dr. Wood returned to UCSF as a National Institute of Mental Health postdoctoral research fellow to conduct research on how parent-infant interactions promote early childhood mental health. While at UCSF, he also completed the Advanced Training in Clinical Research program through the Department of Epidemiology and Biostatistics. Before assuming his current position, Dr. Wood served as the Director of the Adolescent Inpatient Psychiatry Service at NewYork-Presbyterian Hospital/Cornell campus.

Dr. Wood served for three years as a member of the American Psychiatric Association Board of Trustees. He is board-certified in both general psychiatry and child and adolescent psychiatry. Prior to attending medical school, he worked as an economist at the World Bank.

To make an outpatient appointment with Dr. Wood, please call (212) 746-3739.