Victoria M. Wilkins, Ph.D.
Psychiatry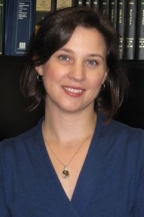 Victoria Wilkins, PhD has clinical expertise in adult and geriatric affective disorders, including depression and bipolar disorders, as well as anxiety. She has particular interest in working with individuals living with chronic illnesses, such as diabetes, chronic obstructive pulmonary disease, stroke, cancer, and chronic pain. Her primary orientation is cognitive-behavioral and Dr. Wilkins works with outpatients using cognitive-behavioral therapy (CBT). CBT is also the primary mode of treatment in her work with inpatients on the Affective Disorders Unit at Westchester Division.
Dr. Wilkins has experience working with families of medical patients. Her research interests include family caregivers of medically ill and depressed older adults as well as incorporating family members into chronic disease and depression management.
Dr. Victoria Wilkins earned her undergraduate degree from Ursinus College. She has a master's degree in Psychology & Health from the University of Stirling in Scotland and a master's degree in Clinical Psychology from Drexel University. She received her Ph.D. from Drexel University after completion of her predoctoral internship at the San Francisco VA Medical Center. She received postdoctoral training in geropsychology at the University of Rochester Medical Center and in geriatric psychiatry research at the Institute of Geriatric Psychiatry at Weill Cornell Medical College.
To schedule an apointment:
Call - (914) 682-5411 [or]
Email - vmw2001@med.cornell.edu