Thomas K.C. King, M.B.,B.Ch., M.D.
Pulmonary Disease Medicine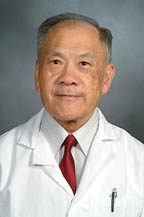 Dr. King has been a full time faculty member of the Division of Pulmonary and Critical Care Medicine for many years. His main clinical interest and expertise is in the area of obstructive airway diseases including asthma, emphysema, chronic obstructive pulmonary diseases and other airway problems such as evaluation of cough. Other interests are lung cancer, sarcoidosis, interstitial lung diseases, pulmonary embolism and post-operative pulmonary problems. His areas of research parallel the clinical interests and targets gas exchange abnormality and quantitation of pulmonary distribution of ventilation, blood flow and diffusing capacity in diseases of the lung. The physiologic derangement in ARDS and scoliosis have also been investigated. His most recent interest has been the early detection of the fat embolism syndrome.
House Physician/House Surgeon, Belfast City Hospital, Belfast,
Northern Ireland
Junior/ Senior Tutor, Queens University and Royal Victoria
Hospital, Belfast, Northern Ireland
Fellow, Nuffield Foundation Welsh National Medical School
Cardiff, United Kingdom
Fellow, Cardiopulmonary Laboratory, Columbia University
Division of Bellevue Hospital, New York, NY