Shivakumar Subramaniyam, PhD.
Clinical Cytogenetics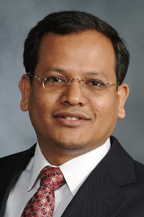 Dr. Shivakumar Subramaniyam received his undergraduate education and Ph.D from India. He completed Masters of Science (M.Sc.) in Applied Genetics in 1996 from Bangalore University, India, and Ph.D degree in Cancer Cytogenetics from Christian Medical College, Vellore, India in 2003. During his Ph.D program he received training in Cancer Cytogenetics from the Departments of Oncology and Haematology, University of Kiel, Kiel, Germany and the Department of Haematology, Royal Free and University College Medical School, University college London, London, U.K in the year 1999.
After obtaining his Ph.D degree, He moved to the United States and joined the prestigious Columbia University, New York, as post doctoral scientist in 2004. His research focussed mainly on chromosomal regions 5p and 20q in cervical cancer. Simultaneously he also worked on various cytogenetics, and molecular cytogenetic aspects of leukemia, lymphoma and solid tumors and published research papers in peer reviewed journals. He also completed the American Board for Medical Genetics (ABMG), Fellowship program (2006-2008) from Columbia university in Clinical Cytogenetics under the mentor ship of Dr. Dorothy Warburton. He is currently Board certified in clinical cytogenetics and is an active member of the American Society of Hematology (ASH) and a fellow of American College of Medical Genetics (ACMG).
Dr. Subramaniyam joined the faculty at Weill-Cornell Medical College in September 2008 and currently is working as an Assistant Director of the Cytogenetics laboratory.