Soo J. Rhee, M.D.
Vascular Surgery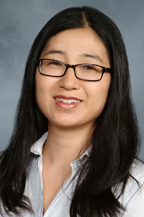 Soo J. Rhee, MD is a Clinical Assistant Professor of Surgery and an Assistant Attending Surgeon in the Division of Vascular and Endovascular Surgery at NewYork-Presbyterian/Weill Cornell Medical Center. Board-certified in both vascular and general surgery, Dr. Rhee has strong expertise in state-of-the-art, minimally invasive treatment for varicose veins including endovenous laser, radiofrequency, and mechanochemical ablation. She also specializes in cosmetic treatment of spider veins.
Dr. Rhee is co-director of the Comprehensive Vein Program, which provides comprehensive diagnosis and treatment of all forms of venous disorders, including deep vein thrombosis (DVT), venous ulcers, and varicose and spider veins.
A cum laude graduate of Princeton University, Dr. Rhee earned her MD from NYU School of Medicine in 2000. She did her residency training at Montefiore Medical Center and completed her fellowship in Vascular Surgery at NewYork-Presbyterian/Weill Cornell Medical College and Columbia University College of Physicians and Surgeons.
Dr. Rhee is a member of several prestigious medical and surgical societies, including the American College of Surgeons, the American College of Phlebology and the New England Society for Vascular Surgery. She is also credentialed as a Registered Physician in Vascular Interpretation (RPVI). She is well published in her field and has given many presentations at professional meetings across the country.