Sarah M. Lo, M.D., M.P.H.
Pediatric Hematology-Oncology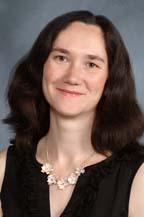 Diagnosing and treating childhood cancers and blood disorders is a challenging but rewarding endeavor. I have an unwavering commitment to providing treatment to children and adolescents with a variety of cancers and hematologic disorders, as well as to conducting basic and clinical research on genetic aspects of pediatric malignancies. My overarching goal is to provide the best clinical care for my patients. Moreover, I am engaged in research, in the hopes that the discovery of genetic factors underlying pediatric cancer will provide valuable insights into basic mechanisms of childhood malignancy, and ultimately, identify novel targets for cancer therapies.
Dr. Sarah M. Lo is an Assistant Professor of Pediatrics in the Division of Pediatric Hematology-Oncology at Weill Cornell Medical College and an Assistant Attending Pediatrician at NewYork-Presbyterian Hospital/Weill Cornell Medical Center. She is board certified in Pediatrics.

Dr. Lo completed her undergraduate studies at Barnard College of Columbia University, where she obtained a Bachelor of Arts, graduating summa cum laude. Dr. Lo was subsequently awarded the Macy Scholarship to study public health at the Mailman School of Public Health at Columbia University. After obtaining her Master of Public Health, Dr. Lo pursued her medical training at the Albert Einstein College of Medicine in the Bronx, where she was awarded the American Society of Clinical Pathology Award for Academic Excellence and Achievement. Upon receiving her M.D., Dr. Lo remained in New York to complete her internship and residency in Pediatrics at the Children's Hospital at Montefiore. While there, she was honored to receive the Resident's Research Award for her research dealing with health literacy and diversity in underserved communities.
Dr. Lo went on to pursue her clinical fellowship in Pediatric Hematology-Oncology at the Yale University School of Medicine/Yale-New Haven Children's Hospital. Under the mentorship of Dr. Pramod Mistry, Dr. Lo pursued research focused on familial lymphoma and gene discovery in Gaucher disease, an inborn error of metabolism associated with an elevated risk of cancer. For her research utilizing genetic and genomic approaches to elucidate the mechanisms contributing to the increased risk of hematologic malignancies in Gaucher disease, Dr. Lo was awarded the Lysosomal Disease Network Fellowship. She has presented her research nationally and is the author of several peer-reviewed articles in the area of Gaucher disease and cancer. Following her fellowship, Dr. Lo returned to New York City to join the Department of Pediatrics at Weill Cornell Medical College and NewYork-Presbyterian Hospital. She is an active clinical pediatric hematologist-oncologist who cares for children and adolescents with a wide variety of blood disorders and malignancies. In addition to engaging in patient care, Dr. Lo is a dedicated clinical research scientist, with primary research interests in genetic aspects of pediatric leukemia and lymphoma.